Does Galvin Dubai serve bistro or fine dining fare?
Building a dining universe around shopping is truly a Dubai trademark. And it's not just casual eateries, but some serious licensed restaurants have mushroomed in my favourite mall – the less imposing, highly aesthetic, al fresco City Walk 2. When I call to book a table at newly opened Dubai restaurant, Galvin Dubai, I am told to park my car in the green coloured parking area near the mall's 'fine dining lift lobby'. There is indeed a lift lobby with this name, making a statement for the licensed restaurant enclosure at The Square, near La Ville Hotel.
Galvin is the latest licensed addition in The Square after Lima and Toro, and is UK chef Chris and Jeff Galvin's second restaurant in Dubai after Demoiselle cafe. Executive chef, Luigi Vespero, moved across from The Rib Room (Jumeirah Emirates Towers), but worked with the brothers in the UK prior to Dubai. Upscale French Mediterranean bistro food is how the maître'd describes the cuisine – but upscale and bistro sound like an oxymoron to me. In a similar vein, whilst the live seafood and heirloom vegetables on display play along with the classy statement of the restaurant, the shiny Chilewich placemats on stately dark wood tables look discordant. A Monday evening in a newly opened venue is quite empty.
The staff is stylish and friendly, and the maitre'd makes the effort to educate us on the chef's background and the cuisine. The menu picks up influences from the north and south of the Mediterranean, with an overarching nod to France. Whilst median main courses are priced around the AED160-180 mark, there are some even more expensive menu items, with opulent sharing dishes like the seafood tower de luxe going for a staggering AED780.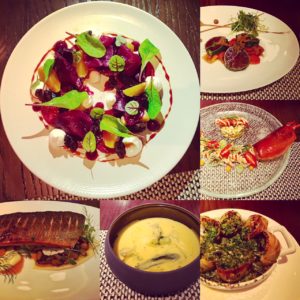 Our feast kicks off with traditional escargots, generously doused in decadent melted butter and parsley. The poached lobster is beautifully presented with stripes of Mary rose cocktail sauce, and manicured slices of avocado, tomato and mango – tasting as delicious as it looks. The escabèche of yellowfin tuna brings the sweet and sour flavours of this classic Mediterranean sauce to the chunky translucent tuna slices, but the spiced aubergine purée base leaves my taste buds somewhat confused.
My vegetarian wife laps up the pumpkin veloute and I manage to dunk some bread in to realise that it truly is sublime. The chef pops round to enquire about the starters. I jokingly complain there's not enough pumpkin soup for me, and ask him what makes the dish unique. He quickly serves up a mini version with a cheese-stuffed tortellini. He winks and explains that the secret to the burst of flavours is the ground cheese rind. The salad of organic beetroot is another brilliant vegetarian rendition. Truffle-flavoured goats curd, nutty granola and leafy chards elevate the characterful beetroot to a few octaves higher.
I have a difficult time deciding between the grilled lemon sole and the roast pave of seabass, and eventually choose the latter, a more flavourful and cheaper option. But it's actually pan-fried seabass I think, carefully executed on the base of a cauliflower purée, with a light curry sauce, raisins and a pine nut dressing. The crispy skin hides a humdrum of flavours underneath which makes for a delicious dish. The pot-roast chicken is beautifully presented with precisely carved pieces – a breast, a lollipop drumstick, and a beef 'bacon'-wrapped petit chicken sausage on a foamy base of peppery flavoured Puy lentils and pearl barley risotto. Whilst the sight is aesthetic and the accompaniments are exotic, the chicken lacks flavour and I don't enjoy the fibrous texture – a let-down for such a good-looking dish.
Oddly, we still have some space to share the highly recommended blueberry soufflé with Greek yoghurt ice cream. The dessert appears to be an engineering feat with a rich and soft soufflé topped by a nutty biscuit. A grand ending to a rich meal. Like the food, the wine and cocktail list shows big price swings, with a somewhat average bourbon and Scotch whisky 'Bishop' cocktail going for AED80.
Provided you steer away from the pricier dishes, expect to pay AED280 per head for three courses without alcohol which is relatively reasonable for a licensed Dubai restaurant. As we leave, the maitre'd shows me a few menu variations including well priced set menus for lunch and dinner over certain days of the week which look interesting. The food overall boasts character and is beautifully presented, balancing between traditional French and youthful Mediterranean cuisine. Service is excellent, with staff attentive and classy. The ambience however is a little contradictory, with the green and brown Art Deco colour scheme, and the placemats at odds with the fine dining style cuisine. I give Galvin Dubai a three and a half out of five FooDiva knife rating.
Would you venture to an al fresco mall for a fine dining experience?
AK
Who is FooDiva's guest reviewer? AK is an avid gastronaut who thinks that a day without a good meal is a day wasted. He has travelled the world exploring culinary delights, including a treasured dinner at El Bulli. He works as an investment banker in Dubai.