Where to eat pizza in the UAE
Pizza may have origins in Napoli in the southern Campania region, but it's one of the few dishes you will find served in all of Italy's 20 regions, and one that, thanks to globalisation, is present on menus around the world. Quality is as far-ranging, as is the style of pizza. The original Neapolitan pizza is soft, supple and elastic, so much so, you can fold it in half – in antithesis to crisp Romana pizza. New York pizza boasts a dense base with richer toppings, and of course we now have many a gluten-free pizza. Given the high heat of pizza ovens (300-400C+), these gorgeous flatbreads cook within a couple of minutes. It's the only type of fast food I will ever eat! More on the origins and etiquette of eating pizza here from the experts.
The pizza benchmark for me is master pizzaiolo Franco Pepe's stone-walled pizza palace in Caiazzo, just outside Naples, Pepe in Grani – pictured below. The scientific attention to detail this meticulous man pays to the crafting of wood-fired pizza is exemplary. The whole prep and cooking process is all hand-made with an emphasis on the dough with the right amount of kneading and proofing – fluffy and spongey, the base is easy to digest. He sources ingredients from his Campania region only, and keeps his toppings simple. He is such a perfectionist, he threw a pizza away when I visited last year, because he wasn't happy with the outcome. I was lucky enough to taste Franco's pizza for a second time earlier this month whilst he was in Dubai for a guest chef appearance, and his 'cornicione' crust is hard to beat.
The key ingredients of most pizzas are of course, dough, tomatoes and mozzarella, which we'll discuss in detail with the individual reviews in our FooDiva guide below on 'Where To Eat Pizza In The UAE'. The inspiration for this round-up is pizza guru Daniel Young's book 'Where To Eat Pizza' published by Phaidon earlier this year (disclosure – I was appointed the UAE contributor). So along with six guest reviewers, we've eaten our way through countless pizzerias over the last few months, from delivery joints to licensed trattorias and ristorantes to bring you a round-up of 21 pizzerias in the UAE. Note, we tried many more that we didn't feel made the cut. So, here's where to eat pizza in Dubai and Abu Dhabi – in alphabetical order. The price point indicates the cheapest and most expensive pizza on the menu. Buon appetito 🙂
DUBAI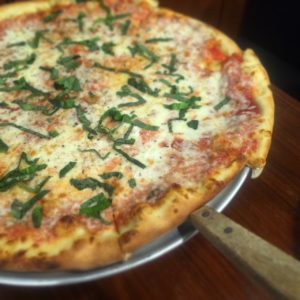 ABU DHABI
Do you have any other favourite pizza joints to add to our round-up? Share your feedback here or on social media using the hashtag #WhereToEatPizzaUAE 🙂
A bientôt.
FooDiva. x
Disclosure – in some cases with these reviews, FooDiva and her guest reviewers paid their own way, and in others they were hosted. As always, the opinions expressed here are theirs alone.
Where should you eat pizza in the UAE? A #FooDiva round-up here 🙂 https://t.co/FxJOqFIJiv #WhereToEatPizzaUAE #WhereToEatPizza

— FooDiva (@FooDivaWorld) November 20, 2016