Top 8 brunches in Dubai
What has astounded me this year when researching Dubai's brunches for our annual round-up is the increase in new restaurants ALL rolling out brunches. This institution is no longer restricted to the big hotel chains, but independent restaurants are also jumping on the brunch bandwagon. And it's not just us taking note. Reputable international publications have been jetting into our emirate to write up their own Dubai brunch features. What this means is that we have an interesting and novel mix of brunches this year, all tried and tasted by FooDiva and our guest reviewers. So here are our top 8 brunches in Dubai for the 2015/2016 season. We tried many more that did not make the cut, but ironically we kick off alphabetically with another cut.
If you're a carnivore and don't want to spend a fortune dining from the a la carte menu at one of Dubai's most expensive steakhouses, then try its Friday brunch instead. At Wolfgang Puck's Cut at the Address Downtown Dubai, all dishes are served from a table d'hôte menu. The drinks differentiator is a Bloody Mary trolley with fresh tomatoes, and the only way to eat celery in my opinion 😉 The top package includes free-flowing Laurent Perrier champagne. Reviewed by FooDiva.
For a French-themed Friday buffet brunch, head to Imperium at Jumeirah Zabeel Saray, especially as it has plenty of terraced seating. I was super impressed with the diversity and quality of classic, hearty French fare from a lavish buffet spread that also boasts carvery and barbeque stations. One of the more reasonably priced French champagne brunch packages with unlimited Laurent Perrier at AED575. Reviewed by FooDiva.
Lovers of utterly French und utterly decadent dishes will truly fall in love with this new Friday evening 'brunch' concept 'Paris by Night', or perhaps we should name it drunch. Catering to a late dinner crowd, the feast starts at 8pm with a sharing-style set menu that lets diners enjoy iconic dishes such as foie gras, Nicoise salad, beef bourguignon, and fine de claire oysters. The macaroni old vintage comte with truffle ragout, rumoured to be the most popular dish of the entire menu, will have cheesaholics (and vegetarians) raving. The top package includes free-flowing Belair Sparkling Brut – a fizz from Provence (not French champagne). Reviewed by CL.
This Friday brunch at the Oberoi hotel in Business Bay is where street art meets street food. It's a fun, casual and colourful brunch, with Thai, Japanese, Mexican, Indian and Arabic stations serving everything from tasty dim sum to delicious tacos with mole (chocolate-based) sauce. The brunch is also very interactive; diners make their own som tam (green papaya) salads, mix their own cocktails at the Bacardi and Martini stations, and can even make their own alcohol-based molecular desserts – the mojito meringue is a refreshingly delicious treat to end the meal. Chefs work the room offering freshly prepared concoctions, whilst discussing ingredients. It's an ideal choice for large groups; the bigger the group, the less you pay. Prices below are based on two people – any more, and the price per person goes down! Value for money aside, a lively atmosphere, dance music and good food, make the 'Street Art Brunch' a popular newcomer on Dubai's brunch scene. The French champagne of choice here is Moet & Chandon. Reviewed by SJ.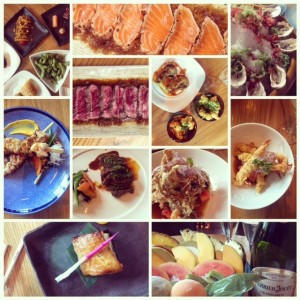 I've waited a long time to try this one, and I can see why so many rave about the Japanese Friday brunch at Nobu in Atlantis. It's not just about quantity (there is plenty to fill your belly) but more importantly the quality and flavour shines through. All courses are served at the table with unlimited dishes, but food stations also abound with seafood, sashimi, sushi, salads, tempura and foie gras (see photo above left). Best bit is the French champagne package at AED585 is the decadent and super smooth, Perrier Jouet 🙂 Reviewed by FooDiva.
Another Japanese brunch institution is Okku's 'Disco Sushi' affair on a Friday. In stark contrast to Nobu's classy yet formal vibe, Okku's is all 80's music but whilst fun is also sophisticated. I think we were only the foursome who actually knew the lyrics to every song (the average age group is much younger). In a quirky twist, each table is handed Monopoly money based on the package you choose (non-alcoholic or with booze – see below) and it's up to you to choose how you spend it. There are three French champagne options – Brut Reserve, Prestige Rose and Nocturne Sec – with the AED599 package getting you one bottle of Taittinger rose per couple. So don't expect free-flowing bubbles. As for the food, 12 set dishes are served at the table – the crispy duck salad, the wasabi tiger shrimp tempura, baked Japanese aubergine and the miso black cod in particular are exceptional. Reviewed by FooDiva.
The Makan San Friday brunch (Makan means to eat in Malay, and san is equivalent to sir in Japanese) at the Grand Hyatt's Peppercrab restaurant offers signature South-East Asian and Japanese dishes – the latter from neighbouring Sushi restaurant. The Singaporean pepper crab, though delicious, varies in taste from what I have eaten in Singapore with the sweet soy sauce, kecap manis, the more dominant flavour (see top right photo). That aside, the spread across Malaysian satay, duck and chicken rice, laksa, Thai salads, plus Peking duck make for a complete offering. On the vegetarian front, choices include cucumber sashimi, Japanese salads, fried aubergine, spring rolls, sautéed vegetables, lotus salads and sesame balls. A Malay foamy sweet tea, teh tarek, tasted absolutely authentic – a simple ending produced with absolute perfection. It's also a child-friendly brunch with kids below age six dining for free, and AED100 for those up to 12 years old. No French champagne package. Reviewed by AK.
Tribeca's Friday brunch is all about wholesome, hearty and organic food in a casual, 1970s New York meets Hollywood disco atmosphere. The food is fresh, tasty and more importantly, sustainable and locally sourced. Burgers, tacos, salmon, roasts and pasta are all on offer, accompanied by organic vegetables and sides. Salads are hearty and wholesome with lentils, beetroots and quinoa options. For desserts, several varieties of chia puddings, tiramisu and an exotic fruit salad are all fresh and delicious. Whilst we were not spoilt for choice, what we ate was flavoursome and healthy. Tribeca has no French champagne option, but alcoholic beverages include organic wines, beer, house punch and spirits. If you're looking for a fun, relaxed, eco-friendly and affordable brunch, Tribeca is the place to be. Reviewed by SJ.
For previous Dubai brunch round-ups click here and here.
What's your favourite brunch in town and why?
A bientôt!
FooDiva. x
Disclosure – we have paid our own way with some of these brunches, whilst a few were by media invitation.