Top 8 brunches in Dubai
With the rather long steamy summer behind us now, brunch season is in full swing, so back by popular demand is this year's Dubai round-up. I have purposely pulled together a selection that differs from 2013's (which you can refer to here). You'll find a mix of newbies, al fresco options, buffet, à la carte or the now mainstream, half-half brunch, plus many on Friday and some on Saturday – but bar one restaurant – what ties them together is free-flowing champagne (and am talking the real French deal), if you so wish to opt for that package.
All of these brunches are tried and tasted by myself or FooDiva's guest reviewers. So voila, here's FooDiva's 2014 round-up of top 8 brunches in Dubai – in alphabetical order:
Le Classique – it's a tough call finding a brunch on Saturday with a champagne option, as opposed to cheaper fizz, but this long-standing French restaurant at Emirates Golf Club ticks the box (albeit with an unknown brand, Cattier). The Jazzy Gourmet Brunch serves up the half-half concept, where starters and desserts are on a buffet, whilst you can choose unlimited main courses from a compact à la carte menu – all to the tune of a live jazz band. There's also terrace seating with full view of the golf course – FooDiva.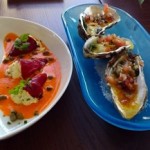 Mezzerie – a light-infused restaurant at Waldorf Astoria Palm with stunning views of both Burj's and Atlantis, a smooth jazz duo, and prompt arrival of two glasses of crisp rosé (there's also Laurent Perrier champagne) makes for a great start to our Friday afternoon at this New York-inspired brunch. Yet many of the dishes have a strong French influence – foie gras, truffle-crusted grilled scallops, escargots, frog legs and salmon coulibiac pie. A welcome bonus is the children's buffet and supervised activity corner – guest reviewer Alex.
Moana – out at the near-end of Palm Jumeirah's East Crescent in the Sofitel, Moana's new Ocean Brunch offers a sit-down seafood table d'hôte menu, with as many as 25 courses of modern, international seafood dishes (with some veggie selections) served in tasting portions across cold and hot appetisers, mains, and desserts. There's no buffet here, only dishes served at your table as they're prepared. With a DJ playing chill-out tunes in the background and some interesting cocktails on the drinks menu, it's a strong option for anyone looking for quality food in a relatively calm brunch atmosphere across a lazy, relaxed afternoon. Oddly for a French hotel brand, there's no champagne package – guest reviewer, The Man in the White Hat.
Prime 68 – the Friday theme at this boutique steakhouse atop the world's tallest hotel, the JW Marriott Marquis, is 1920's swing complete with props to jazz yourself up. There's not a buffet in sight, with all dishes served at the table. And it's not all meat, with pescatarians and veggies catered for. The champagne is Laurent Perrier. Bag the tables overlooking Burj Khalifa or Burj Al Arab – FooDiva.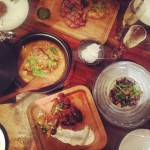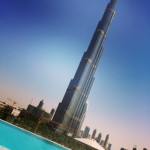 Q'bara – this new Friday brunch on the scene at Wafi Fort is so good, I've tried and tasted it twice in the space of one month (and that says a lot given am not a big brunch fan). There's an à la carte menu of the modern Arabic fare Q'bara is renowned for, where you can choose unlimited dishes across all three courses, with the interesting food flowing as much as the Veuve Cliquot – FooDiva.
Sofitel Dubai Downtown – if you fancy a family-friendly al fresco brunch on a Friday, the Sofitel Downtown's new Street Food Festival is for you. Spread around the hotel's infinity pool overlooking Burj Khalifa, six food trucks serve freshly prepared Chinese, Indian, Thai, Lebanese, Mexican and Italian dishes. Separate stations for cheese, pork charcuterie, BBQ, salads, ice cream and desserts are also available. Kids under eight are free to use the pool, whilst adults soak up some rays and indulge in the mojito bar or the free-flow Laurent Perrier champagne – guest reviewer SJ.
The Ivy – here at Jumeirah Emirates Towers you have the option of brunching on Friday or Saturday, with the latter a rolling brunch anytime from 11am for a three-hour beverage package. In addition to a three-course table d'hôte menu, the other differentiator is the option of an eight-course degustation menu – and both end with a cheese trolley. Not an inch of buffet here. Classic Brit dishes, plus some French fare too. The champagne served with both menus is Moet & Chandon – FooDiva. 
The Westin Dubai Mina Seyahi Resort – the famous Bubbalicious brunch spread across three restaurants plus the terrace, has relaunched with quirkily themed food stations, quite cleverly paired with alcoholic beverages. Expect a French Village with oysters, foie gras, pork charcuterie and crepes; an American Diner with sliders, fries and donuts; a Belgium Station with moules et frites, and waffles; Brick Lane for tandoori, curries and naan, and a Cider Garden for suckling pig, pork sausages and chops. Oh and what has to be Dubai's longest cheese buffet, plus an Alice in Wonderland tea garden hideaway. The highlight, for me at least, is that Hunter's restaurant is now reserved for adults only on the Laurent Perrier champagne option – FooDiva. 
There's another newbie brunch that caught my eye but with it only launching this weekend I haven't been able to squeeze in a taste – Ritz Carlton JBR's new rotisserie brunch (packages start from AED450 and rise to AED690 with Moet & Chandon).
Any more brunch experiences you'd like to share here?
A bientôt.
FooDiva. x