Budapest: a top 10 dining and drinking bucket list
Francophiles may not like what I am about to say, but the croissant wasn't invented in France. In fact it originated in Hungary's capital Budapest after the 1686 siege when the city's bakers created the pastry to mimic the crescent on the Turkish flag, marking their victory over the Ottoman army – such is the legend as claimed by my bible, the Larousse Gastronomique. Other references state Austria as the inventor. The fact is, the pure butter croissants I tasted in Budapest compete with any you may have eaten in a Parisian café. And that's just breakfast.
The lunches and dinners I indulged in over a three-day Eid break will go down as one of my most delicious gourmet trips ever with not a goulash in sight – and a ridiculously affordable one at an average price of AED300 (US$81) for three courses including excellent vino for TWO people.
So here's a top 10 round-up of Budapest bites including restaurants, cafés, markets and wine shops in Buda's historical castle district and across the Danube river, in the more commercial Pest.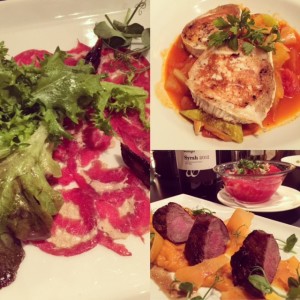 21 – with tables spilling onto the pavement in the heart of Buda's castle district, 21 serves a modern take on Hungarian cuisine with a lighter cooking style – hence the branding nod to the 21st century. Dishes to taste: venison and foie gras carpaccio; Hungarian 'letscho' (a version of ratatouille with paprika) topped with grilled ewe cheese; and wild boar steak – see top left photo. Wine to sip: Weninger Sopron 2012 from Hungary's oldest Shiraz vineyard.
Kollazs – a new Art Deco-inspired gastro pub at the Four Seasons Gresham Palace on the city's Pest side, Kollazs, which opened in June, is Hungarian for collage and represents the menu's creative interpretations. A wonderful vibe with a musical duo. Dishes to taste: bone marrow; steak tartare; and pork belly with crackling – top right photo. Wines to sip: Vylyan Kékfrankos 2011 with a grape prevalent in Central Europe, Blaufränkisch.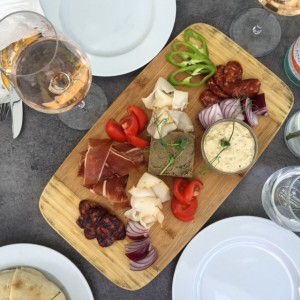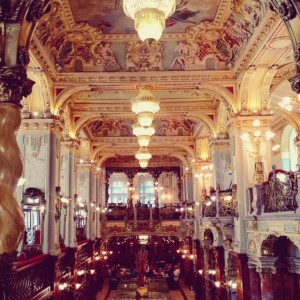 Meat Boutique – we stumbled upon this restaurant when looking for Zona (see below) and it sits right next door. Perfect for al fresco summer lunching overlooking the river Danube, the ownership is both Hungarian and Serbian, and as you would expect meat is at the heart of the menu. Dishes to taste: charcuterie platter, which includes deer salami and paprika salami (photo above left); and Serbian beef meatballs (similar in texture to kofta). Wines to sip: an Italian spumante (not prosecco) Furlan rose brut.
New York Café – I was in two minds whether to visit this legendary café as I thought it would be very touristy, but oh my am I glad we did. Situated in the Boscolo hotel on the Pest side of the river, a mid-19th century ceiling complete with frescoes, Venetian chandeliers and ornate gilding has you drooling in awe whilst tucking into lunch or tea (photo above right). And the food is rather delicious too, despite the tacky photos on the menu. Dishes to taste: Hungarian 'Mangalica' aged ham with horseradish and soft-boiled egg; marinated fillet of salmon; roasted fillet of pike-perch with beetroot risotto; and a Viennese sacher torte. Don't order the local pink fizz by the glass; it arrived flat (twice).
Onyx – Budapest has four one-star Michelin restaurants (with no two or three star establishments) and in researching this trip I toyed between a couple – Onyx and Costes, settling on the former in Pest. The interior is plush neo-Baroque and white-table clothed. The menu reworks classic Hungarian cuisine using local and Austria ingredients, with a couple of tasting menus, but my preference is to always order à la carte given a choice. I hate being told what to eat! The wine list was so extensive though, we opted for wine pairing. Dishes to taste: marinated buffalo tartare wrapped in romaine lettuce; freshwater pike-perch fillet; and farmed venison – photo above left.
Zona – despite the prime spot overlooking the Danube river and Chain bridge from Buda, Zona is far from touristy. A sleek bistro-cum-wine bar serving what has to go on record as the cheapest French champagne ever to be had in a commercial establishment – AED265 for a bottle of Billecart-Salmon Brut! Eastern and Basque flavours are incorporated into modern Hungarian plates. Dishes to taste: duck carpaccio (photo above right); chicken schnitzel Viennese-style; sea bream; and coconut panna cotta.
Great (or Central) Market Hall – Budapest's glorious and mammoth food market – well worth a visit if you're after some goodies to take home. On the ground floor, expect aisle after aisle of every possible sausage (the paprika-spiced piquant concoction aka 'csabai kolbasz' is so moreish, I have been snacking on it since my return); ground (sweet and smoked) and fresh paprika itself; honey; goose liver; and wines. Mind you for the latter you're better off buying from a dedicated wine shop (see below). The first floor houses street food stalls and stashes of souvenirs, whilst the basement is a little obscure with fishmongers and the odd kitchen goods stall.
Bortarsasag – a chain of highly reputable wine stores across Budapest. I visited the outlet on Lanchid Utca street next to Meat Boutique and Zona. Hungary has a staggering 22 wine regions; more than Italy; and in particular is world-renowned for its sweet dessert wine Tokaji (pronounced Tokay) from the northern foothills of the Zemplen mountains. In fact I first tasted this wine here in Dubai as I serve it at the last restaurant on my #DineAroundDubai experiences. MMI imports the Diznoko vineyard tipple into Dubai if you're after a bottle or two here. Wines are numbered by 'puttonyos' based on the level of sweetness from the sugar and sugar-free extract – ranging from 1 to 6 puttonyos, with a further category, Aszú-Eszencia, representing wines above 6. Good vintages are 1993 and 2006.
Baltazar Budapest – this quirky number is an 11-room boutique hotel with a delightful restaurant in Buda's castle district – in fact owned and operated by a restaurateur family (21 is their baby too). We stayed here and feasted on an à la carte breakfast every day – from delicious paprika-spiced omelettes to eggs benedict and croque madame…and of course croissants. Sadly we weren't able to squeeze in dinner, but as and when I return to Budapest I wouldn't hesitate to stay and eat here again.
Taste Hungary – here's what you book if you're after curated food and wine experiences in Budapest and further afield. I had earmarked a couple – the dinner walk and a wine tasting – but time didn't allow. An excuse to return 🙂
A few more restaurants cropped up in my research, and came highly recommended, but we sadly ran out of lunch and dinner slots. Here they are:
Bistros and wine bars:
Hungarian restaurants:
Bagolyyvar in Pest – a traditional Hungarian restaurant
Menza in Pest – modern Hungarian fare
A couple of housekeeping notes:
FLY: We flew direct to Budapest with low-cost airline Wizzair from Dubai World Central Airport. A much quicker airport to get through! Expect a six-hour flight. Emirates and Etihad also operate direct flights.
CURRENCY: Hungary is an EU member but has not adopted the currency, so do exchange Hungarian Florint.
Before I sign-off, here are a couple of scenic shots of beautiful Budapest 🙂 Left shows the view of Buda and Pest from atop the Citadelle, and on the right is Buda Castle from the Chain Bridge.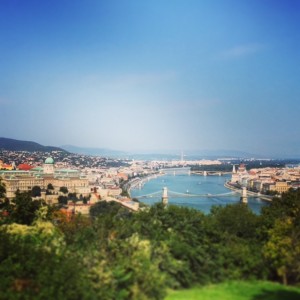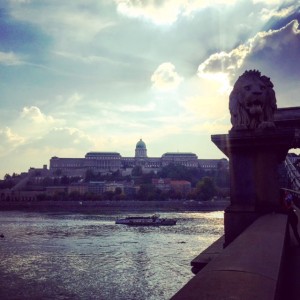 Any other recommendations for Budapest? Have I tempted you to visit?
A bientôt.
FooDiva. x