Chef Richard Sandoval's Zengo – fusion confusion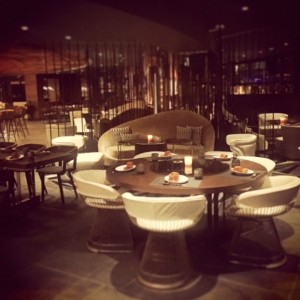 "An artful blend of Asian and Latin flavours," is how a new restaurant import in Dubai at Le Royal Meridien from chef Richard Sandoval's stable, Zengo, describes itself. Well that instantly confuses me, and so does the menu, despite spotting many appealing dishes. To add to the fusion confusion, one waiter says the menu is Japanese and another negates that. But the Japanese influence is obvious in the menu engineering, which even stretches to the name; Zengo translates to 'give and take'. The chef de cuisine Akmal Anuar is Singaporean and moved across from Iggy's, one of Singapore's best restaurants serving modern European food.
The menu is mammoth – small plates (divided into hot and cold); salads and soups; sushi; maki rolls; robata grills; noodles; rice; and main courses. The cold small plates are largely ceviche and tiraditos so that's South America covered. We order the amberjack ceviche with diced tamarillo, micro tomatoes and a peppering of chilli, but the 'leche de tigre' citrus marinade overpowers the very tender white and slightly oily fish, evident with the juices remaining in the bowl.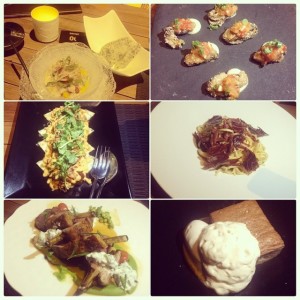 We select a couple of dishes from the hot plates. Arborio rice-crusted oysters – an Italian influence perhaps? These little fried gems dipped in celery root puree and topped with tomato salsa are the highlight of our meal – so moreish we eat them like popcorn. Next up, a duck maseca pancake. I am hoping for a version of Peking duck here, but whilst the duck leg confit on small open maseca (Mexican corn flour) pancakes is succulent and delicious, and the fried shallots and rice crackers add texture, this dish is drowning in an intense chipotle barbeque sauce. Just a drizzle of this sauce and this dish would have worked much better.
Skipping the more mainstream sections (I can get my sushi and robata fix elsewhere), we move onto the noodles where an udon noodle carbonara captures my eye – again an Italian influence. It's a little lukewarm and whilst the carbonara sauce with generous slivers of Spanish beef chorizo and parmesan has the right balance of creaminess and texture, I can't help but crave spaghetti. The udon noodles just don't have the richness that lets it bind so well with carbonara.
For a protein main, we choose an organic Welsh lamb chop (from Rhug Estate). Here the flavours are mostly Indian (whilst the other mains boast a mix of Chinese, Japanese and South American influences). Rubbed with a curry spice; served with a pea puree and dollops of raita; drizzled with fenugreek oil and a Szechuan pepper jus; and dotted with cherry tomatoes. Whilst the crackling is exceptional, and the lamb juicy and cooked medium-rare, the flavours are too mild and for a dish that's priced at AED290, I expect to be blown away which I am not. Be warned, the menu has a Wagyu dish at AED900 and a New York striploin for AED580.
We end the meal with a disappointing dessert – a flourless salty chocolate cake that has the unappealing texture of tofu, served with a bland cereal ice cream – slightly redeemed though by the accompanying, excellent peanut Chantilly and piloncillo (a Mexican sugar cane) butterscotch puree. The other desserts span flavours from Ecuador, India and Greece.
So yes we have plenty of Asian (mostly Far-Eastern though) and Latino influences in the menu, but we also have an abundance of flavours from across Europe. I finish dinner even more confused than when I start. Zengo's menu suffers from an identity crisis, and would be far better off focusing on one region and executing that well. It's no wonder the waiters are confused when describing the menu. On that note, service is way too intrusive with a constant, annoying flow of "is everything okay". There is one waiter though who knows his South American cuisine and cocktails. He intuitively notices our disappointment with our Pisco Sour order, and after a little banter has them remixed correctly topped with whisked egg white. Another Pisco brandy mix with tonka beans arrives prettily served in a birdcage – a reflection of pisco's meaning.
It's a real shame the food does not match Zengo's striking décor. A floating staircase takes us up to the restaurant with many intimate dining pockets, three bars, a lounge, and a terrace which is where we sit overlooking the sea – plenty of outdoor heaters keep us warm. It's all rich, earthy leather and wood, with natural, burnished tones. But it's sadly pretty empty and seriously lacks atmosphere. Admittedly it's a mid-week dinner, but given the prime location and the popularity of Richard Sandoval's other restaurants, Toro Toro and Maya, you would expect his latest Dubai restaurant would have more custom. Or perhaps everyone else is just as confused with the menu.
At AED360 per person without alcohol, Zengo does not come cheap. I don't mind paying if a restaurant delivers on all areas of the dining experience, but with the majority of the food and service below par, Zengo is all style and no substance. Here's to a 2.5 out of 5 FooDiva knife rating.
Have you dined at Zengo? How do you feel about a restaurant and specifically a menu that tries to be too many things to too many people?
A bientôt.
FooDiva. x