The enigma of Asia Asia
As George Orwell didn't quite write in what's likely his most misused quote, "all restaurant reviews are subjective, but some are more subjective than others." What any individual diner thinks about Asia Asia in Dubai Marina's Pier 7 is likely going to depend on their attitude to pan-Asian fusion cuisine. This isn't pan-Asian cuisine in the sense that there's something from China, something from Thailand, and maybe something from Singapore – it's pan-Asian in the sense that traditional East Asian dishes and ingredients are combined with flavours and techniques from the Middle East or India. Often the menu goes even further afield, combining the core East Asian touches with styles and seasonings from North Africa, Europe, or even the Americas. The menu is certainly brave; the question is whether it necessarily always works.
Certainly a lot of money has been spent on making Asia Asia a physically attractive space (albeit an astonishingly dark one; when did restaurants decide we didn't need to see our food clearly anymore?). Even on a Monday night, the restaurant became busy and gently buzzing as the night wore on, with the 6th-floor balcony view understandably popular. While Asia Asia also has a bar, there wasn't even a hint of cigarette smoke. The wine list is attractive, with a good range of price points, an interesting selection of organic/ biodynamic wines, and a heartening lack of testosterone pricing geared towards making reds more expensive than whites (the most expensive wine is actually a white Burgundy). Service still has a few minor kinks, perhaps erring on the side of just slightly too informal, but is at least enthusiastic and attentive without overdoing either. I did cringe (possibly visibly) when the waiter uttered the dreaded words "it's a sharing concept, so we'll bring out the food when it's ready so you can eat it at its best". Attentive FooDiva readers will know what I think about that; but at least – unlike at Frioul – the sharing concept fits the menu, which here is largely geared towards small portion sharing plates. Larger dishes can be ordered too, but it's perfectly possible to build a meal out of the sashimi, maki, dim sum, 'robata bites', and 'Asian tapas' options. So far, so good.
But the food….  I doubt I've eaten such an inconsistent meal at this level of restaurant. The inconsistency isn't in the preparation or presentation of the food – where standards are high – but rather in the success of the execution of some of the more ambitious ends of the fusion concept.
The meal started promisingly. The first dish to arrive was a dim sum of two lamb kofta sui mai – a traditional Chinese dumpling filled with minced lamb instead of pork. It's a clever idea that also neatly gets around Asia Asia's lack of a pork licence, though while the dumpling itself was skilfully made, the lamb filling seemed slightly underseasoned and heavier than the traditional pork versions.
Next up was spider maki, a plate of crab-based rolled sushi. This was the best dish of the evening, both attractively – even wittily – presented (well, I liked the crab legs poking up from two of the rolls, the norm with spider maki in any Japanese restaurant), with some nicely crispy soft-shelled crab inside some very well-prepared sushi rolls. The cajun spice mentioned in the menu perhaps didn't come through strongly and would have added an element of fusion, but the overall flavour balance was excellent.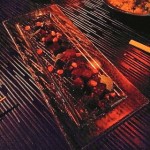 And then things went downhill. I really don't know what to say about the Japanese tuna pizza with Bombay onions and grilled zucchini that won't sound like I've set out to write a hatchet job on the dish; but it simply didn't work. You get eight portions of really quite good-quality raw tuna on top of a couple of pieces of onion and vegetable seasoned with cumin, themselves placed on top of an Indian-style flatbread. It's clearly an attempt to fuse sushi with Indian cuisine, but the combination of flavours and textures seems fundamentally wrong somehow. It's not that it was actively unpleasant, but the Indian spicing and high-quality tuna were fighting each other rather than balancing each other; and the base was slowly going limp from the moisture in the tuna.  Someone with far more years of culinary training, than I will ever have, has obviously decided that this combination is not just viable, but worth offering at a high-end restaurant in Dubai; and that genuinely leaves me baffled.
We also ordered a couple of items off the 'signature dishes' section of the menu. The sambal chicken tagine is an ambitious combination of  (quoting the menu) "Tunisian tagine flavoured with Malaysian sambal chilli crab paste".  The chicken was beautifully cooked; but while less overtly odd than the tuna pizza, the dish again didn't seem balanced to me. The chilli seemed harsh rather than warming, while the olives seemed out of place in the broader seasoning combination. It's more successful than the tuna dish, and I wouldn't be surprised if there are other diners who enjoy it; but it was another fusion too far for me.
But the real disaster was the wok-glazed beetroot with mint, cumin & Szechuan pepper oil. Any hint of cumin or Szechuan pepper (a spice I enjoy and often use at home) or cumin was wholly absent; it was just a set of cloyingly-sweet cubes of beetroot that might actually have made a successful (if unusual) dessert, but seemed wholly out of place in the 'signature dishes' section of the menu. Even Mrs White Hat – whose inner Slav absolutely adores beetroot – couldn't bring herself to finish it, and I only ate the final pieces out of a sense of duty to FooDiva readers.
And so on to dessert, and here things improved again. The jackfruit strudel with coconut sorbet was a delight, the best dish since the maki. Jackfruit may taste quite different from apple, but the consistency of the filling was surprisingly similar to a traditional apple strudel. The coconut sorbet was also a good fit to the overall dish. A yuzu panna cotta was very close to being excellent. The mouth-puckeringly citrusy yuzu layer offered good contrast to the richness of the cooked cream underneath; but the panna cotta was over set and too firm.
Whatever my criticisms of some of the food, the price points are fair for what's on offer, and the portion sizes well-judged. As with many Dubai restaurants at this end of the market, if you want to spend silly amounts of money on dishes including wagyu beef or foie gras, Asia Asia will be happy to indulge you. But you can also put together a solid meal drawing on four separate sections of the menu for roughly AED225 a head (excluding drinks).
I really don't know what to make of Asia Asia. Restaurant reviewing is a subjective business, but I can't remember ever having eaten a meal that offered such a wide contrast between dishes I genuinely liked, dishes that I wasn't too fond of but that I could see other people enjoying, and dishes that simply didn't work. There's too much of the menu to explore in a single sitting – even with a dining companion I couldn't quite stretch to the sashimi and the traditional Japanese grill sections – but I did my best to order as representative a meal as possible from what I could manage, and I still don't know what to think. I started off by misquoting George Orwell; I'll finish by misquoting Winston Churchill. Asia Asia is a riddle wrapped in a mystery inside an enigma. You might very well like it; a lot. It's ambitious, certainly, and some people might well enjoy some of the more unusual fusion combinations. Me? I'm not so convinced. I can only give it two and a half out of five FooDiva knives.
Do you think fusion cuisine can be taken too far? Have you ever had a dish that took real skill to prepare but still didn't quite work?
The Man in the White Hat.
So who's FooDiva's anon guest reviewer, The Man in the White Hat? He has an abiding interest in both history and food; his holidays tend to combine an intriguing local cuisine with a UNESCO World Heritage site, and he's eaten his way across some 50 countries in Europe, Asia, Africa, North and South America, and Australasia.  He currently lives in Dubai, where he edits a couple of academic publications.