An ace gourmet shawarma joint?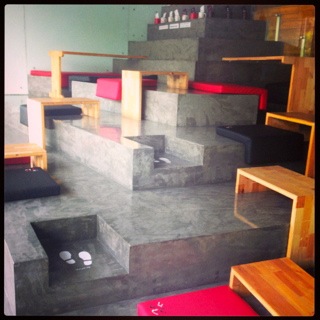 In a city that boasts more shawarma joints than taxis arriving on time, Aces Shawarma House in Dubai's Al Wasl Square (opposite Safa Park) had to deliver something unique. And, on first impressions, it appeared the four Emirati brothers who created Aces have achieved this. The flexible seating pyramid is well executed and quirky, setting the scene for a fast but fun dining experience.
The glass walls encasing the menu on the opposite wall doubled as an amateur graffiti space and provided a sense of fun, but our joie de vivre fizzled out on ordering at the counter. The menu's repetition of card names from a playing deck (King, Queen etc) was confusing even though it tied into the Aces branding. Shawarma, iskander, falafel, salad, shawarma pizza and pasta meals; sushi shawarma (!); side dishes and desserts. Mains are served with either fries or garlic bread, and a Pepsi range of soft drinks. Despite the pizza, pasta and sushi having a 'shawarma' moniker they appeared to be…typically standard pizza, pasta and sushi dishes.
Aces refers to its shawarma as 'fusion style'. The most unusual combination of ingredients were in the King's buffalo challenge, which featured chicken, buffalo sauce and celery – not really that unusual. To further differentiate Aces from other shawarma houses, I would have liked to see the ingredients (including beef, garlic mayonnaise, avocado and mango) listed for the shawarma sushi, in an actual shawarma – or perhaps the addition of some tweaked flavours, alongside the traditional.
We settled for chicken potato cakes (AED10), beef classic shawarma (AED28) and Aces iskander chicken (AED39). While fresh juices and yoghurt drinks were on the menu, these were not available as part of the combo. We were also advised that no substitutions to the combos were possible, despite offering to pay extra for the club's garlic curve (garlic bread instead of chips).
The beef classic was speedily served with a generous filling of flavoursome grilled beef, and the brown bread option was welcomed. The accompanying sumac, onion, and parsley could have been bolstered by additional tomato and parsley, and less tahini sauce (the levels of which were making the shawarma soggy before we had finished eating). The chicken iskander was served in a takeaway container that held layers of bread and grilled chicken, topped with fresh lettuce and tomato, separated by a yoghurt dill sauce. A few crunchy pine nuts graced the top of the dish, while the sliced pickles tied into the flavours of the dill sauce. The bread was placed, presumably, to soak up the sauce. Unfortunately it didn't stand a chance, as the dish was overwhelmed by the drooling sauce, which drowned the other flavours. The accompanying fries were crisp on the outside and soft on the inside, but could have done with further seasoning. Overall the ingredients in the main dishes were fresh, but played a lower hand to the sauces.
On the other hand, dessert trumped! The Queen's caramel spa (AED13) featured freshly baked cinnamon bread sticks smothered with caramel sauce. This is definitely one for 'Cinnabon' lovers and made for a pleasant, sweet ending to the meal.
Aces is the kind of place that would make a good stop after a party night on the town when you want something other than a burger. At AED28 per shawarma combo, however, it would seem that there are better and cheaper options out there in this category, but I may have to reserve judgement until our next late nighter. A firm favourite is the chicken shawarma 'hole in the wall' jammed between Deepaks Fabrics and Desert Frames on Al Hudaiba Road aka 'plant street' in Satwa. It may not be 'gourmet' but at AED3.50, it comes crammed with juicy chicken, fries and garlic mayo – a tasty steal!
Where's your go-to shawarma joint and how much would you pay for one?
Until next time,
Alex.
So who's FooDiva's new guest reviewer? Alex (and husband) make up #NZFoodies, two New Zealanders who for the last seven years have utilised Dubai as a springboard to travel (read eat!) extensively, including hot spots across the Middle East and Levant. They love to explore food, from street vendors through to the chef's table.