Is Drift here to stay?
"That's Dubai, eh…," responds a manager to my statement that the menu at new chic Dubai beach club, Drift at One & Only Royal Mirage is overpriced. Well he does ask how our meal has fared.
Allow me to paint a picture. Some starters are more expensive than main courses, ranging from AED90 for simple dishes like burrata to AED195 for a yellow fin tuna carpaccio; mains from AED100 for a courgette tagliatelli to AED410 for tournedos Rossini with black truffle sauce; and desserts from AED45 to AED175 – the latter a selection of five cheeses. A blackboard of daily specials only lists oysters, lobster and truffle dishes starting at AED295. And that's excluding the five per cent VAT. Only in Dubai will daily specials reign in price over a la carte.
So according to a restaurant manager, a Dubai location is an excuse to hike up prices. When are restaurants in Dubai going to wake up and smell the coffee? The market is over-saturated (evident in a number of high profile closures), and expensive restaurants will struggle long-term. He does go on to explain that the kitchen only uses quality ingredients. Well I should hope so, as I hope most other restaurants in upmarket locations do here. Perhaps the elite few (diners) won't bat an eyelid. But for people like me, it forces us to order from the 'cheaper' end of the menu, and perhaps never return. I guess I am not the demographic for this type of concept that is looking to attract people who like to be seen out and about at trendy spots…until the next new beach club opens.
It's a shame because the food is pretty decent. But that's no surprise given the chef at the stove is Frenchman Maxime Le Van, who you may recall as the opening chef at Boca in DIFC. Drift's website describes the food as an "innovative take on classic Provencal cuisine", however, French wording aside, the menu is geared more towards classic Italian dishes and Maxime's signature Mediterranean fare.
A beef carpaccio is as classic as it comes with tender slivers of raw striploin, generous shavings of Parmesan, a sprinkling of rocket and a drizzling of lemon dressing. The plate is a huge portion for a starter, with the right balance of each ingredient.
The octopus in our second appetiser, a warm salad, is chewy and far from that lovely soft octopus (typically Spanish) we get elsewhere (over-charred I expect) – however the mix of coco beans, grilled red peppers and lettuce in a smoky paprika pepper dressing is delightful. I want to mop up the dressing with some bread but the focaccia and wholemeal baguette from the bread basket are stale – unlike the sesame flatbread crisp, which helps spoon out a good tapenade dip.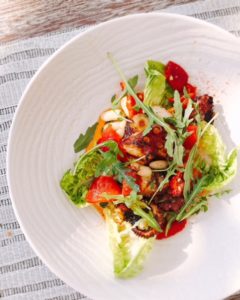 Another traditional Italian dish is a risotto verde made with carnaroli rice for a nice firm bite. The chopped veg mix of broccoli, spinach, squash, green beans and courgette are al dente. Topped with Pecorino, it's such an excellent rendition, I would have liked a little more.
The spaghetti alle Vongole, a more generous portion, is cooked 'in bianco' with clams of course, white wine, parsley and a sprinkling of umami-laden bottarga roe – delicious. The dessert selection is enticing (no bake cheesecake included), as is the cheese option but not at AED175.
Needless to say, the wine list is just as expensive as the food, so we settle on two entry-level glasses of rose, M de Minuty for AED60 – however I abhor when waiters present the wine already poured with no evidence of the bottle. That and the arrogance of the manager aside, the service from mostly French staff is efficient in a busy but not full Saturday lunch service. The live DJ music (I guess that's what beach clubs demand) is so ridiculously loud, even our waitress asks if we would like the level toned down, to which she manages to rectify. I will say, that toned down, the playlist does add to the atmosphere of a beach club (for Dubai's glam crowd).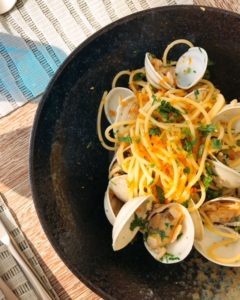 Drift is a gorgeously designed open-plan restaurant with shades of blue, and natural 'driftwood' that overlooks an infinity pool and the Palm. Interestingly, children and teens under 16 are not permitted into the restaurant or the beach club, whilst 16-20 year olds must be accompanied by an adult. They wouldn't be able to afford the bill otherwise. Another point worth noting is Drift's opening hours until 7pm only, so it's firmly positioned as a lunchtime spot.
I really want Drift to succeed for chef Maxime's sake, but I do feel with a minimum bill of AED350 per person based on three courses (without alcohol), the pricing should be adjusted so the simple food can shine. Revising the menu to limit the lobster and truffle dishes would also help. The location may be in one of Dubai's most luxurious resorts (note; Drift is an independently managed concept), but it is still a beach club – not some fancy fine dining establishment. Having said that, I do think given Drift's target audience of high net worth residents, that this concept will do relatively well in the short term. For now, here's to an average three out of five FooDiva knife rating. I hope Drift's choice of name is not indicative of its future.
How much would you pay for a three-course beach club lunch in Dubai?
A bientôt.
FooDiva. x