La Petite Maison Abu Dhabi: is good food alone enough to make me return?
When dining out, is there anything more frustrating than external factors distracting you from great food? Especially when the food is as good as it promises to be at new Abu Dhabi restaurant opening La Petite Maison (LPM) in the Galleria Mall on Maryah Island. LPM Abu Dhabi is preceded by its London, Moscow, Nice and Dubai locations and has a reputation that has sustained success at those sites for a considerable period of time. Happily, I would be reviewing within my area of expertise and passion, French cuisine, and a chance to compare the Italian-influenced cuisine Niçoise of LPM with my dining experiences in Nice and the surrounding Mediterranean areas.
Booking is not simple as there is very limited online information; do not bother calling after 9pm and expect to speak to anyone. This inaccessibility is compounded further by the difficulty of getting to Maryah Island; traffic and roadworks make us twenty minutes late. But that's not LPM's fault. As discussed in a previous restaurant review, walking through a mall – no matter how high-end the mall – is not desirable when dressed up for a special occasion.
A welcome team offers a lukewarm greeting and usher us to a table next to some building work, setting the tone for the rest of the evening. This is a major issue for LPM; the interior is confused at best, and inconsiderate to customers at worst. The classic, white lines of a Mediterranean dining room are mashed with modern art on the walls. The tables are just downright frustrating and far too cramped to enjoy the meal. The distance to the next table is less than the length of my forearm, meaning that I have a succession of body parts close to my face throughout the meal. The table itself is too small and littered with superfluous accessories. Olive oil, balsamic vinegar, salt-and-pepper pots, tomatoes, lemons and extra plates leave insufficient room for a relaxed dining experience. I cannot remember ever wanting to slice my own lemons and tomatoes in a restaurant (hygiene concerns surely?) – that is a job for the kitchen. A quick look back to FooDiva's CNN dining special on LPM Dubai in 2013 and online reviews shows that this has been happening since its inception in 2010. Is it time to update this table set-up?
The service is hampered by a lack of organisation and an overzealous need to stick to 'protocol'. Managers browsing on their mobile phones, impromptu staff meetings in the middle of the dining floor, waiters unsure of where to take food, a refusal to remove table decorations to make space, and wine not being delivered with the right course are all symptoms of a chaotic service. The insistence of a sharing-style service is overly complicated given the space on the table. I do not mind sharing starters but our mains are simply not designed to be shared from the middle of the table. There is not enough room to do so and the experience becomes infuriating as each course is squeezed onto the table.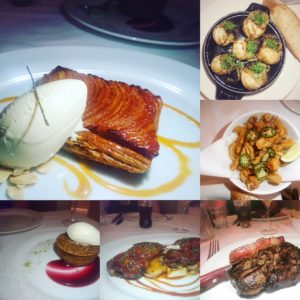 What about the food? From a huge menu, the obvious, classic starter for me is escargots du Bourgogne and these snails are as soft, buttery and garlicky as they could possibly be; I just wish for more than six of them. The calamars frits are pleasant enough, but lack an accompanying sauce to lift them above the level of ordinary.
The main course of entrecôte grillée (ribeye steak) is well-seasoned and cooked to perfection to allow the luscious fat to do its job. Canard à l'orange is a well-sized portion of delightful, sticky duck legs. Sides are at an added cost and only two sauces are available with the steak; mustard and tarragon, and some sort of caper-based dip. Add in a starchy carbohydrate and a vegetable, and your bill is totting up handsomely. I order pommes frites. I do not get frites – but some chunky, unevenly-cooked chips. The brilliance of the cooking of the rest of the food is undone with frites that would surely upset your average Frenchman (or Belgian, of course).
As regular readers will know, I love desserts more than any other course. I am pleased to see a good selection of classics, eventually selecting tarte fine aux pommes (apple tart) for me and gàteau à la pistache, sauce cerise et glace au miel (pistachio cake with cherry sauce and honey ice cream) for my wife. Both are complemented by incredibly smooth ice-cream, delivering satisfying flavours and textures, but could maybe have done with a minute less cooking to be as perfect as a French pastry chef would expect. Overall, I am happy with the food and the first two courses are enhanced by expert recommendations from the Ukrainian sommelier. The Sancerre Les Caillottes that is paired with the snails is of particular interest as it is served from a three-litre bottle to augment the freshness of the wine.
The bill arrives and the price point of AED420 per person (without alcohol) is too high for the overall experience at LPM. Selecting an extra side, or a more expensive dish than the relatively 'cheap' duck, could easily take your individual spend without drinks to well past the AED500 mark.
The atmosphere is slightly strange as the restaurant is impressively full, but when I close my eyes, I don't hear the buzz of conversation that one might expect. The high number of diners fixated on their phones is one reason, and also not helped by one of the weirdest soundtracks – some sort of general, synthetic pop compilation. Everything is in place for an exceptional dining experience but the confused interior, subdued atmosphere, imperfect location, high price point and muddled service are too much of a distraction from what should be classic Mediterranean flavours and outstanding cookery. When compared with the elegance and spaciousness of rival Abu Dhabi restaurants such as Bord Eau, it is simply disappointing. I won't be returning anytime soon, given Abu Dhabi has many more exciting and more affordable high-end dining options. With all these factors in mind, I can only give a FooDiva knife rating of 2.5 out of five.
Is good food alone enough to make you return to a high-end licensed restaurant?
Matt.
Who is Matt? A married man with an obsession for French wine and fine dining, he loves nothing more than trying new restaurants and dishes with his wife and friends. Travel plans are always made around food and he can remember what he was doing on any given day by recalling the meal that he ate. His favourite chefs are Michel Roux Jr. and Michael Bremner. You can follow him on Instagram @finediningmatt