Dairy diaries: why French dairy, plus where and what pâtisserie to eat in Paris
The French have a funny relationship with dairy. Despite France's love affair with cheese, there's surprisingly little love lost between the French and milk, since they don't actually consume a lot of it. Approximately 75 per cent of the milk produced in France is transformed into crème fraîche, fromage blanc, yoghurt, butter and of course, fromage. Dairy is a fundamental component in any pastry kitchen, which, incidentally, is referred to as a laboratory in France – perhaps proof that the French take their pâtisserie seriously. Cream is whipped to give a feather-light, fluffy texture and goes by a number of names including crème Chantilly, crème de Chantilly, crème à la Chantilly, or crème fouettée à la Chantilly – or to us non-Frenchies, simply whipped cream. Basic pâtisserie techniques can produce shortcrust, flakey, filo, puff or choux pastry.
Cream adds lightness and enhances taste while playing with texture. Traditionally in the Middle East, cream was never commonly used in cooking, but with the ever growing ability to import almost any ingredient from around the world, we're discovering more about this versatile ingredient. Versatility is perhaps only one of the reasons why creative chefs turn to pâtisserie to express themselves. On the other side of the coin, or the baking tray, I should say, there is a growing trend towards creating classics with a contemporary edge in an effort to recapture nostalgic childhood memories.
Earlier this month, I delved deep into the fascinating world of dairy production and pâtisserie through a week-long press trip organised by Sopexa, a communications agency who work closely with CNIEL, a French dairy association in partnership with the European Union. We visited farms and dairies in both Normandy and Brittany who shared their expertise and production standards. We then made our way to belle Paris, where we tasted the wonderful way cream works its way into the concoctions of the city's best pastry chefs.
So here's a guide on why French dairy is such a premium product, plus where to eat pâtisserie in Paris (and Dubai!), plus some signature French pastries and desserts.
WHY FRENCH DAIRY?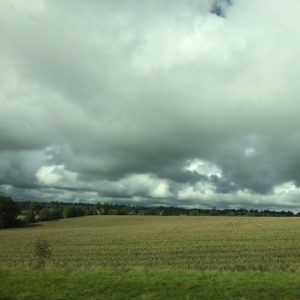 After trekking through puddles and seeking shelter from sporadic autumn showers, I can confidently say that 'overcast charm' is one of the elements that gives French dairy its exceptional flavour. Both Normandy and Brittany located in the northern and north western regions of France respectively, are blessed with terroir and mild climates ideal for cow grazing. The resulting flora with its thick fleshy grass and seasonal spring flowers is enriched with minerals and salts that produce exceptional fatty milk, which is what makes its dairy by-products so well suited to pastry making. Fun fact: the colour of butter changes to a deeper yellow in spring, because cows graze on the little yellow flowers that grow that time of year. The process is quite simple – the milk's water and fat content are separated and transformed into cream, which is then churned to make butter. Each farm is home to an average of 50 cows, of which most have been family run for generations. The cows graze freely on pasture land, making for happy animals 🙂 And as a result, 95 per cent of all the milk produced in France is Grade A standard.
The farmers we meet are at the heart of the industry and collectively form fully independent cooperatives that specialise in producing premium milk 'in an artisanal way'. They contribute 55 per cent of all the milk production in France, with the rest coming from private companies. Many of the familiar French brands you see in supermarkets across the UAE like President, Elle & Vire, Isigny Ste-Mere, Lescure and Paysan Breton come from these production houses and have been available here for over two decades.
The French dairy industry is a major driver of the French economy, having created nearly 250,000 jobs and generating annual revenues of €27 billion making it the country's second largest agrifood business after meat. Among the many dairy products, only three butters (Beurre de Charentes-Poitou, Beurre d'Isigny and Beurre de Bresse) and two creams (Isigny crème fraîche and Crème de Bresse) have earned the right to use the AOC (Appellation d'origine contrôlée) or PDO (Protected Designation of Origin) labels. These labels recognise the authenticity of a product through particular characteristics, including but not limited to production technique and taste, and are attributed to the region in which it is produced. It's mastery at the highest level and this classification typically takes 15 to 20 years to achieve. Although these labels are most commonly used to distinguish high quality cheese and wine – you can read more about PDO cheese in FooDiva's tour de fromage guide – some producers have managed to extend the standard to also include cream and butter products.
WHERE AND WHAT FRENCH PATISSERIE TO EAT IN PARIS…AND DUBAI!
If you're planning a trip to Paris and fancy pastry shop-hopping, here are my recommendations. I've also included each pastry chef's suggestion for a 'one night in Paris' bucket-list dinner. Firstly, 10 classic French cakes and desserts to look out for:
Baba au rhum: a small cake sweetened with rum syrup and filled with whipped cream.
Éclairs: an oblong choux pastry filled with fresh cream or crème pâtissière and topped with icing.
Iles flottantes: literally translates to 'floating island', consisting of vanilla custard with floating poached egg whites, drizzled with caramel.
Mille-feuille: three layers of pâte feuilletée alternating with two layers of pastry cream.
Mont-Blanc: puréed chestnuts topped with whipped cream. The name denotes the resemblance to the snow-capped mountain of Mont Blanc.
Paris-Brest: choux pastry with a praline flavoured cream.
Religieuses: two choux pastry cases, one larger than the other, filled with crème pâtissière, most commonly chocolate or mocha. Each case is covered in a ganache of the same flavour as the filling, and then joined with piped buttercream.
Saint-Honore: a puff pastry base with a ring of pâte â choux piped on the outer edge.
Tarte Tatin: named after the hotel, and the sisters who baked it. An upside-down pastry in which the fruit is caramelised in butter and sugar before the tart is baked.
Tarte au citron: a pastry shell tart filled with lemon cream or lemon curd.
Park Hyatt Paris-Vendôme: Best for a chic afternoon tea. You'll find Chef Jimmy Mournet's afternoon tea menu changes with the seasons. I tasted his summer creations (pictured below left) inspired from his recent trip to the South of France. 5 Rue de la Paix, 2nd arrondissement.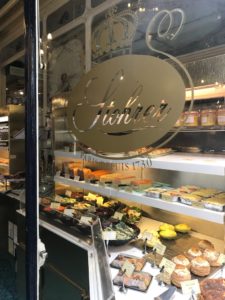 Stohrer Pâtissier Traiteur: Best for pseudo historical sightseeing. Who says it needs to be a cathedral to be worth a visit? According to executive pastry chef Jeffery Gagnes, Stohrer is the oldest pastry shop in Paris and also the birthplace of baba au rhum cake. 51 Rue Montorgueil, 2nd arrondissement. Incidentally, chef Jeffery recommends Chartier if you only had one night in Paris, for a taste of traditional and soulful French fare. 7 Rue du Faubourg Montmartre, 9th arrondissement.
Un Dimanche A Paris: Best for picking up chocolate gift boxes for friends and family back home. This chocolatier and pâtisserie is run by Pierre Cluizel who comes from a long family line of chocolate makers. 4-6-8 Cours du Commerce Saint-André, 6th arrondissement. Chef Nicolas Bacheyre (above right) is the head pastry chef, and he recommends visiting Epicure for an unforgettable three Michelin star French meal. 112 rue du Faubourg Saint-Honoré, 8th arrondissement.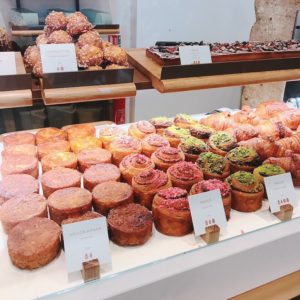 Yann Couvreur: Best for a quintessential Parisian 'see and be seen' late breakfast. Try and grab a spot on the communal high table overlooking the cobbled street. Chef Yann has been called the rising star of pâtisserie. He left the world of luxury hotels (including Le Burgundy, Le Prince de Galles and Eden Rock Saint-Barthélémy) to open his very own pastry shop. 137 Avenue Parmentier, 10th arrondissement. For one night in Paris, Yann recommends David Toutain for his inventive use of seasonal vegetables and simple natural aesthetic. I managed to squeeze in dinner (amongst all the pastry shops!) and I second his recommendation 🙂 29 Rue Surcouf, 7th arrondissement. 
In addition, when FooDiva posted about my French trip on Instagram, followers responded with the following recommendations: L'Eclaire de Genie; Jacques Genin for patisserie in particular chocolate-based; chocolatier Patrick Roger; and an addictive must-follow, Desserted in Paris, a pastry chef who makes daily bakery suggestions on Instagram, paired with shoes 😉
For high-end #pastryporn check out Cedric Grolet, pastry chef of Le Meurice restaurant, who has just been crowned the world's best patissier by Les Grandes Tables du Monde. His Instragram account is drool-worthy.

For a sweet slice of Paris in Dubai, here are five recommendations on where to find some of my favourite French-style pastries and desserts in the city – in alphabetical order:
Do you have any other recommendations for pastry shops in Paris, or Dubai for that matter? How do you typically use cream in cooking?
A bientôt.
Layla. x
Who is guest reviewer Layla? A self-proclaimed dayeater, ex-PR girl and F&B marketeer with a background in hospitality. Currently a creative director by day, and by night she shares her tales of wondrous food and drink on her Instagram page.