10 new brunches in Dubai (2017/ 2018)
"Do you ever get bored of brunching?" rings the familiar chime of questioning that starts many of our conversations with brunch lovers and brunch cynics alike. The response is always the same; defiant and unwavering after eight years of exhaustive research into the Dubai brunch market…"NO!" The reasons are too numerous to list, but the increase in quality is certainly a high factor. It is no wonder that our guide this year includes some of the most well-known, UAE-based chefs such as Greg Malouf and Roberto Segura who throw their chef hats into the brunch ring. Mass production buffets still exist and these can still be great, although the prominence of chef-led tasting concepts and à la carte service now lead the way at many of our new brunch entrants.
So without further ado, we bring you the Mr & Mrs Brunch top 10 round-up of fresh new brunches in Dubai for the 2017/ 18 season, written exclusively for FooDiva, in alphabetical order. Unless stated otherwise, the price range indicates the cheapest non-alcoholic package and the most expensive Champagne or sparkling option. And if you're visiting Abu Dhabi, here is this season's Abu Dhabi brunch guide by guest reviewer Matt.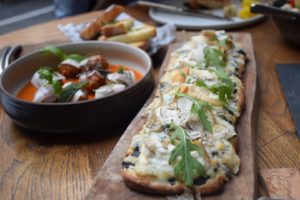 Boca at DIFC: with a new menu and a revamped brunch, Boca retains its ethos of taking simple, fresh and locally sourced ingredients, doing as little to them as possible, and sharing them with like-minded people in a sequence of cold and hot tapas, mains and desserts. Truth be told, this Mediterranean fiesta of flavour should have featured on our brunch roundup last year (we had already published the guide by the time we got around to experiencing it), but we are glad to see that the injection of new dishes such as lobster and lime pizzetta, along with a new paella Valenciana are joined by the returning champions which lingered in our minds for the entire year. Think unctuous black rice, seared scallops and aromatic clams; hand-rolled gnocchi; and braised beef short rib topped with shaved parmesan and fried sage that effortlessly melts away under the slightest pressure from a fork. A casual, laid back ambiance where distractions are minimal and food is the star. INFO: AED245-545. Moet & Chandon Champagne. Friday 1-4pm. T; +971 4 3431833.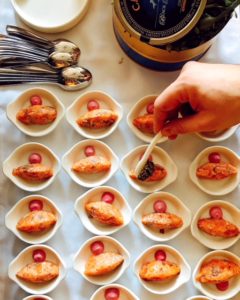 Café Belge at Ritz-Carlton DIFC: interestingly, this home grown Belgian restaurant has relaunched its brunch moving from an a la carte format to 'Grand' buffet-style with endless food stations high on quality ingredients – from caviar, oysters, ceviche and sashimi, to foie gras, mussels, roast rib-eye with Yorkshire pudding, and fish goujons with frites – culminating with a cheese spread and a dessert room. As brunch commences, a weekly-changing amuse bouche is served at the table. With both indoor and terrace seating, an excellent jazz band provides an entertaining side order of tunes. INFO: AED295-595. Laurent Perrier Champagne. Friday 12-4pm. T; +971 4 3722323.
The Croft at Dubai Marriott Harbour Hotel: well known for dishing up exceptional and unashamedly British grub, The Croft launched its new 'Brunch Nation' to showcase the diversity of cultures and flavours from across the current and former members of the Commonwealth. Currently in a period of transition after the departure of chef de cuisine, Darren Velvick, the restaurant bravely takes on this gastronomic challenge and displays remarkable dexterity in his absence.
The round the world tour at your table begins with Australian salads and dips before the temperature gradually increases with hot Asian appetisers, including Cantonese dim sum, Beijing duck pancakes and Indonesian gado gado. Course three from India turns the heat up even further with chicken tikka masala, lamb rogan josh and spicy grilled tandoori prawns, before circumnavigating to classic British beef Wellington, fish and chips, and leek cheddar croquettes served with root vegetables and mushy peas. Course five finally encourages you to leave your table with a trip to the dessert station where rice pudding, Victoria sponge and an espresso martini stand feature as your reward. A general knowledge rapid fire quiz allows guests to show off their Commonwealth knowledge and win a bottle of bubbly for the table – or you can simply relax with a Pimms or gin and tonic on the terrace. INFO: AED399 with house beverages and cocktails. Friday 12.30-3.30pm. T; +971 4 3194000.  
El Chiringuito at Rixos Palm Jumeirah: overlooking the blue waters of Palm Jumeirah, Ibiza's infamous beach club gem El Chiringuito has sprung into existence. A magnificent, bougainvillea-draped sanctuary, interspersed with dream catchers sports effortless beach house chic. The menu served tableside is an expertly devised selection of modern Mediterranean dishes with French and Ibicenco touches – think entrecote Nebraska Black Angus, and cotoletta alla Milanese (giant bone-in breaded veal escalope). The starters of chunky, hand-cut tuna tartare marinated in soy sauce and ginger with an avocado and coriander puree is both a delight on the eyes and the palate, as is the simple zucchini and fennel salad with shavings of fresh Parmesan. Includes pool access. INFO: AED395-695. Zonin Prosecco. Saturday 12-4pm. T; +971 4 5018606.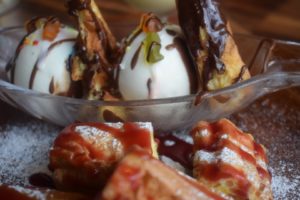 Fumé: having previously resisted the urge to jump on the brunch band wagon, the fume-azing brunch was born as a by-product of the vastly popular AED30 kids buffet that runs each weekend, packing the venue with what seems like an entire play pen full of toddlers, whilst mum and dad relax over coffee and a spectacular view. Brunch is an uncomplicated four-course set menu that has standouts including the buttermilk fried chicken, Asian-spiced lamb chops, glutinous mac and cheese and a tantalising tiramisu. INFO: AED199 for beer, wine, spirits and cocktails. Friday 1-4pm. T; +971 4 5678304. 
GBR (Great British Restaurant) at Dukes Dubai: a brand new brunch in a swanky new hotel on Palm Jumeirah that utilises a tried and trusted technique of attracting Brits (and other nationalities). The particular allure of this brunch is the promise of quintessential comforts and indulgences from home, all wrapped in the shiny veneer of a 'Best Dressed' fashion show that attracts a well-heeled and coiffed audience. A kitsch prawn cocktail station; fish, chips and mushy peas; two different roasts with curry sauce, proper gravy, Branston pickle and HP sauce; and even a homage to the Brit's national curry dish. The desserts are where they really go all out, with union jack cup cakes, sherry trifle, Victoria sponge, jaffa cakes, Battenberg cake and warm scones with clotted cream and raspberry jam, evoking so many fond memories of childhood, whilst the unmistakable sound of the Beatles and other famous British artists pours through the dining room. For drinks, expect G&T, Pimm's and Bloody Mary cocktails. INFO: AED295-645. Taittinger Champagne. Friday 1-4pm. T; +971 4 4551101.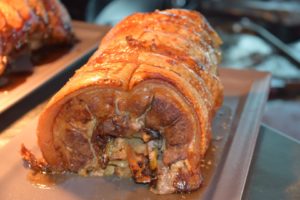 Observatory Bar & Grill at Marriott Dubai Harbour Hotel: the 52nd floor houses one of Dubai's most famous vantage points with stunning views of Palm Jumeirah and the enthralling marina skyline. The all new 'Sky High' brunch provides 360-degrees of epicurean exploration (literally) as you stride the entire circumference of the restaurant, experiencing everything from starters, mains, grills and desserts along the way, before eventually making it back to your table. Known for its hearty pork selection, don't ignore dishes such as the pan-seared salmon with chilli-spiced bok choy that change on a weekly basis, or the interactive grill kitchen where you choose your protein from a chilled selection including chicken, red snapper, Nile perch, rib-eye, tenderloin and lamb chops, with a selection of dry rubs. Six beverage stations scattered around the restaurant, as well as a lively DJ ensure you will never be stationary for too long in one of the only venues in Dubai that truly allows you to circle the sunset. INFO: AED300-450. Hardy's the Riddle Sparkling Brut. Friday 12.30-3.30pm. T; +971 4 3194000.
The Restaurant at Address Boulevard: a chic, sophisticated, fashion-forward brunch that transports you to the plush surroundings of the Côte d'Azur, with classic dishes from all around the Mediterranean coast, served to the table family-style. Lauded dishes include the pissaladiere, a beautiful pizza-like flat bread (although with a thicker dough) that is served as an appetiser and topped with garlic, olives, caramelised onions and salty anchovies; a traditional provincial fish stew of bouillabaisse from Marseille with firm, fresh fish, clear broth and a sublime flavour; and finally, the Tarte de Saint-Tropez, a rich cream-filled brioche, similar to the composition of a single-layered mille feuille, which according to legend owes its discovery to French actress, Brigitte Bardot. The sounds of the Riviera complete the feeling of overall decadence, along with the option to engage in a game of petanque (French boules) or to take a leisurely swim complete with premium caviar and inflatable pink flamingos (for those on the top Magnifique AED525 package). INFO: AED325-525. Luc Belaire Sparkling Rose. Friday 12-4pm. T; +971 4 8883444.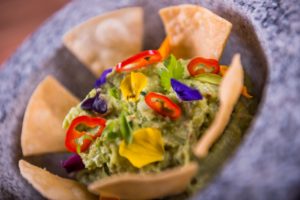 Waka at Oberoi Hotel Business Bay: as soon as you step through that vibrant blue door, you know you are about to embark on one of the most insta-grammable brunches in Dubai. Chef Roberto Segura, hailing from Lima himself gathers most of his inspiration from Peru, Columbia, Mexico and the rest of Latin America – and shows just why this type of food has climbed to the top of the world. The restaurant showcases contemporary techniques that aim to confuse and excite the senses all at the same time, with dynamic regional cuisine coupled with lively Latin American music and Brazilian carnival dancers. The addition of a ceviche station allows you to get up and experiment with a variety of flavours such as the spicy snapper ceviche with scallops, aji cream and spring onions, whilst hot starters and signature dishes from the main menu are served table side. Dishes of note include tender beef spare ribs charred on the Josper grill; 'wakamole' pictured; and truffle quinoa risotto with aji amarillo, fresh truffle and wild mushrooms. INFO: AED250-500. Donelli Brut Prosecco. Friday 12.30-4pm or 8pm-11.30pm. T; +971 4 4441455.
Zahira at H Hotel: having recently dabbled with the idea of a long Friday lunch, chef Greg Malouf and his team have stepped firmly into the breach with a new brunch concept in line with the high-end, home grown restaurant specialising in modern, Middle Eastern cuisine. The brunch includes a wide selection from their regular sharing menu, encompassing the 'art of mezze' (starters); the 'art of sharing' (main courses); and the 'art of sweet design' (desserts); from which you have the arduous task of selecting just seven dishes for the table. If you need assistance choosing from the 34 dishes on offer, chef recommends his signature Malouf basturma, salmon kibbeh nayyah, or Malouf's ouzi with slow-cooked spiced Australian saltbush lamb. Desserts feature kanafe shredded pastry topped with sweet cheese and served with rose syrup and apricot jam; a peach and apricot pavlova; or knife and fork ice cream with white chocolate and leatherwood honey truffles. INFO: AED325 with beer, wine and spirits. Friday 1-4pm. T; +971 4 5018606. 
Have you come across any other new and good brunch launches this season?
Mr & Mrs Brunch
Mr & Mrs Brunch are two of the UAE's most discerning (and consistent) brunchers, having amassed a steady average of eight brunches a month over the last five years. Giving advice and recommendations comes naturally to friends, colleagues and complete strangers. You can find their full reviews on their website here, or on their app Lets Brunch, which also includes a growing list of deals and discounts to help you make informed decisions when it comes to such an important staple of UAE life…brunch.