Meet chef Tim Raue at his Dubai restaurant Dragonfly
He is a self-confessed egocentric, yet at the same time considers himself charming (he is). Having watched the chef Tim Raue episode on Chef's Table, I was a little worried he would lose his temper in my interview, but after I stopped recording, he was at pains to reassure me, that whilst the award-winning Netflix programme is a genius marketing platform, the editing didn't do justice to his true persona. Hence the answer to my last question.
Yes Tim's a boy that grew up in the gangster gutters of Berlin, but it's a story of tremendous determination and willpower that saw the now 43-year old German ditch the streets for a kitchen to earn money. Bored with a traditional French cooking style, he developed a love affair with Asian fusion cuisine high on spice. He now operates eight restaurants in Germany, plus Dragonfly at Citywalk which opened earlier this year, with more Dubai restaurants on the cards. His flagship Restaurant Tim Raue in Berlin boasts two Michelin stars and sits at No 48 on the 2017 World's 50 Best list (recently dropped from a 34 ranking).
On a personal level, Tim's ex-wife Marie-Anne is his business partner and restaurant manager, but as he said "I am lucky to have fallen in love again," with his now fiancée. He's another chef that personifies the mantra "where there's a will, there's a way." Here's my interview which includes his struggle with the fact that Dragonfly is unlicensed. Enjoy the read 🙂
Why did you settle on Dubai as your first international location? I had offers from around the world but Meraas seemed the right company to partner and open several places with. I have several concepts which are running successfully in Germany, and the idea is to also bring them to Dubai with the same partner. I sent here the best team I have – Patricia as restaurant manager, and Christian, the head chef of my entire company is based here [in the kitchen]. I have changed a bit from chef to businessman and restaurateur. I'm not looking for five restaurants in five continents, because you would then really have to fly a lot, and it costs you a lot of energy. I want to stay more focused and Dubai is a great location. Within six hours you're here.
So when you say you're changing from a chef to a restaurateur, is that to open restaurants around the world which commercially are perhaps more viable than Restaurant Tim Raue in Berlin? Like what Virgilio Martinez is doing. No, the main restaurant is still the heartbeat of my life, and I'm still there – not that often, but I do the daily business. I create all the dishes. I am there to greet and host guests. I'm not looking everywhere worldwide. I have restaurants in Germany and on a German cruise liner which I am happy with.
Does the lack of an alcohol licence in Dubai worry you? To be honest I didn't realise at the time it would be an issue. I thought that because we know that not everything is licensed in Dubai, we can try to do it with juices but the expat customers are not really interested. I saw it as a chance to present to the customer something different – Asian-style fermented juice pairings that we press and flavour ourselves [called jines]. What I have recognised is that [the lack of alcohol] is a really big issue in Dubai. If you want to have Westerners and expats you need alcohol! And we are definitely struggling. City Walk is still in development, plus the customers coming to this area are eighty per cent locals, so that's why we have to adjust the menu to attract them. Meraas is discussing getting the entire boulevard at City Walk licensed. Let's see what happens. The reviews the restaurant has had and the feedback from guests is amazing though.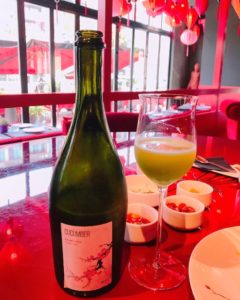 You yourself claim to be egocentric, evident in Chef's Table. How has that helped you? A lot. I think of course I also have a strong character. I am so focused that I am not interested in a lot of things that happen around me. I live in my own world which I create and where I make the decisions. Yes I want to do that or I don't want to do that, and that makes me the guy I am! And I'm pretty happy with that. I know for sure what I want and when, and where I want to do it. Sometimes for people around me it's not that easy to handle me. Even for investors, because they gave me the ability and the money, but at the end of the day, it's me who makes the decisions. What I try to understand is that it's about making guests happy and giving them an experience which is one of a kind; bringing joy and fun to their palates because this is the talent I have been given and I'm very thankful for that.
On Chef's Table you said: "what I understood was the French idea of cooking, it's not me. It is harmony. All the dishes have to be balanced, and I don't have that harmony. I'm not that kind of balance." Can you not have harmony in flavours with Asian food? Perhaps, but not for me. My cuisine at my main restaurant does not have harmony. But for my other mainstream concepts, we do have harmony in our dishes as it has to suit everyone. As a chef you can express yourself with the dishes you do and this is what I do. If you see my dishes, you see me – it's much lighter and finer and more sensitive than how I dress myself, because if I wear these colours and fabrics, like silk, I would look like a drag queen! Flavour-wise, it's like a cloud coming over and taking over your mouth for seconds where you feel it; like ants biting your palate, and then it's gone, and the next moment the next dish arrives. I think that the younger generation of chefs has forgotten what cooking means. You have two choices when opening a restaurant – you can please every guest with a really mainstream product which makes you commercially successful – or you follow an artist's path, like visiting a museum or an art gallery. And I think with my main restaurant I try to follow this path. If the dishes are too 'nice', I put more acidity and more spice. My dishes all have sweetness, acidity and spice.
So do you have harmony in flavours at Dragonfly? We mix it up. Thankfully, both locals and expats like it spicy here, so we can spice it up. But not on the level of Berlin. We're not here to provoke; we are here to make customers happy and I think you also have to understand where you are.
What is an over-rated food trend for you? For me it's the fermentation of vegetables. It is senseless because everything tastes the same – sour. If you go to Korea and you eat fermented vegetables all day you get a lot of rumble in the jungle – because it doesn't work. It's the media who invent trends to talk about something new. [FooDiva's note: fermented juices are part of Dragonfly's drinks proposition 😉 ]. What I like very much is that a lot of customers are asking about sustainability, and "has it got great taste." I started my career very early in Michelin star restaurants. We didn't know what organic was. But it was clear to everyone if you buy a carrot from a tiny farmer who loves what he does, that's much better than industrial produce. People are very aware these days of what they eat, and that's something I like very, very much.
So are you sourcing locally here during the harvesting season? We try our best, as good as it is, but for Christian it is a hard job. Because for us, it's all about the taste and the quality. So if what they do locally is not good enough, it's not good enough. So we have to import it from Australia or wherever the produce needs to come from. This is something that I do in Berlin as well. For 15 years, I have a cooperation with gardeners just outside Bangkok, where I get twice per week 80 per cent of my vegetables, fruit and herbs. And of course that's bad for my carbon footprint but these flights are existing. As long as I'm able to source from Bangkok I will do it. If one day I can't, then am happy with that.
There's been speculation that Michelin is going to start rating Dubai. Do you think Dubai is ready for Michelin from what you've seen? I know that Michelin was here because they also talked to me – let's see what happens. I think of course Dubai is ready for Michelin, but if anyone here is waiting to get a handful of stars, I don't think that will happen. From what I have seen, restaurants here are about entertainment, more than food.
What's your favourite restaurant in the world? The one cuisine in the world which I love more than others is Cantonese. And it's Lung King Heen, a three Michelin star restaurant at the Four Seasons in Hong Kong. It's not because it's three star, but for lunch, they do the best dim sum I've ever had in my life. The flavouring is so high on spice; they don't go the Szechuan way but they have twists.
Anything else you'd like me or my readers to know about you? I'm very charming [he chuckles].
What's your favourite Chef's Table episode? Would you consider dining at Dragonfly without alcohol, or have you?
A bientôt.
FooDiva. x