Is a restaurant the right next step for Chez Charles?
Charles Boghos first launched a gourmet grocer's website five years ago, followed by a catering service and now a licensed French restaurant, all in Dubai – a natural progression for a man with a keen interest in food, but can he pull it off? Chez Charles (the restaurant) is located in Dubai Design District, and luckily this establishment is well signposted and easy to find.
Chez Charles defines itself as a brasserie, which implies a slightly relaxed feel, but it boasts an air of sophistication with white linen table cloths, banquettes, a neutral colour palette and bronze mirrors. A large kitchen hides behind a clear glass stage, giving diners a view into the action, without the clatter and sizzle. But it's also sterile, not helped by lighting that is too bright. There's also an outdoor terrace. When we arrive at 8pm on a Thursday, we are the only table in the restaurant, but by the time we leave it's nearly full, with a slightly older, arty crowd – if that's not an oxymoron 😉
A heads up before I continue, I am recognised on arrival (despite reserving in another name) and a couple of complimentary dishes are sent out throughout our meal. Thankfully I can still pay the bill to warrant a review.
The wine list has a decent selection by the glass, but what catches my eye is the cocktail list, and specifically, a martini with parmesan-infused vermouth. It's described as suitable for lovers of a dirty martini – spot on with a Parmesan flavour replacing olive brine. Sadly it arrives topped with a Parmesan crust and overpowering drizzles of truffle oil. I am allergic to truffles (and its oil) so am forced to send it back. I really don't understand why restaurants in Dubai don't list key ingredients on the menu, something I express to our waitress. The drink returns sans Parmesan crust and sans truffle oil. It's as strong as the waiter indicates and makes an excellent alternative to a traditional dirty martini. I am not charged for the drink, so at least the customer service recovery is good. By this stage, I am desperate for some bread to soak up the alcohol, and perhaps sensing my anticipation, some fresh focaccia slices arrive with a gorgeous Kalamata olive and Parmesan tapenade – such a wonderful umami combination.
The menu is divided into salads, hors d'oeuvres, sharing platters, seafood (described as river, sea and ocean), poultry/ meat and pasta/ risotto dishes. The devilled eggs (Mimosa) from the 'salad' section is served as a large portion of three half-eggs. The creamy egg mix with the addition of Dijon mustard mayo gives it a good kick, and complements a bed of refreshing crunchy diced asparagus salad.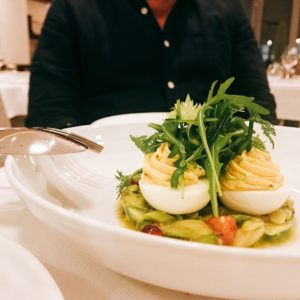 The hand cut beef tartare (with Angus tenderloin) is excellent and well seasoned, speaking to the purist in me. I find the topping of a mesclun salad slightly annoying as I just want to dig into the meat, and a disappointing sliver of Pissaladiére toast is more soggy bread than toast. But all is redeemed with the accompanying portion of French fries; so addictive are they I order seconds. Double fried at a lower temperature, they are crispy at first bite, and then the feather light potato disintegrates in my mouth.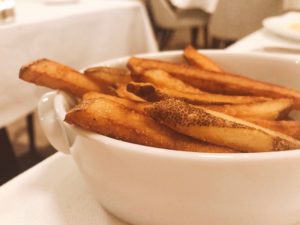 Some Burgundy snails arrive on the house – these juicy tender beauties are cooked in a tomato and garlic butter sauce, and topped off with, oddly, a crouton. Put aside any preconceptions you may have about snails being chewy and order this dish; you will thank me. What's missing is a tiny fork or a spoon to lift the snails out of the teeny pots (served individually) – a regular fork makes a messy job.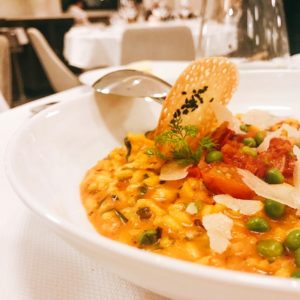 A seafood risotto with plenty of squid, prawns and scallops is infused with paella flavours – saffron in particular shines through. It strikes the right textural balance between al dente and creamy. Despite the fact this dish is far from French, the manager is right to steer me towards ordering it when I query him on my main course dilemma.
The milk-fed veal tenderloin is the sole disappointing dish of the night (and at AED210 the most expensive from what we order). Whilst super tender and cooked perfectly pink, veal rarely has much flavour so it needs a strong accompaniment. The ratatouille is bland and the shallot mousseline with garlic cream is not powerful enough. A mustard sauce perhaps would make a more worthy complement.
The menu has ample choice when it comes to desserts. My lime yoghurt topped with a passion fruit jelly and strawberry compote is light and refreshing; just how I like my desserts. A traditional chocolate mousse is given a twist with double layers and a crumbled meringue topping – my dining partner adores it. The dessert that doesn't go down well for either of us is the one sent to our table complimentary – a traditional Tropézienne. How anyone can eat that much brioche and a sickly sweet custard flavoured with orange blossom water after a meal is beyond me.
Service is a little nervous and over-attentive (I blame the recognition), but our waiter's menu knowledge is commendable. I am glad Chez Charles fills up because otherwise the atmosphere at the start is severely lacking. A French artist is live painting the chefs throughout our dinner, which helps create some ambience, but it's a one-off Art Week event. With one wall of floor-to-ceiling windows, I expect it makes a great lunch location.
We pay AED310 per person for three courses each, but the menu has some more expensive dishes, so this price point can easily increase. Whilst Chez Charles offers value for money, it borders on pricey – expect to pay more here than at the only other licensed neighbour, The Lighthouse (admittedly a more casual experience).
I am glad Charles has gone down the restaurant route, and his expertise with sourcing excellent produce shines through his modern twist on mostly French classics – even though some dishes need tweaking. I would like to see more vibrancy in the dining room's decor (and the bar next door); ironic given the Design District location. Perhaps making art a long-term feature would help create more buzz. With all this in mind, here's to 3.5 out of 5 FooDiva knifes. Let's see what Charles has in store for us after the restaurant.
Have you tried Chez Charles' food? What do you think of D3 as a dining location?
A bientôt.
FooDiva. x