How does The Atlantic Dubai compare to Melbourne?
The Atlantic's home location of Melbourne boasted three species of Australian oysters when I dined there last month – Coffin Bay, Smoky Bay, and Tasmanian Pipeclay Lagoon. On the website of its new Dubai restaurant sibling, Korean Pacific oysters, as well as French Belon and Gillardeau were listed – however, in actual fact, upon dining, they only offered three French species – Belon, Gillardeau and the prolific-in-Dubai, Fine de Claire.
"Agh so you only have French oysters?" I ask our waiter.

"Yes we only have fresh oysters," he responds.
Oh dear. Lost in translation perhaps? However, that sets the tone for the service during our meal on a Thursday evening. Whilst the waiting staff were friendly, they were not well versed on the menu, stumbling or guessing answers. They lacked authority, in stark contrast to Melbourne where the waiters had clearly tried the dishes on the menu. Service was a little slack with items like the restaurant's olive oil pourer left on our table. I made a website reservation the day prior (with a pseudonym), but when I hadn't received a confirmation by the following morning, I called up to enquire. The hostess had no record of my attempt at a reservation, but anyhow booked my table in.
The Atlantic Dubai has replaced Mango Tree at Souk Al Bahar with that prime location overlooking the fountains. In Melbourne, it sits on the Southbank in the Crown casino complex – again with an al fresco element. However the décor is dissimilar. Dubai lacks a cohesive identity with none of the charm and cosyness of its Melbourne sibling. The lighting is too bright made even worse by giant white bauble 'chandeliers'. The white metal door frames (leading to the terrace) are imposing and sterile. The colour scheme is white with accents of duck egg blue, which would work well for a daytime venue, but at night, appears too austere. On the plus side, there are banquettes, and white tablecloths for those who like the finer, traditional aspect of dining.
The menu is hugely different which is understandable, welcoming and not entirely unexpected given the distance between the two locations. But it's a shame it doesn't boast much Australian and Middle Eastern produce, relying on more mainstream European ingredients. Barramundi, where are you? Interestingly, in Melbourne, the menu highlighted the dishes available on the Dubai menu, which I thought was a good marketing touch. But oddly, it does not do the same here. From an expansive menu, only eight dishes are identical, three of which are sides – with, surprisingly, five slightly cheaper. Despite this, a price per head here in Dubai based on three courses each is AED389 versus Melbourne's at AED268 (without booze) – that's a 31% increase here. I can appreciate produce is being flown in, but given The Atlantic's "ocean to plate" philosophy perhaps they should focus on building a menu around local and regional seafood – which would help bring the cost down.
Needless to say, alcohol is much more expensive here (the Souk Al Bahar restaurants have to buy their booze through the Address Palace hotel which therefore involves two mark-ups). A bottle of Innocent Bystander's Pinot Noir from the Yarra Valley sets us back AED489 (not on the Melbourne wine list), and that's one of the cheaper tipples on the wine list.
Anyhow, I had better get started on the food. From what I ate in Melbourne, only one dish matched the Dubai menu – spaghetti with Moreton Bay bugs. A twist on the classic Vongole recipe from Naples with small Tasmanian slipper lobsters replacing the clams. And it was identical. The kitchen didn't skimp on the 'bugs' and the garlic, parsley, chilli and olive oil sauce was enough to moisten and 'dress' the beautifully al dente spaghetti without drowning it.
However, a crab bisque poured at the table with a sole raviolo stuffed with crab disappointed – the soup was so watered down; you couldn't taste any crème fraiche. Under-seasoned too.
My Dover sole, which I opted for filleted, was over-grilled and therefore was far from flaky and tender – and at AED299 it should be well executed – slightly redeemed by a sublime brown butter, caper, lemon and parsley sauce, which I used as a dip for the indulgent thrice-cooked potatoes. The online menu explained that two sides were included with the grilled dishes, but our waiter knew nothing of this, to which I complained. The manager did pop over later in our meal to apologise and waive the cost of two sides. Good customer service recovery. Still, for AED299 you would expect The Atlantic to throw in some accompaniments. Incidentally, the online menu has since been updated.
A roasted rack of Australian lamb was beautifully pink and tender, with a curry leaf jus adding moisture – but the smoked eggplant puree was so intense it felt like I was swallowing smoke. A couple of other side dishes were on point. Al dente grilled zucchini worked wonders topped with a salty goat's curd and pine nuts. I am not a fan of kale, finding it overrated and bland, but The Atlantic managed to pull it off deliciously when sautéed with chilli, garlic and olive oil.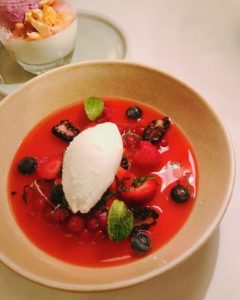 Our first dessert, a winter berry soup, arrived with blueberries, blackberries, strawberries and cranberries in a mixed berry coulis – but what really elevated a simple 'fruit salad' was a scoop of Petit Suisse sorbet. Despite the name it's a cow's milk fromage frais from Normandy (I visited one of the producers last year), adding slight savoury notes.
Our second sweet ending was not so sweet – a yoghurt panacotta layered with spiced fig, honeycomb and red wine ice cream. All mixed together it tasted like a mouthful of Christmas pudding and mulled wine gone wrong – so tangy and acidic, I had a hard time tasting it let alone digesting. Some glorious honeycomb with vanilla ice cream would have sufficed.
The price per head (AED389) is on the high side, but in keeping with other top-end Dubai restaurants in the vicinity. The Atlantic Dubai does not fare as well as its sibling, with half of its dishes disappointing, lacklustre service and a sterile dining room short on atmosphere – but it does share a prime location. As we know from a recent review though, that's just not enough. I left The Atlantic Melbourne itching to return for dinner, but sadly not so in Dubai – perhaps I'll try the brunch instead someday. Here's to a 2.5 out of 5 FooDiva knife rating.
Have you eaten in either restaurant for dinner or lunch (not brunch)? How did it fare?
A bientôt.
FooDiva. x