Australia: where and what to eat in Sydney, Melbourne and the Hunter Valley
What is Australian cuisine? Surprisingly, despite the mammoth size of Australia, the cuisine does not vary from region to region, except perhaps the Barossa Valley with its German food and wine culture. However, ethnic populations including Italians, Greeks, Lebanese and Asians have contributed influences to what is known as 'Mod-Oz' cuisine – and that's pretty much throughout the continent. This multi-cultural fusion style combined with ingredients sourced mostly locally makes food that's high in flavour. Modern Australian food is everywhere, as you will see here with this guide from a three-week trip down under. I present you over 20 dining and drinking haunts in Sydney, Melbourne and the Hunter Valley, all tried and tasted – along with some top picks of native produce worth munching on. Enjoy the dining journey 🙂
SYDNEY
Breakfast:
Australia is a country of Instagram-worthy breakfasts. I just wish I had more of an appetite first thing in the morning to have tried many more. Smashed avocado (with poached eggs) on toast is actually a Melbourne invention, but I had the best from my Ozzie trip at Sydney Seaplanes Café (and yes the seaplane journey is a goodie too) in one of Sydney's many glorious bays, Rose Bay.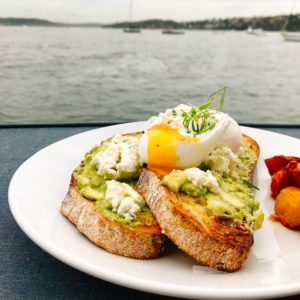 Infinity Bakery in Paddington mades a good bacon and egg buttie, excellent fuel for a shopping frenzy in this neighbourhood with its quirky boutiques.
Lunch: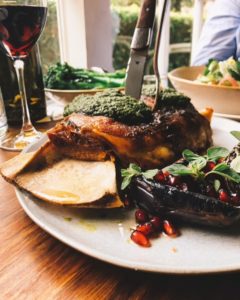 Talking of shopping, if you're in David Jones department store, then you can't go wrong with a pit stop at the Oyster Bar in the food hall. I tried many oyster species on my trip, but, for me, nothing beats the plump and meaty Sydney Rock Oysters. Even if you're a purist preferring your oysters with a dash of lemon or mignonette, I would urge you to try them a la Kilpatrick (or Kirkpatrick) with bacon and Worstershire sauce. Also for oysters in the CBD, but with a more leisurely gastro-pub feel, try The Morrison Bar & Oyster Room, one of chef Sean Connolly's restaurants.
For al fresco seafood, the family-owned fish institution run by locals for locals, Doyles on The Beach at Watson's Bay, is a must-try. Waves lapped on the beach as we tucked into sensational seafood platters. Ditch a cab and catch the ferry there and back.
Chiswick in Woollahra was probably my favourite restaurant of the trip, and where we lunched on New Year's Day. Chefs Matt Moran and Tom Haynes' produce-driven restaurant sits in a gorgeous greenhouse garden setting. The signature dish lives up to its pure soul food hype – slow-roasted lamb shoulder sourced from Matt's own farm with a twist on chermoula (by adding mint from the on-site garden) – and pomegranate-dotted eggplant on the side.
Dinner: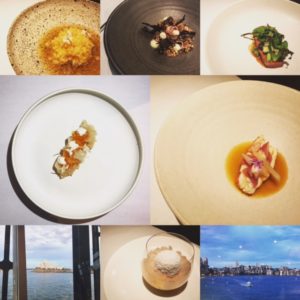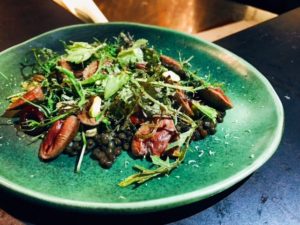 Sometimes, all you can get is a table at the bar, and sometimes, those meals are one of the best. Firedoor in Surry Hills with its open kitchen and wood-fired grill made for a wonderful buzzing vibe. I tried duck hearts for the first time, and fell in love with them. Surprisingly succulent and tender – served with black lentils and cherries for texture and sweetness.
Eleven Bridge is Neil Perry's new-look Rockpool with its back-to-basics formal a la carte dining. Partridge steamed in bread is carved at the table – see short video here. Plump and very rich, but I would have preferred it roasted for its crispy skin.
It's good to see a high-end restaurant on the World's 100 Best list that lives up to the hype, not just relying on a prime location at Sydney Harbour overlooking the opera house. Peter Gilmore's Quay cleverly combines unusual ingredients. My favourite dish from a six course-tasting menu was sea urchin, rice mixed with cured egg yolk, crunchy fish maw (bladders) and sweet prawns. Umami heaven.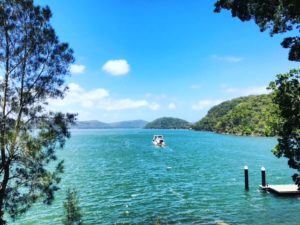 Cocktails:
Blu Bar on 36 is ridiculously touristy (like Atmosphere here) but the views across the harbour and opera house are breath-taking. Go here for a sundowner cocktail before dinner.
If you're heading on a road trip, just north of Sydney is Kangaroo Point with Estuary, a modern Australian restaurant on Hawkesbury River. Fabulously simple yet stylish seafood dishes – oysters, scallops and barramundi in particular. Best for lunch to soak up the view.
HUNTER VALLEY
Australia's wine production began in the Hunter Valley in the 1820s, with wine industries now prolific across the country. The lower Hunter Valley is mostly known for Shiraz and Semillon, whilst the upper Hunter wineries specialise in Cabernet Sauvignon and Shiraz. Note; the Shiraz you'll find here is medium-bodied – if you're after full-body Shiraz head to the Barossa Valley in the south. We booked a full day wine tour with Two Fat Blokes (you know from the name they'll be good fun!), which included five boutique wineries (each with tastings of about four to five wines), lunch, a cheese and wine pairing tasting, plus a chocolate and wine pairing tasting.
Boutique wineries worth visiting: Lake's Folly; First Creek; Glandore Estate; Hanging Tree; Ernest Hill; and De Iuliis.
Word of warning; if you're planning a visit to the Hunter, make sure to avoid Mondays and Tuesdays when most of the restaurants shut shop (which we didn't do). Luckily I happened upon Emersons, which sits in a winery, as do most restaurants in Hunter. The local snapper and squid on a bed of squid ink risotto with a hint of lemon were sublime – paired with a McGuigan rose wine. For a light casual lunch in between wine tasting, Brokenback Bar does some decent cheese boards and salads.
We stayed at the beautiful Chateau Élan estate, which sits on a golf course (we don't golf). Every afternoon a troop of kangaroos would congregate in front of our room, standing still as if on guard – absolutely mesmerising to watch.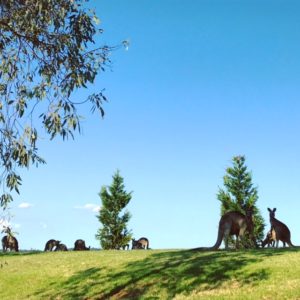 MELBOURNE
In Melbourne, our lovely boutique hotel, the Lindrum, on Flinders street served homely and wholesome made-to-order breakfasts from its restaurant Felt (outside guests can pop in too), so we really only dined out for dinner, even though one day we tucked into a light and tasty late lunch at Jardin Tan, Shannon Bennett's Vietnamese café in Royal Botanic Gardens.
Dinner:
I must be mad to wait one and a half hours for a table at no-reservations South-East Asian joint Chin Chin. Huge menu, but the food was hit and miss. What sets it apart though is the buzzing atmosphere with an 80s/ 90s playlist, slick service and an affordable price point. Opening in Sydney this year.
On the other hand, a similar style of casual dining is on offer at Gazi, George Calombaris' Greek street food joint – and here they take reservations, thankfully. Packed like the sardines they serve. Every single dish we ate was top notch – see 'kateifi' prawns below.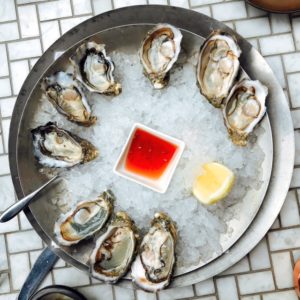 A random walk on the Southbank led to an impromptu dinner at seafood restaurant The Atlantic, which coincidentally had just opened at Souk Al Bahar (replacing Mango Tree). We tried three different oysters – Coffin Bay, Smoky Bay, and Tasmanian Pipeclay Lagoon. The latter are slightly plumper and creamier, but I still prefer the more robust Sydney rock oysters. None are on the Dubai menu from what I can see online sadly.
I finally ate kangaroo in Australia (last time was at Bushman's in Dubai) at modern Ozzie restaurant St Crispin in the hip Collingwood district. Served two-ways (rare as it should be) – in this case a lightly seared tenderloin and a tartare. It's not that prevalent on menus, and not that strong in flavour as one might think. Similar to venison – delicate, gamey and earthy.
As we entered another contemporary Australian restaurant, Cutler & Co in Fitzroy, I spotted what turned out to be marron, barbequed on a charcoal grill in the open kitchen. It's a species of freshwater crayfish with a short four-week fishing season so realistically only on menus in January. Sweet, succulent meat, just not much of it!
Cocktails with a view:
The plush Lui Bar, part of Shannon Bennett's mini empire sits on the 55th floor of the Rialto tower with the best panoramic view of Melbourne. We couldn't find Siglo, which is hidden down a side street, so we ended up in the casual rooftop bar above the Imperial hotel on Spring Street with lovely views of Parliament House.
UNUSUAL NATIVE PRODUCE
Oysters: an abundance of species – New South Wales/ Sydney rock oysters; Coffin Bay; Smoky Bay; and Tasmanian Pipeclay Lagoon.
Marron and yabbies: freshwater crustaceans.
Moreton Bay Bugs: small slipper lobsters from Tasmania.
Barramundi: a prized and prolific ocean fish from the north coast of Australia.
Kangaroo: yes can be eaten too! As a steak or tartare.
Macadamia nuts: originally from eastern Australia, it's a core ingredient in the delicious nut, spice and herb mix of Egyptian origin, dukkah.
Pavlova: both Australia and New Zealand stake claim to inventing this dessert. A meringue with a gooey centre, topped with seasonal fruit.
For more photos and tips, follow my hashtag #AustraliaDiva here or on your favourite social media channel.
Are you tempted to visit Australia? Any other favourite restaurants you'd like to recommend?
A bientôt.
FooDiva. x
Australia: where and what to eat in Sydney, Melbourne + Hunter Valley. A #FooDiva culinary guide 🙂 https://t.co/mMzKgsu9F7 #seeaustralia

— FooDiva (@FooDivaWorld) February 1, 2017