Top 8 brunches in Abu Dhabi (2017)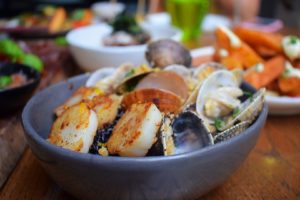 Basking in the privilege of experience is a thing of beauty. Just a year ago, we (Mr & Mrs Brunch) sat oblivious to the brunch offerings of Abu Dhabi, and as we read Brandon Stoltenkamp's musings on the top Abu Dhabi brunches of 2015/2016 for FooDiva, we were amazed to find anything even close to rivaling our beloved brunch scene in Dubai. A year older and wiser, and the knowledge which we now possess certainly reveals a level of depth in the capital, albeit still without the breadth of brunches offered in its younger, much naughtier sibling.
This year's guide features some old favourites that simply cannot, or rather, will not be ignored, but it is the new kids on the block that prove the timely old adage that "the better you look, the more you will see." In alphabetical order, we round up the top 8 brunches in Abu Dhabi for the 2017 season. 
Note: aside from Bu Trinity, the packages in this round-up list the cheapest non-alcoholic option and the top sparkling wine/ Champagne deal. All prices are subject to Abu Dhabi's 10% service charge, 6% tourism fee and 4% municipality fee.
Bu Trinity – World Trade Centre Abu Dhabi: an al fresco feast served on Bu's extensive roof terrace, the BUrunch as it's called is designed to invoke the spirit of a South American street market with a combination of à la carte ordering and live cooking stations. Design your own ceviche and tiraditos by selecting from a combination of proteins, sauces, and garnishes. Enter the world of street-style tacos with a selection of arepas (corn pockets) and anticuchos, the dishes found on every street corner in Peru. Favourites include the Black Angus beef with panka and cumin, and the shredded duck with tomato and onion. Dishes are so authentic they will have you practising your Peruvian in what is an unapologetically vivacious, industrial, yet still charmingly rustic space. BUenisimo! INFO: AED250 – 450 all inclusive. Champagne Devaux 'D'. Friday 12.30 – 4pm. T; +971 2 6668066.
Hakkasan – Emirates Palace: a sophisticated and elegant venue, with sultry dark blue tones, intimate seating, wooden murals, and the occasional inflection of the world-famous back-to-back double "K" to subtly remind you of where you are dining. The atmosphere at the 'Hakka' brunch matches the minimalistic decor, with warm ambient music in the background and soft but ample lighting. Tailored to groups, the menu is designed to be shared and is divided into three parts, from which you are able to select four dishes from a selection of steamed dim sum, four from the selection of fried and baked dim sum, followed by a single main course. There are also several live cooking stations dotted around, including an educational Peking duck station with details on the history of how the dish is made and typically eaten. A noteworthy dish is the melt-in-your-mouth Wagyu beef and truffle dumplings, which taste as decadently delicious as they sound. INFO: AED245 – 495++. Laurent Perrier Brut Champagne. Friday 12 – 4pm. T; +971 2 6907739.
Las Brisas – Emirates Palace: roaring in as a contender for one of the most ostentatious brunches in the capital, a feat evermore impressive since it is an al fresco-only affair, and by the standards of the hotel, relatively casual. A sentence full of oxymorons aside, the remarkability of Las Brisas is that it pulls off 'posh-usual' with aplomb. Laid out in its palatial setting by the pool with wooden tables, a sprawling terrace and perfectly coiffured palm trees, the gardens are everything you would expect of a palace in the typical sense. Think unrivaled luxury and impeccable service in a casual(ish) setting; think oysters shucked at your wooden table and gold-plated desserts; think nacho cheese fountains and bountiful catch from land and sea such as marinated lobster and tandoori chicken. Pair this all with delightful jazz and five innovative mixology stations for an afternoon of pure regal bliss. INFO: AED290 – 480++. Laurent Perrier Brut Champagne. Friday 12.30 – 4pm. T; +971 2 6907999.
Rosewood Abu Dhabi – Aqua: unassuming from the outside, yet bright, airy and sophisticated on the inside with panoramic views over gemstone waters into the city beyond. Elegant chandeliers, floor-to-ceiling windows and a unique u-shaped buffet which does not overflow with 'filler' items, but is rather considerately and artistically stocked with delicious healthy treats as well as a naughty 'fritto' corner. Eggs Benedict; a pork section featuring three different types of sausages; an outdoor BBQ with delectable lamb chops and sharp razor clams; and a dessert section with made-to-order crepes and waffles indicate the strength in diversity of this bijou brunch. Another huge selling point is that the separate 'Rose Buds Brunch' located down the hall is a perfectly self-contained and staffed brunch room including a buffet, arts and crafts, a library and a giant computer games screen for the little ones. Drop your kids off at the start and enjoy some well-earned me time. Aqua delivers flair, creativity and excellence. INFO: AED250 – 500++. Choice of Veuve Clicquot or Moet Chandon Champagne. Friday 12.30 – 4pm. T; +971 2 8135552.
Southern Sun Abu Dhabi – The Foundry: finally, a steakhouse that serves steak at a brunch…and does it well (and rare!) The Foundry, despite its diminutive size, packs an almighty punch, priding itself on 'how well' rather than 'how much' it can serve. The chefs have concentrated on delivering a culinary experience closer to a fine dining tasting menu than any brunch we have seen dare to in Abu Dhabi before. The 100 or so diners the restaurant can seat during each service ensures quality always trumps quantity in every section. Serving four different species of oyster, as well as five tender cuts of beef that dissolve under the faintest of pressure from your hand-selected steak knife is just a snippet of the culinary muscle this pocket rocket flexes every weekend. The Argentinian Angus and the Wagyu are choice cuts and cooked to your preferred temperature. The menu ranges from beef carpaccio, antipasti and beef tartare, to the pure extravagance of a foie gras station where the team experiments with foie gras crème brûlée. And if that wasn't enough, you can choose to dine at one of the hotel's 'islands', where your table is surrounded by water! INFO: AED229 – 369++. Graham Beck Brut sparkling wine. Friday 12.30 – 4pm. T; +971 2 8184888.
St. Regis Saadiyat Island Resort – Olea: this epicurean expedition allows you to take in a variety of cuisines with innovative presentation and cooking styles – all with wine and cocktail pairings. A sprawling outdoor terrace is home to the dulcet jazz tones of Naz Holland. Favourites include rotisserie duck cooked beneath a row of golden pineapples so that the sweetness of the juices infuse into the meat throughout cooking, or the edible martinis like brumble with duck pastrami, an orange Bloody Mary with smoked salmon, and our tipple of choice…the tiramisu martini. Vast options, impeccable service, attention to detail, and classic marriages of flavours at every turn make this a perennial brunch winner in our book. INFO: AED300 – 495++. Louis Roederer Champagne. Friday 1 – 4pm. T; +971 2 4988443.
Yas Viceroy Abu Dhabi – Origins: this 'Pit Stop Brunch' markets itself around the location, set literally inside the F1 Abu Dhabi track at Yas Marina Circuit. Great views over the track from the expansive terrace will make this a special experience particularly for the motoring enthusiast, or for any party interested in something a tad different from your stereotypical high-end brunch. The focus here is on dishes from the most famous race courses around the world, from Monaco to Shanghai. The food on pole position can vaguely be categorised into seafood, chocolate and cheese. There is something very 'A-list' about the succulent lobster, grilled freshly in front of you as you sip on a chilled glass of Laurent Perrier, whilst gazing profoundly over the track from your vantage point on the terrace. A vast range of desserts span the 'library' area, and the extensive range of high-quality European cheeses, typify the variety available at the whole brunch. With an ultra-modern design, the team has still managed to pull off a homey, comfortable feeling for families and young couples alike. And with a relaxing soundtrack of live music, they even manage to drown out the din of any speeding motorists who may be nearby. INFO: AED225 – 480++. Laurent Perrier Champagne. Friday 12.30 – 4pm. T; +971 2 6560600.
Zaya Nurai Island – Frangipani: pack your sunglasses, swimmers and selfie sticks as this is certainly one to write home about. To get to this scrumptious brunch however, you must first set sail across the pristine waters of the Arabian Gulf by speedboat from Saadiyat Island. A beach house boutique vibe and small-yet-well stocked fusion of a la minute and freshly prepared stations serve a range of cuisines to please even the fussiest of palates. A tandoori BBQ features outside, with the likes of paella, fresh seafood, and an array of salads indoors. Favourites of the day include the deeply aromatic, earthy lentil soup and the tandoori cauliflower. Emblazoned across the front page of the restaurant menu are the words "people who love to eat are always the best people" and we could not agree more. The setting is amazing; the music is relaxing; and the location super special. INFO: AED 550 – 750++. Taittinger Champagne. Friday 12 – 4pm. T; +971 2 5066274.
So tell us what's your favourite brunch in the capital?
Mr & Mrs Brunch are two of the UAE's most discerning (and consistent) brunchers, having amassed a steady average of eight brunches a month over the last four years. Giving advice and recommendations comes naturally to friends, colleagues and complete strangers. You can find their full reviews on their website here, or on their app Lets Brunch, which also includes a growing list of deals and discounts to help you make informed decisions when it comes to such an important staple of UAE life…brunch.
Top 8 brunches in Abu Dhabi. By the experts @mrandmrsbrunch for #FooDiva https://t.co/VHTRrONzr4 #abudhabibrunches #abudhabi #brunch

— FooDiva (@FooDivaWorld) January 16, 2017