Morah: where Middle East meets Mediterranean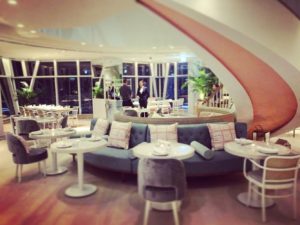 Newly opened Canadian restaurant concept Morah, promising Eastern Mediterranean cuisine, is the younger sibling of Weslodge. Perched just above, in the same tower of the JW Marriott Marquis Dubai, on the 71st and 72nd floors, Morah, launched in Toronto and Miami as Byblos, changed its name here for trademarking reasons.
The restaurant is a cosy ambient venue despite the two-storey set-up, spiral staircase and custom-made chandelier hanging in the centre. Summery and vibrant in its interior, Morah boasts white walls, accents of nude pink, turquoise blue interspersed with terracotta and light oak wood. My favourite design element is the petal ceiling which adds incredible detail and a girly touch. All this is coupled with unobstructed panoramic views of Dubai, Burj Khalifa included. Morah scores highly for visual aesthetics, however, in terms of music, the DJ's choice of electro-chill oversteps its boundary of background music and just does not blend well with Morah's ambience…nor with the five year old girl sitting next to me.
The service mirrors the restaurant interior – fresh and familiar. Considering the infancy of Morah, the knowledge of the floor staff is impeccable – and the manner in which all restaurants should learn to open. When asked for recommendations, our waiter is quick to point out his personal favourites and describes each dish with such enthusiasm and simplicity.
We start with the lamb ribs which arrives nestled on a bed of 'puree-esque' sauce made from buttermilk and red chilli schug (the Mediterranean version of hot sauce) and while that sounds tasty enough to steal the show, it's the carob molasses brushed on the surface of the lamb that blows me away. Like a layer of freshly-coated paint, it blankets the meat infusing subtle hints of sweetness with every bite. Thinking this dish cannot possibly get better, the lamb is tender to the core and falls off the bone effortlessly.
Not falling short behind, is Morah's modern take on the traditional steak tartare. Dressed in Argan oil aioli, the tartare is soft and almost gentle, with every piece finely hand cut. Seasoning comes through with hints of spice from red chilli and freshness from the mint leaves. The only disappointment is the accompanying barbari, a Persian flatbread, which instead of complementing the tartare flavours, drowns it by being over-salted.  It seems that bread is not Morah's forte which is surprising seeing that it's such a staple in both Mediterranean and Middle Eastern cuisine. Dedicating an entire section to pide (Turkish version of flatbread), one would assume it to be a house specialty. Unfortunately, this is not the case and my choice of pide topped with black truffle, buffalo mozzarella and halloumi is starkly mediocre. Like many black truffle dishes, I cannot find, see, nor taste anything other than the overpowering truffle, even though the buffalo mozzarella makes for a chewy centre.
For a main course in the sharing section, we opt for the Spanish octopus to add a splash of seafood to our rather meaty start. Chunky and cooked to perfection, the tastefully seasoned grilled tentacles accompany a zestful burst of biber chilli (a dried Turkish chilli pepper) vinaigrette and preserved lemon among artfully tousled salsa criolla and coriander leaves. And whilst pleasing to the palate, the portion is small, more like a starter.
Thankfully, our second main makes up for the discrepancy. A slow-braised 14-hour lamb topped with pomegranate seeds marries a muddy, rich and thick flavour with a fresh, sweet and refreshing taste. This dish to me is a genius take on fusion cuisine and unlike many dishes in Dubai that force polar ingredients together, the chef presents the lamb separate from its Middle Eastern condiments of lavash bread, sumac and Arabic pickles. I am able to experience the fusion of both, yet also appreciate the Med and Middle Eastern elements on their own.
Onto desserts. Like a Stephen Lursen art piece, an Eton mess arrives and the first thing you see are the smatterings on the meringue sheets. It's a deconstruction of the famous English dessert with a playful mess of halva (a typical nut-based Middle Eastern confectionary) parfait, yoghurt, raspberries and ajeel (an assortment of nuts blended into granite-like crumbs). There's no overbearing sweetness and the dessert goes from crunchy to brittle to buttery smooth – textural heaven. On the other hand, the brioche loukoumades 'doughnuts' are moist and warm, yet forgettable.
In most parts, daring, modern and avant garde interpretations of traditional Mediterranean classics coupled with slick service make me want to return. However, Morah needs to lower the volume of the music to let the food, interior and service sing (excuse the pun). At a reasonable AED270 per head for a three-course meal, I give Morah 3.5 out of 5 FooDiva knives.
What do you think, how important is music in making or breaking a dining experience?
Until next time,
JEC.
Who is FooDiva's guest reviewer? JEC has lived in some of the world's best culinary destinations including Paris, Hong Kong, Singapore, Bangkok and Switzerland, working as a marketing and PR professional in the hospitality industry. On the weekends, JEC works off her Dubai dining by teaching indoor cycling classes and practising yoga.
Where Middle East meets Mediterranean. Guest writer JEC reviews @morahdubai for #FooDiva https://t.co/W1z2Kg4m8L #dubairestaurants

— FooDiva (@FooDivaWorld) January 19, 2017