Does Rüya successfully reimagine Turkish cuisine?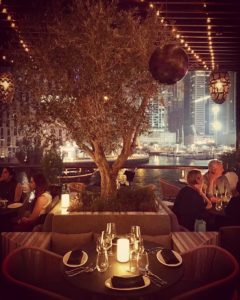 Set on a waterfront terrace in Grosvenor House, Rüya is an elegant Turkish restaurant and lounge recently opened in Dubai Marina. The menu is playful, paying homage to what Rüya calls traditional Anatolian cuisine (the region that makes up most of Turkey) reimagined for a modern palate with hints of Japanese and contemporary European influences. Spearheaded by executive chef Colin Clague, whose culinary experience includes Jean-Georges, Q'bara, The Ivy, Zuma and Jason Atherton – and owned by the Dogus group who operate Coya, La Petite Maison and Zuma, I can't help but feel intrigue. What will he plate up for us tonight?
The maître-d' is smiling as she greets us by the main entrance. My last minute request for an outdoor table, which I'm expecting to fail miserably, is graciously accommodated despite it being a busy Thursday evening. As the hostess (who hails from Izmir) guides us towards the terrace, we chat about travelling around Turkey, and it's as if I'm dreaming my way into the buzzing streets of the Nisantasi district in Istanbul. The outdoor veranda resembles a stylish take on one of the many iconic restaurants overlooking the Bosphorus. A magnificent sleek bar in the centre, boasts imprints of modern Iznik patterns, with olive trees scattered around. The atmosphere is lively; waiters in crisp white shirts and black aprons swiftly make their way between tables carrying plates to guests seated on the terrace overlooking the Dubai Marina. Chill-out lounge music and chatter can be heard all-round, while lights glitter from the hanging lanterns, casting a soft glow on tables and diners alike.
We leave the wine choice to our sommelier who recommends a wonderful and affordable Italian red, Tormaresca Neprica from Puglia, a tri-blend of Negroamaro, Primitivo, and Cabernet Sauvignon grapes (AED340). Full bodied, with hints of mocha and spice lingering, we ponder our order. Incidentally, the wine list includes some Turkish tipples. The menu is in three parts, with a selection of mains from the central oven, grill and kitchen. Our waiter is friendly and courteous, answering all our questions while he guides us through the menu ensuring we pick just the right amount for two – a welcome change from the incessant upselling techniques prolific in many of Dubai's restaurants.
The starters are diverse and delicious, all plated beautifully. The finir pancar, a dish of red and golden roasted baby beetroot is served with creamy goat's cheese, and topped with crunchy cornbread croutons. Its flavour is balanced and its texture intriguing. The zeytinyagi ahtapot (correctly spelt!) is another great dish. A juicy piece of grilled octopus is charred to perfection and served on a bed of borlotti beans. The meatiness of the octopus marries well with an earthy parsley marinade and tart capers. My only remark would be that the beans feel somewhat obtrusive and don't embellish the dish. The levrek seabass sashimi arrives marinated in yoghurt flavoured with mustard and honey, finished with a hint of lemon and sharp radish shavings. The Turkish spoon salad is a simple and safe bet; chopped garden vegetables drizzled with a sweet pomegranate vinaigrette and served in a colourful ceramic bowl.
For our mains we opt for the lamb shank, a traditional Ottoman palace dish – the tender meat falls off the bone. It's substantial and perfect for sharing, served in a clay pot with roasted baby carrots and onions, and drizzled with rich gravy. A lighter, contemporary, and taste-worthy accompaniment is the confit of baby artichokes – perfectly trimmed with a buttery-smooth texture and topped with leafy greens, delicate toasted pine nuts, and finished with the juicy crunch of pomegranate seeds.
The desserts make for a sweet ending to our meal – a modern interpretation of traditional sweets, served in perfectly measured portions. The revani and honey, a deliciously moist semolina cake topped with fresh keymak clotted cream and a sprinkle of fresh berries, and yumurtali ekmek, a light saffron-infused French toast topped with soft roasted plums, iced cream and drizzled with a caramel tasting brown sugar syrup.
Rüya represents a wonderful example of 'new wave' homegrown concepts popping up around Dubai. It also gives a whole new meaning to 'fusion' cuisine; combining elements of different culinary traditions and techniques that I suspect mirror Chef Colin's wide-ranging experience. All dishes have a quintessentially Turkish soul, most notably through the ingredients used, but the creative combinations give way to something far from typical. The service from beginning to end is seamless; the location is excellent; and the atmosphere is buzzing. The menu for a high-end licensed restaurant in Dubai is reasonably priced at AED300 per person (excluding alcohol). I tip my hat to the creative talent behind this unique concept, here's to a high FooDiva rating of 4.5 out of 5 knives.
What's your take on fusion cuisine? Have you experienced any memorable restaurants that have a flair for turning traditional cuisine to something more modern?
Eat well,
Lolly. x
Who is guest reviewer Lolly? A self-proclaimed dayeater, longstanding PR girl and F&B marketeer with a background in hospitality. When she's not working she shares her tales of wondrous food and drink on her Instagram page.
Does Ruya @GrosvenorHouse successfully reimagine Turkish cuisine? Guest writer Lolly reviews for #FooDiva https://t.co/N7fXTEFAPW

— FooDiva (@FooDivaWorld) November 30, 2016