Carnival by Tresind: finally the right dose of fusion?
It used to be Indego by Vineet in the golden olden days, then there was Rang Mahal and Tresind, followed by Farzi Café – an ongoing effort in Dubai to make Indian cuisine more creative and contemporary, and now I hear the term 'post-modern' with new kid-on-the-block Carnival by Tresind.
While I enjoyed sister Tresind's fare, I must say it was a little heavy and pricey. Farzi Café set out a new dimension proving that good creative food can be popular at an unlicensed place with modest prices. Carnival is the newest restaurant addition to the Burj Damam tower in the vicinity of DIFC (joining The Artisan and Burger & Lobster).
The decor does some justice to the name Carnival, with colourful pergolas giving a sense that a party is in full swing. The colour scheme is very Dubai-esque – gold, black, leather and the like. Curious copper-coloured tree branches seem out-of-place and pervade the entire interior. The friendly staff blow bubbles as they welcome you to the table.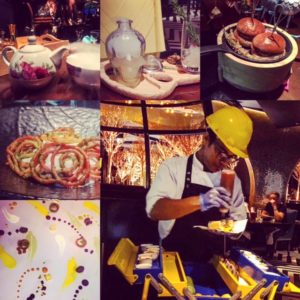 I am told that the mixologist is a 'celebrity' from India and we warm up to some of his innovative suggestions. He takes our order asking what spirits and flavours we like. Our choices result in exotic-named cocktails like 3-wood smoked barrel, koyla, burn bourbon burn, and mystery tea. The latter (mine) is a charmingly effervescent and fragrant cocktail that looks like steaming hot tea yet has the freshness of elderflower. A lot of showmanship and artistry goes on around the bourbon and whiskey cocktails with 'oakiness' and smokiness surrounding us by the time the starters arrive.
Life is short, eat dessert first – the creativity around the name aside, it takes courage to conceive such a starter, and finesse to execute it successfully. Jalebi chaat sounds like an oxymoron to anyone familiar with Indian cuisine – the fusion of the sweet and savoury. This dish turns out well – with a good balance of flavours, leaving us smacking our lips. The vada pav trolley with a toolbox-toting mechanic in his yellow helmet, though, is more for show, and less on flavour. This is their own version of the famous Mumbai street food dish with a fried and mashed potato patty in a bun.
The Bihari burger is a stunner. Having tasted food from the east Indian state of Bihar, it is incredible to see a high-end restaurant reproduce Bihari flavours so well. This dish is inspired by litti chokha, a celebrated native staple. Litti is stuffed spherical bread made of gram flour, cooked on charcoal embers and then doused in clarified butter; chokha is mashed potato with hints of mustard oil and green chillies. Full credit to the chef, the burger is a creative, yet authentic rendition of the same delicacy.
Pulliinji is a prawn preparation with a spicy ginger chutney. Ginger aside, it boasts plenty of character with chillies, jaggery, tamarind and exotic spices like asafoetida and fenugreek, which marry well with the succulent caramelised prawns. Gol hatti looks and tastes like authentic Chandni Chowk (Old Delhi) street food. The base of pureed spinach, onions and tomatoes gives a strong flavour to the chhole. The chef has managed to throw in some magic to give a rustic taste that goes beyond just presentation. I love dipping the soft steamed kulcha (a cross between a traditional kulcha and an Asian steamed bun) into the thick gravy and licking it all clean with the warmth of the spices descends into me.
The for ocd (obsessive chicken disorder) is a delicious mock butter chicken curry. I am amazed that a chef can execute a perfect mimicry of the classic butter chicken using soya, particularly with the ability to recreate a consistent chicken texture. The East India Company is a chicken curry with the customary potatoes and egg a la "dak bungalow" style – but does not offer anything memorable.
The one item that takes the cake (pun intended) and is a superb combination of showmanship, artistry and flavour, is undoubtedly the mithai corner. This dish presents a sampling of popular traditional Indian desserts in miniature sizes – gulab jamun, rasgullas, coconut barfi and kala jamun among others. The chef uses a number of fruit jellies and dried fruit cubes to balance the intense sweetness of the mithai to create a vibrant design. I am struck by the way he puts a mini rasgulla inside a scooped-out half plum and tops it with passionfruit jelly, a dash of liquid nitrogen smoke and pistachios. And finally some further liquid nitrogen artistry to create a rabri ice cream with jalebi wafer on top. Each 'mithai' tastes authentic and can easily compete with artisan sweetmakers, whilst the creativity sets a new benchmark.
At AED250 per head for food only and a more expensive AED70 a pop for cocktails (with generous alcohol content) this place competes favourably with DIFC's fine dining scene. Décor and ambience is intended to be carnival-like, but it comes across as over the top and discordant – almost as if they are trying too hard. Service is top class; staff is pleasant and attentive. The restaurant is conveniently located and the atmosphere is vibrant. Carnival by Tresind is an Indian restaurant that manages to inject the right dose of fusion, whilst still delivering on flavour. I would most definitely return to taste the many other exotic dishes that I missed this time around. With all this in mind, I give Carnival 3.5 out of 5 FooDiva knives.
Are you happy experimenting with Indian food – particularly when the balance between authenticity and creativity is maintained?
AK.
Who is FooDiva's guest reviewer? AK works as an investment banker in Dubai and is an avid gastronaut who thinks that a day without a good meal is a day wasted. He has travelled the world exploring culinary delights including a treasured dinner at El Bulli.
Does @carnivaltresind serve the right dose of fusion? Guest writer AK reviews for #FooDiva https://t.co/fpvvFi6F2Y #dubairestaurants

— FooDiva (@FooDivaWorld) October 24, 2016