Does Ramusake offer an honest Japanese izakaya experience?
Imagine waking up to an alternate reality, where you are living in Tokyo and at the end of a long working day, you head to a local tavern to meet friends for whisky or sake and some Japanese 'tapas'. Well, that's how it feels walking into Ramusake, the latest Japanese restaurant import to hit Dubai, ironically hailing from London, with a modern take on traditional izakaya-style dining. It joins independent concept The Maine Oyster Bar & Grill at Doubletree by Hilton JBR.
Memories from a recent trip to Japan earlier this year come rushing back. Much like the streets of Tokyo where dining spots hover over and underground, it takes us a couple of turns around the first level parking to spot Ramusake's signage. As we make our way in, we're greeted by a friendly hostess who walks us through a big wooden door past the bar area and to our table. The ambience is buzzing, and more than half the tables are occupied, not bad for a new concept on a mid-summer Monday evening. One corner features an intricate and large Japanese mural close to the entrance and flanked either side by illuminated hanging lanterns. I am charmed by the thoughtfulness, since red lanterns are the way of spotting izakayas on the streets of Tokyo.
The evening begins with a single malt Nikka Pure Red, its buttery consistency and herbal notes sets the right tone. At AED135 a pop, it's very overpriced considering Nippon Bottle Co. offers a dram for nearly half the price. The whisky selection is impressive. The sake on the other hand is limited with most having not yet arrived, which makes me wonder if Ramusake will live up to its intended concept; "i" to stay and "sakaya" for sake shop, or if their attempt at novelty will be challenged by Dubai's increasingly competitive culinary scene.
It doesn't surprise me that the menu is introduced by our waitress as a sharing concept, after all, that is the way an izakaya works. I would have preferred some constructive recommendations but despite my probing she isn't inclined to offer any. I finally decide to go rogue and make my own choice. The service is quick and efficient and the dishes are brought over in a timely manner.
All the maki rolls impress – most notably the futo maki with a winning combination of oobo and shisho leaves that add a peppery flavour to the cucumber filling and is finished off with a subtle sweetness from a rich sesame drizzle – an inventive and non-traditional vegetarian roll. The seared salmon roll comes with a chunky avocado filling; the yuzu mayo adds a distinctive citrus flavour to the sliced salmon topping; lightly flaky on the outside with a substantial fleshy bite. The tuna tartare is diced slightly larger than expected and sits on a bed of yuzu-marinated avocado, a safe yet delicious combination. The tuna is fresh, velvety, and smooth – the only let down is having the chunks fall off as I try to load them on the crispy nori crackers. Perhaps the chef could consider mixing the fish with the avocado for a consistency that holds, or adding a small spoon to aid with serving.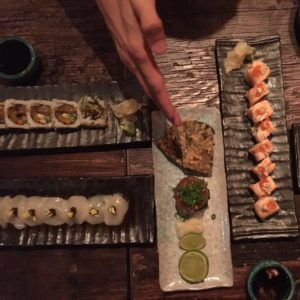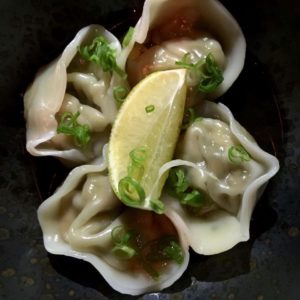 The plates are cleared quickly, our sake glasses are seamlessly refilled and the hot plates start to arrive. An unassuming dish of steamed prawn gyoza is sublime. Served in a deep ceramic bowl, it barely floats in a deep flavoured yet subtle dashi broth with hints of lime. The delicacy of this dish is worth noting. The dough melts in my mouth without breaking, and gives in to juicy chunks of prawn and shiitake that get progressively better with every bite. The takoyaki omelette is a let down, disappointing since it's one of the few traditional dishes on the menu. Typically served in mini donut-like portions, but at Ramusake it resembles an okonomiyaki instead, a larger savoury Japanese pancake. The dish is heavy, and where I would have liked to bite into an airier base, the mixture relied on overcooked octopus and eggs, making it dry and rubbery. The mayo drizzle and scaly bonito flakes don't help. The grilled miso black cod is cooked on point but does not blow me away. A signature at Nobu and replicated exceptionally well at Zuma and Okku, it's naturally a hard benchmark to surpass, so why have it on the menu at all if you can't get it right?
To finish, we opt for a good way to size up a restaurant – a chocolate fondant! Here it has a moist but slightly thick outer layer that lacks the overall synergy you would expect with a molten dessert. The centre is gooey with a strong cardamom undertone that gives some lasting depth. A creamy coconut panna cotta is light and smooth, served with fluffy French toast and finished with a dash of tartness from a mango compote.
Most dishes are pretty well executed, but a few I would happily forget. For what is meant to be a casual gastro pub experience, the starters start at AED50, with mains reaching up to AED200, leaving us with a rather hefty AED360 price point per head sans alcohol. Ramusake joins a growing list of some exceptional and some not-so exceptional Japanese concepts around Dubai, but takes it one step further by tapping into a rich culture's long-lived tradition of casual socialising over good food and drinks. Despite the stunted start, table service is quick and efficient but the overall experience is missing two key elements – fair pricing and consistent food execution. Luckily they are not far off; some tweaking from the kitchen and menu engineering will go a long way. I would love to see more of that gyoza goodness coming through. With all this in mind, I am giving Ramusake a FooDiva rating of 3.5 out of five knives.
Would you appreciate and adopt this imported concept despite the price tag? What would it take to convert you?
Eat well,
Lolly. x
Who is new guest reviewer Lolly? A self-proclaimed dayeater, longstanding PR girl and F&B marketeer with a background in hospitality. When she's not working she shares her tales of wondrous food and drink on her Instagram page.
Does @ramusakedubai offer an honest Japanese izakaya experience? Anon guest writer Lolly reviews for #FooDiva https://t.co/NCMmftCJAb

— FooDiva (@FooDivaWorld) August 9, 2016