The Maharaja's dungeon that is Jodhpur: make or break?
How often have you stepped into a dimly lit restaurant and walked down a winding staircase giving you an uncomfortable feeling that you are being escorted to meet a mobster? Not a regular occurence I expect. That's our first impression upon entering Jodhpur Royal Dining, an Indian restaurant in Dubai tucked away in the Al Murooj Rotana hotel complex. The sight of our charming friends sitting downstairs allays our fears. The buggy ride from the reception to the restaurant is recommended, particularly if your partner (or you) is in stilettos. The restaurant Zaika occupied this spot for many years until recently when this independently operated concept under the helm of a new chef was created. Executive chef Pradeep Khullar worked under Manish Mehrotra, the celebrated chef of New Delhi restaurant Indian Accent on the World's 50 Best list.
The restaurant is generously staffed, with a waiter at your side the minute you raise your hand. The menu is well written with a melodious interplay of English and Hindi descriptions. Ingredients like salmon dill tikka, orange roe, saffron cream, 'raan' gosht pepper brushed and sesame lavash, among others, make lucid reading. The menu boasts a decent spread of vegetarian choices – a key consideration when dining with a vegetarian partner. We decide to keep it simple by ordering the easy drinking Kingfisher, always a good pairing with Indian food.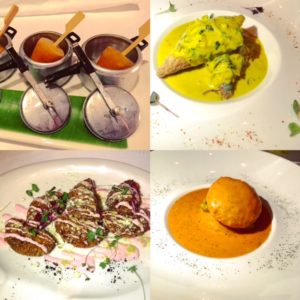 The softly braised king scallops on a bed of rich yellow cauliflower 'butter' flakes and melts in my mouth. The creamy cauliflower base gives character to the delicate scallops and I feel the innings have opened well. The carrot and beet tikki is crunchy on the outside with a rich and lingering taste of pesto and coriander. The chicken tikka trio captures three cooking styles of the ubiquitous chicken tikka – one that is the traditional auburn tikka; a white malai or cream; and seemingly a yoghurt marination. Parts of the chicken are a little rare though which is unacceptable in any kitchen. The achari jhinga follows – three large prawns served in their shell with a pickled flavour. While the presentation is good, the marinade is excessive and I can hardly taste the prawns. We are served creative amuse bouches at intervals that leave us quite impressed and tickled by their presentation. The staff is attentive, explaining every dish as it arrives.
As we move on to mains, the Jodhpuri kadhi boasts a twist with crispy besan cannelloni (chickpea flour cannelloni) and nadru papad or lotus stem chips, which reminds me of traditional Rajasthani food. The meen malai is a crusted sea bass in a creamy yellow curry with a variation of the traditional Awadhi tahiri (a rice and vegetable pot preparation) where couscous substitutes the rice. I relish the interesting flavours and aromas. The final main is the malai kofta, but it is unlike any I have ever tasted. One large kofta sits in a rich makhani sauce with some stir-fried asparagus on the side (tak-a-tal as they call stir-frying on a large tawa grill). We succumb to bread by ordering the chur-chur kulcha which is prepared crushed and is a delicious meal in itself.
For dessert, the chocolate hazelnut malai torte is divine, yet hardly traditional. The saffron jalebi is absolute decadence, with freshly made jalebis (crunchy fried flour spiral sweets with sugar syrup) hanging from a tree-like formation, and made for dipping in a cheesecake rabdi (sweetened reduced milk and cream).
The chef pops by and I comment on the high quality mains and could-be-improved starters. He takes this as a compliment noting that most restaurants focus on starters and the reality is that when diners eat starters they are always hungrier than when they eat mains. Hunger, being the best sauce after all, makes diners more forgiving about starters and more critical of main courses – he says. So he sees my positive comments on the mains as a big compliment. A very logical chef I would say and his comment gives me food for thought. What do you think?
Jodhpur's cuisine offers authentic Indian food with a slight modern twist, but without the extreme experimentation of the likes of Tresind or Farzi Cafe. However, starters need improving to bring them on a par with main courses and desserts. A reasonable price tag of AED250 per person (excluding alcohol) makes the dining experience affordable. Service is good and attentive, but the location and décor are not ideal, and the restaurant lacks ambiance. With all this in mind, I give Jodhpur 3 out of 5 FooDiva knives.
Would you really care about atmosphere and the interior if delicious fare awaits your taste buds?
AK
Who is FooDiva's guest reviewer? AK works as an investment banker in Dubai and is an avid gastronaut who thinks that a day without a good meal is a day wasted. He has travelled the world exploring culinary delights including a treasured dinner at El Bulli.
The Maharaja's dungeon that is @jodhpurdxb – make or break? Guest writer AK reviews for #FooDiva https://t.co/gnmj84r3Zx #dubairestaurants

— FooDiva (@FooDivaWorld) July 13, 2016