Is Couqley an authentic French restaurant in Dubai?
Dubai has a new up and coming licensed dining scene. Home to popular Greek restaurant Mythos, lively Southern American eatery Nola and quirky Mediterranean concept Cocktail Kitchen, JLT now boasts Couqley, a new French bistro imported from Lebanon.
Located in Jumeirah Lake Towers right below the Movenpick Hotel with its own dedicated entrance, Couqley is named after its chef patron, Lebanese-based Frenchman Alexis Couquelet. Note, he is not based in Dubai – the chef de cuisine here hails from Kenya. In Beirut, the popular bistro opened its doors in 2009 and offers simple, authentic French dishes which I can personally vouch for. Seven years later, can it do the same in Dubai, where the competition is fiercer, diners are fussier, and the location is a little far out for many?
On a Friday night ten days ago and only one month into opening, I was not expecting Couqley to be full. Upon entering through an indoor 'terrace' lined with mock vine leaves, we crossed a spacious and quiet bar area to reach a dining room that was surprisingly busy. Jazzy music and lively French chatter gave Couqley an animated, friendly vibe. The décor is very similar to Beirut's, with dark furniture, French vintage posters and upside-down lamp posts as chandeliers. A warm and inviting venue.
In addition to many French classics such as magret de canard, duck confit, foie gras, and various starters and salads, the large menu at Couqley focuses mostly on beef. Our friendly waiter was quick to point out unavailable dishes before we placed our order and was happy to recommend some of Couqley's signatures. Before going any further, let me point out that the staff was knowledgeable, patient and friendly throughout the evening, yet as the restaurant got busier, it was harder to track down our waiter to place our dessert order and request the bill.
We ordered the escargots de Bourgogne and the poêlée de champignons for starters. The snails were meaty and tasty, drizzled with a light garlic and coriander dressing. The pan-fried wild mushrooms were hearty, yet here again, meaty and very fresh. Cooked in a creamy white wine sauce and placed inside a subtly crunchy puff pastry, this starter was moreish. Both dishes felt rustic and traditionally French, a very pleasing and well-executed start to our meal.
Onto main courses, the shrimp platter could have been a crowd pleaser. Grilled and doused in a chilli, garlic and coriander sauce, the shrimps were accompanied by a goat's cheese dressing which marred the piquant flavours – an odd and unnecessary combination. The tender beef fillet in Couqley's signature steak frites was cooked medium as I had requested. The steak sauce was simply beef jus and cream making it very dense – unlike Beirut's which was subtle, light and silky smooth. The frites were a clear miss – under seasoned and they would have benefited from another fry to make them crunchier. A French bistro has to get its fries right, non? The chicken in our third main of poulet frites was delicious – succulent with a rich white wine cream and parsley sauce. That dish perfectly captured Couqley's mission of serving authentic and comforting French fare – sans the frites, it was the highlight of our meal.
We opted for two desserts – crème brulee and pain perdu, the latter a recommendation from our waiter who promised the best French toast ever. Whilst the cream in the crème brulee could have used some thickening, the caramelisation was on point. The pain perdu was perfectly juicy and sweet. Topped with a vanilla ice cream boule, I would not describe it as the best I've ever had – I had the pleasure of trying Culinary Boutique's version a few days ago and I very much prefer theirs. La Serre also serves an excellent pain perdu. Still, Couqley's version is surprisingly light and delicious.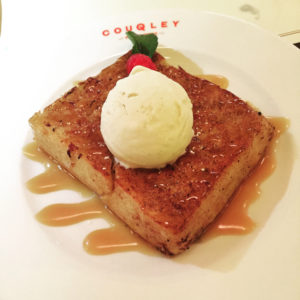 Whilst the flavours were authentic, the execution of the majority of the dishes required work. For instance, the shrimps were delicious on their own but lost their lustre when dipped in the goat's cheese. The steak was wonderfully cooked but the sauce was too dense. The French fries in two main courses weren't crunchy enough. The flavours in the crème brulee were delicious but the texture was watery.
At AED240 per person for a three-course meal without alcohol, Couqley is fairly priced and oozes charm, warmth, and atmosphere. The flavours are there and the service is knowledgeable and friendly, but not very slick when busy. Nonetheless, to be able to compete with other popular venues in JLT and with Bistro des Arts, another French bistro in Dubai Marina, the execution requires some tweaking. For now, I am giving Couqley 3.5 knives out of 5 on the FooDiva knife rating.
Tell me, where do you head in Dubai for traditional French food?
A bientôt!
SJ
Who is FooDiva's guest reviewer SJ? By day, she is a professor of political science. By night, she shares her cooking, travelling and dining out adventures on Instagram here.
Is @Couqley an authentic French restaurant? Guest writer SJ reviews for #FooDiva https://t.co/44iiwUYxTJ #dubairestaurants

— FooDiva (@FooDivaWorld) July 18, 2016