Does Weslodge Saloon elevate American cuisine?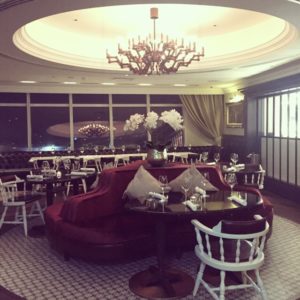 The Old Wild West has landed in Dubai in the form of Weslodge Saloon, a Canadian restaurant import mirroring a long gone era of the Western United States. Except that this 'saloon' is perched on the 68th floor of the JW Marriott Marquis' second tower in Business Bay, and instead of watching gun-slinging sheriffs hunt down the Dalton brothers, the panoramic view overlooks Burj Khalifa and a glittering Dubai skyline.
Aside from the mock 'saloon' branding, Weslodge describes itself as "rock and roll chic" – yet upon entering and crossing a long bar area, you are instantly transported to a cinematic space where you'd expect to see cowboys mingling with southern belles, sipping on whisky. Instead, we made our way past a lively crowd sipping rosé wine and Old Fashioned cocktails. In what felt like a good one-minute walk (the space is huge!), we finally arrived at our corner seating under a giant antler. The décor plays on rustic Western vibes – think plush leather and velvet banquettes and settees, wooden chairs, and antique-style tables – elegant and warm.
Soon thereafter, our chirpy waiter arrived and took our drinks order. He then explained the Weslodge concept – classic American fare perfected, modernised, and made to share. His friendly demeanor and attentiveness continued throughout the evening, and while he patiently answered our queries, he seemed well versed on cooking techniques, spices and flavours. Well done, Weslodge, the staff are clearly well trained.
The lobster poutine, a nod to Canada, and the Weslodge chop salad were exquisite appetisers. Poutine is a Quebecois street food dish typically with French fries, cheese curd and gravy. At Weslodge, tender chunks of lobster replaced the cheese curds and in addition to the warm gravy, a delicious hollandaise sauce was drizzled on top of the fries. A comforting and moreish start to our meal. Salads are a key feature on the menu, made interesting with substantial, nourishing ingredients – you won't go hungry. The salad was a perfect companion to our gooey poutine. Consisting of chopped cucumbers, avocado, lettuce, tiny crispy onion rings, and fetta cheese, all tossed in a subtle dill vinaigrette dressing, the salad oozed simplicity, freshness and tang.
Our mains took a little longer to arrive than we would have hoped. Yet all was forgiven as soon as we took our first bites of Southern fried chicken with a Brussels sprouts slaw. Drizzled with Tabasco honey, the chicken was juicy and clearly had been brined and marinated (in labneh 'buttermilk'), as hints of lemon and smokiness emanated with every morsel. This dish was one notch up from Fume's fried chicken nuggets in my opinion. A gorgeous branzino with a jalapeno relish came next. Served whole, the grilled seabass was flaky, tender and made more pungent with a piquant jalapeno topping. A zesty match made in (fish) heaven. A creamed corn side dish had the consistency of a pudding, and was mixed with corn kernels and corn nuts, whilst topped with onions and red chillies – all of which made for interesting textures and tasty flavours.
For dessert, a hazelnut tart boasted a crunchy crust, topped with a yuzu-flavoured custard, lime wedges, yoghurt ice cream and little meringue kisses. A very generous portion in typical American style, that could easily be shared among three people. It was refreshing, airy, zingy and sublime. Sadly, the smoked vanilla ice cream, and mango sancho pepper sorbet scoops were watery and almost tasteless, with minimal traces of vanilla, no smokiness, and lacking any sancho pepper. The sole disappointment of an otherwise exquisite meal.
At AED280 per person for three courses, without alcohol, but inclusive of tax and service charge, Weslodge Saloon may just be my new favourite joint. Unique is an overused adjective, but entirely justified for Weslodge. It offers delicious soul food, excellent service, a fun atmosphere, and breathtaking panoramas – all hard to find at this price point. Granted, dishes may not be unique (think steaks, ceviches, and pies) but they are perfectly executed and elevated with succulent spice mixes, fresh ingredients, and creative toppings. Add to that some gorgeous porcelain crockery reminiscent of Sunday lunches at grandma's house, and you have a high 4 out of 5 FooDiva knife rating. Ice cream and sorbet aside, Weslodge Saloon may have ticked the whole kit and caboodle!
Tell me, where have you had great American food in Dubai?
Till next time, y'all!
SJ
Who is FooDiva's guest reviewer SJ? By day, she is a professor of political science. By night, she shares her cooking, travelling and dining out adventures on Instagram here.
Does Canadian restaurant import @WeslodgeD elevate American cuisine? SJ reviews for #FooDiva https://t.co/5jttkM8EEM #dubairestaurants

— FooDiva (@FooDivaWorld) May 30, 2016