Is Firebird by Michael Mina just an expensive diner?
At my 'go to' diner in the United States, one can order food scattered, smothered, covered or chunked. So when I think of diner fare, I don't expect a "gourmet interpretation" or "a sophisticated and luxurious experience," as Firebird Diner by Michael Mina's website professes. I want simple, comfort food. Could this new American diner at the Four Seasons DIFC convince me that this style of traditional American food has a seat at the fine dining table?
Michael Mina, in case you are wondering, is a chef and restaurateur born in Egypt and raised in the US with a heap of restaurants. Dubai is his first international opening.
On a quiet Saturday night (I think most of Dubai was watching the ponies), passing by the outdoor patio seating, we were shown to a booth upholstered in plush white leather among red highlights, chrome light fixtures, neon signage and classic monochrome flooring. And yes, friends, there is a functioning juke box (although the expertly curated soundtrack came via a sound system). Attention to detail extends to the staff, with sophisticated 50's style dresses for the ladies, and black and white outfits with suspenders for the gents. The atmosphere is a little sterile though. As with many newly opened restaurants, the staff to guest ratio is high, so our lovely waitress was attentive without being obtrusive, but lacked personality like we have back home.
My Scottish Mule (a gin take on the Moscow Mule), and my hubbie's go-to cocktail, a traditional Old Fashioned, were well mixed. What intrigued me though from the drinks menu was a small variety of house-made sodas and milkshakes, of which spirits can be added – a big thumbs up.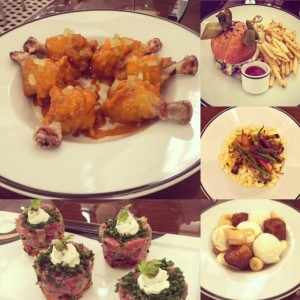 Our buffalo-style chicken wings were a tad undercooked. The sauce was requisitely tangy, with a hint of blue cheese, however, perhaps not worth the AED54 price tag (that's almost AED9 per smallish wing). The four canapé-size stacks of hand-cut Angus striploin tartare with crispy potato capers and truffle vinaigrette was well executed, albeit a small portion, but as with the chicken, I'm not entirely sure AED22 per bite can be justified.
Main courses are particularly carnivorous, with many prepared on a wood-fired grill. They are also VERY expensive – steak and egg options starting at AED270; surf and turf for AED390; and a lobster pot pie at a staggering AED399 – hardly diner prices. Naturally this pricing strategy forces us to choose dishes at entry level. My spiced lamb burger is AED110. In my personal opinion, burgers should be consumed on a crispy bun (preferably toasted on the grill). Whilst Firebird served a brioche bun (it is their restaurant and they can do what they want), I did long for more texture – something to better balance the tender lamb. Although a nice garnish, the wee gherkin and salty pickle did not do enough to overcome the soft bun. The lamb was not particularly spicy, but the accompanying cucumber yoghurt dip was quite tasty. My order arrived with an excellent portion of duck fat French fries. Hubbie's wood-fried chicken breast (AED126) was topped with grilled root vegetables, and was served on a bed of mac and cheese, which was creamy but a bit too soggy – all combined though, delicious. Both dishes were presented in large bowls, which made eating them awkward.
Finally, can one visit a 'diner' without splitting a sundae? Not me. The ingredients in the banana Foster sundae married well together, and we enjoyed the 'show' of pouring the banana topping at the table, but we wanted more of everything. The toasted bread was sweet, but could have been warmer and fluffier. Perhaps the American in me was expecting a giant portion, or perhaps my scales should thank me – I don't know.
All things considered, is Firebird Diner by Michael Mina worth a trip to an already crowded DIFC restaurant scene? Boozy milkshakes aside, having a peek at the breakfast menu, I could be tempted to return. However, if I take into account value for money, I think AED250 per person (and upwards) for three courses without alcohol, might be better spent elsewhere. Whilst I applaud chefs willing to take risks, I am not sure Firebird is ground breaking enough to be considered anything more than expensive diner food. And that's where the problem lies. Firebird may be located in a Four Seasons, a luxury hotel chain, but in my opinion, a diner should offer a no-frills venue, serving simple, soul food at an affordable price. So until the pricing is adjusted, here's to an average 3 out of 5 FooDiva knifes.
Do you have a favourite diner?
Cheers,
AB.
Who is our guest reviewer? Ann Benjamin (Life After Joe, Room 702) is an American author living in Dubai. When she's not working on a novel, she enjoys travelling to new countries and sabering champagne with kitchen knives. Follow her on Twitter @ABenjaminAuthor
Is @FirebirdDiner by Michael Mina @FSDubaiDIFC just an expensive diner? @ABenjaminAuthor reviews for #FooDiva https://t.co/CVSFC2zCiA

— FooDiva (@FooDivaWorld) April 13, 2016