No reason to hide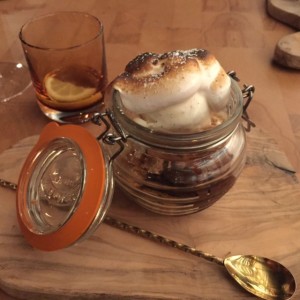 As American expats, my dining partner and I have been looking forward to dining at The Hide, a self-billed 'American meatery' at Al Qasr, Madinat Jumeirah that has replaced MJ's steakhouse. 
Outfitted in a modern 'Wild West' fashion (think lots of leather, an entire wall of wood grain, knives as artwork, and bespoke lighting), we bypassed the crowded bar area and were seated in one of the back booths with a great view across the bar, the open kitchen and other diners. To be fair, from where we were sitting, it didn't look like there was a bad table in the restaurant.
Greeted warmly, our waitress confirmed the Dubai Restaurant Week set menu – an absolute bargain for three courses at AED189 per person. These dishes are also available on the regular a la carte which boasts an array of non-traditional starters, meaty mains, and what appears to be heavenly puddings. As one might expect at a 'meatery,' the non-meat options are limited (literally, only some of the sides – even the salads are topped with a protein of some sort). Vegetarians, you've been warned.
I ordered a refreshing 'Honey Baby' gin-based cocktail, while my companion tried a classic, well mixed Old Fashioned. With cocktails arriving promptly, we were served some of the best bread I've ever eaten. Piping hot from the oven, the large almost-bagel was topped with duck fat rendering, served with butter and a touch of sea salt – heaven for carb lovers.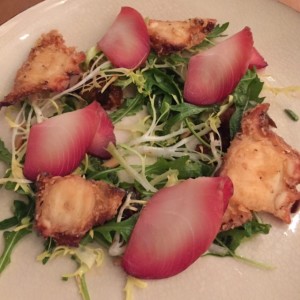 Before our starters arrived, we reviewed the rather extensive wine list, consulting Vivino, my go-to wine app, which literally scans the entire list and finds a great match – in this case a big red from Stellenbosch, the 2011 Vergelegen 'DNA.' Fortunately for us, the wine was listed on the drinks specials and we were able to order a bottle at a reduced price.
While unsure what exactly makes the starter of a Californian yellow tail salad 'Californian' we tucked straight in. My dining partner, who grew up on the Eastern seaboard of the United States and is no stranger to seafood, promptly declared this appetiser one of the best preparations of octopus (oddly the main ingredient, not the tuna) he'd ever had, and I had to agree. The cephalopod was lightly breaded and fried, but not heavy – in fact, it was just as described on the menu – 'crispy.' The roasted eggplant, mix of spring greens and lightly dressed yellow tail tuna balanced the dish. It is worth noting this portion could easily be shared between two.
The main course of flank steak was served (a textbook medium rare, my personal preference, but also at the recommendation of the chef). The Hide prides itself on less popular cuts of meat like flank and hanger (complete with fried duck egg), whilst also offering traditional beef cuts – and other meats. The steak was accompanied with thyme Portobello mushrooms and a little decorative rocket. Well, the portions are typical of American appetites, and I should know 😉 Perhaps it was the extra chunk of bread, but I did not manage to finish the main – which was perhaps two slices too big for my appetite (she says, knowing she's about to explain the pudding). The dish itself was quite flavourful and I loved the simplicity. I find sometimes too many ingredients can overcomplicate dishes that have no need for it. In this instance, the notes, textures and protein all worked very well together. I also loved the out of the ordinary cutlery, like the mini 'chop' knife – great attention to detail.
Waiting a little, our waitress greeted us with a huge smile and said we were in for a treat – the dessert course was her favourite. We were presented a version of campfire s'mores in a quirky jam jar (for those not aware, it is a traditional campfire treat usually made with marshmallow, chocolate and graham crackers). At The Hide, the traditional dessert has been deconstructed, but all the better for it. The sweetness of the dulce de leche, the creamy quality of the burnt marshmallow and crunchy texture of the peanut butter cookie make this ending one of my new favourite treats in Dubai. Honestly, you MUST leave room for dessert, and don't bother sharing because you're going to want your own.
Although we could barely stop praising the dessert, by the end of the meal, we were making a list of who we wanted to bring to The Hide for our next visit. With consistently friendly and professional service which only served to complement the well-executed meal and the fun weekend vibe, The Hide has a lot to be proud of, and nothing to hide.
I can't dish out a knife rating though as we dined on a special menu (valid until Saturday 5th March). On a regular night, expect to pay AED300 per person without alcohol.
Have you visited The Hide yet? What dish should I return to try?
Cheers,
AB.
Who is our guest reviewer? Ann Benjamin (Life After Joe, Room 702) is an American author living in Dubai. When she's not working on a novel, she enjoys travelling to new countries and sabering champagne with kitchen knives. Follow her on Twitter @ABenjaminAuthor
No reason to hide writes @ABenjaminAuthor in her review of @thehidedubai for #FooDiva https://t.co/ikWfPqyygh #dubairestaurantweek

— FooDiva SamanthaWood (@FooDivaWorld) March 2, 2016