Is Cipriani anything more than pricey pizza?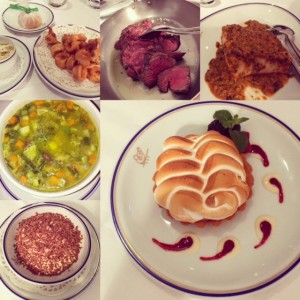 "The secret of Cipriani isn't about what can be seen or touched, but what can be felt and sensed. It is intangible but palpable. It can't be patented, but even after eighty-two years it hasn't been duplicated by others," so says the website. With the name and the legacy, I feel a little intimidated as I walk into the newly opened and full-house Cipriani in DIFC – brought to Dubai by the Bulldozer Group that also operates a flurry of other imported concepts Novikov, Sass Cafe and Toko. But intimidation leads to high expectations – ahem.
Having been given the choice between a 7 or 10pm reservation on a Tuesday, I opt for the latter and I am at the door just after 9.30 to try out the bar. The dining area impresses me. It feels like I am in the Titanic's grand dining room – well dressed diners, the clink of silverware, the chatter of exotic tongues, and lively DJ music. Well perhaps the latter is not very Titanic-esque. But it oozes atmosphere. There is an outdoor smoking area, whilst a Cuban cigar lounge and club is in the works, explains our waiter.
I wander down to the bar – a very tiny one, I would confess, for a restaurant of this stature – but quaint nonetheless, with two screens either side of the bar showing a moving visual of the sea, mimicking portholes. The pleasant bartender complains about the size of the bar and the limited equipment, but despite all this, mixes a superb margarita in a plain round glass generously laced with salt. I notice the care he takes in spreading the salt evenly around the rim. My fellow diners join me for a drink and enjoy their whisky sour.
We are then ushered to our table that sits nicely perched a few steps up from the main dining room. The two page menu is divided into Japanese dishes (odd I know, but a Cipriani trademark) and a typical Italian selection. The odd-sized, blue-rimmed crockery, basic steel cutlery and heaven-forbid, doilies, all combined, look very out of place. I appreciate the intent perhaps of casual nautical tableware, but Cipriani is positioned as a high-end restaurant (with prices to match).
The fritto calamari is as good as any other deep-fried calamari, with the tartare dip quite comforting. The minestrone soup looks more like a mush of vegetables in an awkwardly large bowl – I try a spoonful and it is a tad on the sweet side and low on salt. The beetroot and asparagus salad lacks presentation and leaves little in terms of memory for my taste buds. What takes the cake is the truffle pizza – a traditional thin crust margherita, topped with burrata, black truffle shavings and rocket leaves – delicious – and compensates for the generally average fare I have tasted so far. But at AED200, this is the most expensive pizza I have ever eaten! Blame the truffles.
My main, a sea bass alla Carlina arrives – I think this is the closest one can get to an Italian curry! Beautiful flaky sea bass, but an overdose of marination and an overpowering olive tapenade kills the subtle flavours of the fish. My friend is very disappointed with the beef fillet despite its back-to-basics presentation in an amusing frying pan. Dubai, in my opinion, has never quite perfected a medium-rare cooking temperature, and I see my fellow diner (who is a celebrated restaurateur himself) struggling through the slices, grumbling that the beef is chewy and cooked medium.
Onto desserts, the lemon tart is, arguably, a well-executed, easy-to-eat sweet ending and the large portion helps fill up my empty, rumbling stomach. The tiramisu is also generous, served in the nearest available bowl by the looks of it. The taste is good, but the presentation is sloppy.
Aside from the bartender, the service is disappointing. With such good looking and well dressed staff, I am expecting a balance of finesse and flamboyance but they can't even remember our order. And there are far too many waiters and waitresses hanging around.
I would struggle to return to Cipriani for a full meal – unless I want to hang out with some colourful glitterati – if indeed they return for seconds. Cipriani boasts a beautiful setting with a buzzing vibe – but the staff are far from well trained, and expensive pizza aside, the food is very mediocre. AED325 will get you three courses per person (without alcohol) for a fairly modest meal. So Cipriani, I can only dish out 2.5 out of 5 FooDiva knifes.
How much would you pay for a truffled pizza, and where else would you go for one?
Until next time,
AK.
Who is FooDiva's guest reviewer? AK works as an investment banker in Dubai and is an avid gastronaut who thinks that a day without a good meal is a day wasted. He has travelled the world exploring culinary delights including a treasured dinner at El Bulli.
Is @CiprianiDxb anything more than pricey pizza? Guest reviewer AK tucks into dinner for #FooDiva https://t.co/JTj1Zy5vN5 #dubairestaurants

— FooDiva (@FooDivaWorld) March 31, 2016