Does Joey's serve an honest slice of Greece?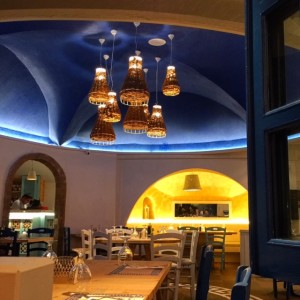 When a restaurant brands itself as a 'Greek Taverna' you would be correct in assuming the menu is all-Greek, but no, at new Dubai opening, Joey's Greek Taverna, it is interspersed with dishes from the Levant – tabouleh, hummus and kofta included. Yes there are influences from the Arab world on Greek cuisine and vice versa, but these dishes are far from traditional taverna fare. To top it all off, a soup of the day is cream of mushroom. Why a chef (a Greek one at that) would go down this route, is beyond me – especially in a non-touristy location like Century Village, which already has a couple of Arabic restaurants. The owning company, Chi Hospitality, incidentally, also operate neighbouring Soho Grill, and St Tropez – both well considered concepts in my opinion.
The commercialised and confused menu sets the tone for the rest of the evening. Needless to say we stick to ordering Greek dishes. The spinach and fetta rolls, a mid-morning snack for me back home in Cyprus, only boast a tiny trace of fetta, which makes them slightly under-seasoned, but the filo pastry is crisp and freshly baked. The accompanying cucumber yoghurt tzatziki dip is super garlicky and on point. The chicken livers (a dish Greeks and Arabs boast as their own) arrives cooked in, oddly, a stale breadcrumb batter – a real shame as the livers themselves are tender and beautifully seared. The fresh and crunchy Greek salad is excellent brimming with generous slabs of fetta, but another oddity transpires with the addition of girgir (our local rocket) – a nod to the Arab world again?
We order the large 'Greek' grill sharing platter as our main course (the menu also offers a 'Mediterranean', aka Levantine option) to get a flavour of a number of dishes. The chicken and beef souvlaki aka kebab skewers are wonderful – juicy and succulent – the beef char-grilled medium as we request. No pork licence here in case you are wondering, which for a supposedly Greek licensed restaurant is a disappointment. It does have booze though. The meatballs are, bizarrely, rosemary infused, and overcooked (as is a sole red pepper stuffed with fetta), but the real disaster is the beef and lamb gyros, whose mashed up meat wouldn't even make the cut for cat food. The texture alone will leave you gagging. The fried potatoes are greasy; the rice is bland Uncle Ben's; and the pitta bread would benefit from less grilling.
A side order of steamed spinach (to appease my craving for greens) has a whole lemon grove squeezed in – so tangy and acidic, it's inedible. The manageress even acknowledges this is a common complaint. Well do something about it then. Apparently the chef loves his lemons…(and his rosemary). Well so do I, but I don't drown myself in it.
The only three desserts on the menu are a halwa, a chocolate pie and an ice cream selection – with no trace of anything remotely Greek. Some simple Greek yoghurt with honey and walnuts wouldn't go amiss. This is my second review in a trot where I am forced to skip the sweet (or not so sweet) ending, thanks to lack of choice.
Joey's décor is typical Greek island blue and whitewashed fare, but here it's almost extreme, bordering on kitsch, and lacks the style of another Greek restaurant across town, Mythos, with a similar colour scheme. Having said that, the terrace seating does make for a pretty, atmospheric setting, complete with Greek music. On a Thursday evening, a few tables are occupied, but it's far from busy like the neighbouring restaurants.
Service is erratic with differing degrees of menu knowledge from two waitresses. Sadly, we are not informed of the daily specials, moussaka included, which we only notice on the outdoor blackboard as we leave the restaurant. The manageress does do the rounds though checking in on every table.
At AED 210 per person for three courses (excluding alcohol), it is very well priced, but that is the only redeeming feature, and not enough of a draw to make me return. I still seek quality every time I dine out. Joey's does not represent an honest slice of Greece, and I would go as far as to say that it embarrasses my Greek-Cypriot heritage. Luckily Dubai has plenty of other traditional and modern Greek restaurants worthy of our custom. Here's to a 2.5 out of 5 FooDiva knife rating.
A bientôt.
FooDiva. x
Does @JoeysDubai serve an honest slice of Greece? #FooDiva reviews https://t.co/gicnkWgWPy #dubairestaurants #dubai #restaurants #greek

— FooDiva SamanthaWood (@FooDivaWorld) March 13, 2016