Intersect By Lexus – Ticket to Ride, or Baby Don't Care?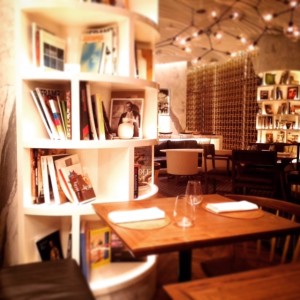 Let's start a little differently here. Before reading this review, take a moment to look at the Intersect By Lexus website. Don't worry, I'm not going anywhere; take your time.
Ah, you're back.
So are you feeling confused? Are you uncertain what Intersect By Lexus actually is, what with the faff about how it's "neither a dealership, nor a traditional retail space", but rather a "third space between home and work for our guests to experience the brand without getting behind the steering wheel of one of our cars"? Or that it's "a comfortable destination between work and home, that offers an inspiring networking opportunity for luxury lifestyle seekers with an interest in design, art, fashion, culture, music and technology, through its comfortable lounge, inviting eatery, exclusive library and inspiring garage space". Have your eyes glazed over yet? Do you have any inclination to visit DIFC Gate Village to find out what Intersect by Lexus actually might be (it presumably has something to do with food if you're reading this on FooDiva, right? And Lexus is Toyota's high-end car brand, right?), or are you completely put off by that corporate verbal effluent?
It turns out that Intersect by Lexus is a perfectly fine restaurant – even a potentially excellent one – serving a modern international menu with some subtle Asian twists, and helmed by chef Tomas Reger (co-founder of Dubai's secret supper clubs). The overt Lexus branding is largely restricted to a sporty concept car down some steps, but hidden from the dining area. It's definitely a restaurant rather than a dealership. But the corporate concept machine has done its level best to obscure that.
So let's focus on the restaurant and chef Tomas' food. I'm going to do him a favour and ignore the further outbreak of corporatese that attempts to describe the menu, and the ill-judged cursory attempt to ram in a wholly unnecessary and misleading sharing concept (pet peeve, I know). It's enough to say that the tight, focused menu of nine starters and eight mains (and, separately, five desserts) has some excellent modern international dishes that are well worth seeking out.
We started with a kale and avocado salad with dehydrated linseed wafers and Portuguese charred octopus in romesco sauce. That salad may look slightly unpromising, but was an unexpected delight, with the linseed wafers offering good contrast to the slippery avocado and well-dressed kale. It's the best raw vegan kale-based dish I've ever had (conceding there might not be too much competition). I'm a big fan of Portuguese food, and the octopus was perfectly cooked, with smokiness coming from both the charred exterior and sauce, but with the tentacle flesh still lovely and tender.
Mains followed the same high-quality pattern. My beef short ribs with celeriac and leek puree was a beautifully unctuous cut of meat that had been cooked for 36 hours, with some beef crisps on top adding some crunch, and the smooth puree served on tiny cubes of apple offering welcome balance to the rich meat. The portion size was also perfect. My dining companion's dish of Chilean seabass glazed with smoked onion puree, and served with pak choi and yuzu-dressed turnips, was a real highlight. The thick, moist cut of fish was one of the best I've ever encountered in a restaurant, and I really liked the sharp yuzu kick on the little turnip balls.
Desserts were perfectly good without perhaps reaching the same heights of the starters and mains – though I suspect chocaholics might disagree with me when it comes to my companion's lichu hazelnut chocolate cake and its single-origin ganache. My kalamansi merengue [sic] tart, with its citrusy core and ice cream offered a welcome counterpoint to the richness of my main; but they really do need to change the spelling of 'meringue' on the menu. Unless, perhaps, the idea is diners will start dancing the merengue afterwards?
Service was uniformly excellent; attentive, professional, and friendly without being overfamiliar. For example, if a glass of wine is ordered, the bottle is brought to the table, and a tasting is offered before the glass is poured; as it should be when a single glass is ordered in a good restaurant. The dreaded Dubai principle of forgetting about a table once the plates are cleared wasn't a factor; staff stopped by at appropriate intervals to check on us, and I was able to ask for the bill without any issues. However, as my dining companion pointed out, given how empty the restaurant was – just two covers on a weekend evening – it would have been remarkable if we hadn't had really attentive service.
And therein lies a problem. The food was excellent. The service was excellent. Prices were entirely fair given the quality of the food on offer – AED500 for two (excluding alcohol). The carefully designed and well-lit modern dining space with its warm wood and leather feel, and white bookcase columns filled with art and design books is welcoming without being too informal. But Intersect desperately needs to draw in more punters. Our friendly waitress stated that the restaurant is really busy at weekday lunches, so it's apparently succeeding in bringing in the DIFC lunch crowd. Dinner, not so much.
Given how good chef Tomas' food is, that's a real shame. I can't help but feel that confusion over the concept might be an issue here. Intersect By Lexus isn't a "comfortable lounge, inviting eatery, exclusive library and inspiring garage space"; it's a restaurant, not a car dealership with foodie extras. Yes, it has an attractive concept car hidden down some steps, and there's a scattering of Lexus corporate branding, but it's a restaurant first and foremost – and a really promising one at that. For now it's 3.5 out of 5 FooDiva knives, but sort out the confusing corporate concept, generate some evening atmosphere, and this could easily be a four knife restaurant.
Are you more or less likely to visit a restaurant associated with a luxury brand? What matters more to you – the restaurant concept or the food?
The Man in the White Hat.
So who's FooDiva's anon guest reviewer, The Man in the White Hat? He has an abiding interest in both history and food; his holidays tend to combine an intriguing local cuisine with a UNESCO World Heritage site, and he's eaten his way across some 50 countries in Europe, Asia, Africa, North and South America, and Australasia. While now based in the UK, his work occasionally brings him back to Dubai.
The Man in the White Hat returns to review @tomthechef's new restaurant Intersect by Lexus at DIFC for #FooDiva https://t.co/FTOvxqp2Aw

— FooDiva SamanthaWood (@FooDivaWorld) January 26, 2016