Is Maine Oyster Bar & Grill a decent contender?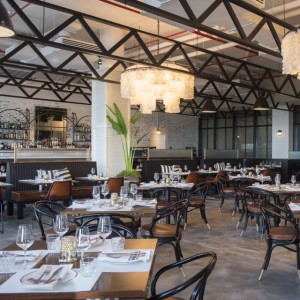 Why is it that lately we are having to walk through car parks to reach restaurants in Dubai? Nola, Mythos and now The Maine Oyster Bar & Grill, an independently operated restaurant at the Doubletree JBR. In this case the publicists are spinning it as the loading bay (for swift delivery of food supplies). Clever…until you arrive to a smelly whiff thanks to the garbage room next door.
If we can ignore the smell, the obscure and low-key entrance is a welcome change from glitzy, revolving hotel doors and what's even more inviting, is the lively and busy brasserie that greets us on arrival – bordering on a gastro-pub. It's the kind of place where you can tell everyone's having a bloody good time. Plenty of brick, leather and brass abound, along with oyster shell chandeliers that all together make for a warm and unpretentious vibe. A terrace overlooks the hotel's pool and the Dubai Eye construction – here is where we sit – but sadly the atmosphere and the excellent play list is left inside.
The menu engineering is confusing with no order to the dishes on a single card. For instance, Bloody Mary cocktails sit between a raw selection and 'maines', i.e. signature main courses. And other mains are strewn across the page – with desserts sandwiched in between. Very odd. But thankfully, that's where the oddities end and Maine starts to excel.
Our version of a Bloody Mary mixed with Stoli Gold vodka, clamato juice and, what attracts me to it, a freshly shucked oyster and a poached prawn peering out at me. Wonderfully fun and an amuse bouche in itself. I would love to see the bartenders squeezing fresh tomatoes though, especially as Bloody Marys are such a menu highlight.
The menu has four types of oysters with only one available though – Jersey, Fine de Claire, Princess de Kermancy and Umami. Good to see three countries represented; more than the typical French oysters. However a wall display in the restaurants boasts more choices. Maine is still fine-tuning its supply chain, so if you're after the more unusual oysters I would check in advance before booking. A dozen Jerseys it is between us – no 4 size – which whilst freshly shucked and juicy, are pretty teeny and are therefore polished off in minutes. The classic mignonette, lemon and Tabasco are served on the side – with a nice twist of some horseradish.
My 'Maine' course is the star of the night and will go down as one of this year's favourite dishes. A dish that will draw me back time and time again. Roasted fillet of halibut on a bed of smashed potatoes, beef bacon and green peas with generous lashings of béarnaise sauce and a few sprigs of dill. A dish that transcends all meals; one that I could have for breakfast (read brunch), lunch and dinner. The halibut falls off the fork, and I mix it all together furiously eating away, without hankering for pork bacon (no licence here). I finish it and could eat it all over again.
My dining companion's main is also a goodie – cedar plank grilled salmon which gives the fish a mellow smoky flavour. A New England classic 'old bay' rub has me questioning the seasoning with paprika shining through. A few sprigs of sautéed and al dente broccolini finish it off. I love that the signature dishes are served with veggies so there's no need to order side dishes – and we are not upsold any thankfully.
Desserts are a mix of American, British and French classics. We try the key lime pie, which in this case is served topped with meringue and freshly baked. Excellent. Just as delicious as a good friend's home-baked version. It's my first proper dessert since I completed my three month low-carb regime so needless to say goes down a treat. A side scoop of Chantilly cream is unnecessary though.
Wholesome soul food aside, Maine's service is a key differentiator where an owner (and a chef) with Canadian heritage is working the room – so much so, that at the end of the meal I inadvertently blow my own cover whilst chatting away. Service is swift and unobtrusive. Our waiter is honest and humble and when unable to answer a question on the oyster size he promptly runs to the kitchen to check with the chef. He also proactively asks for feedback. Maine clearly has some teething issues – but much of this is forgiveable given the staff's willingness to listen, learn and, hopefully, change. The price point of AED265 per person without alcohol is pretty decent and marries well with the relaxed brasserie concept.
I am delighted to see another new restaurant open in Dubai that is run by restaurateurs not hoteliers, and one where they literally take to the floor in a similar vein to Bystro and Bistro des Arts. The arrival experience, the menu design and the selection of oysters need refining – but the food is top notch and offers value for money, the atmosphere buzzing, the service excellent, and the staff's willingness to improve will make Maine a good contender on Dubai's casual yet licensed restaurant scene. Here's to a 3.5 out of 5 FooDiva knife rating.
What do you reckon? How do you feel about entering a restaurant through a car park?
A bientôt.
FooDiva. x