Can Bistrot Bagatelle compete with the French-Med restaurant set in Dubai?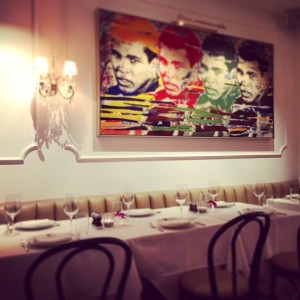 We have an 8pm booking on a Friday for new French-Mediterranean import Bistrot Bagatelle at the Fairmont Dubai and arrive a little earlier for an aperitif but surprisingly the restaurant is closed. So we resort to a cocktail at Catch next door. I find it most odd that a restaurant only opens its doors until 8pm every day of the week, or is this a strategy to drive more business into its sibling (same operator) Catch? In case you are confused like I am, this new opening is completely unrelated to Maison Bagatelle café in Downtown – but a transplant with outposts in New York, LA, Miami, Sao Paolo, St Barth and St Tropez. And whilst I am having a moan, why is Bistrot spelt with a t?
Anyhow onto positive thoughts. The welcoming décor is very much a cross between La Serre and La Petite Maison, its two core competitors. Gorgeous Art Deco-inspired dining room with open-plan kitchen aside, Bagatelle has two bar areas which make the 8pm opening time even more bizarre. The restaurant is busy and by the time we leave completely packed and buzzing.
The menu has plenty of choice succinctly presented into cold and hot starters; sharing dishes with a ridiculously high price range from AED420 to 950; seafood, meat and vegetarian main courses; and side dishes. The appetisers seem more inspiring so we settle on three, with one main course.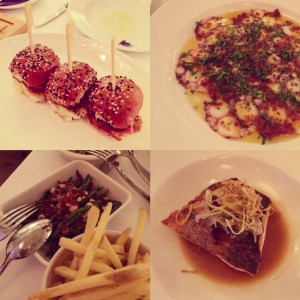 A baby kale salad may not be a traditional French-Med dish but tossed here with pumpkin, parmesan, pecan nuts, dried cranberries and a maple vinaigrette, it's a delicious concoction with all ingredients complementing each other. An octopus carpaccio is unusually served warm yet works well with a flavoursome chicken chorizo vinaigrette (no pork licence here). What captures my attention with the descriptor of foie gras sliders is a 'potato bun' but I incorrectly assume they would be sandwiched between potato mash, similar to Gary Rhodes' version, but instead it's potato bread where some of the wheat flour is replaced with starch. The consistency is similar to brioche and coupled with delicately, pan-seared foie gras and a veal bacon marmalade is utterly sublime (we ask for the truffle mayo to be served on the side) – a dish I would highly recommend you order.
Our main course is a delightfully flaky and generous serving of pan-seared sea bass. It arrives drizzled with a Provencal artichoke-based 'barigoule' sauce in a light leek 'fondue', and is topped with crispy julienne strips of pickled vegetables. Excellent, as is a side order of green beans. The only disappointment of the meal are the frites, which are undercooked. Now that's one simple classic that a French restaurant should get right given it's something that every diner will pass judgment on. We are too full to even sample desserts, but a baked Alaska and profiteroles are two that I would leave room for next time. Oddly for a French restaurant there's no cheese selection. The wine list is impressive across all price points, and our Rigal Original Malbec 2014 from Lot in the south-west of France is a good choice at AED315.
Bagatelle has a high ratio of service staff versus diners, so much so that it intimidates with many simply chatting to themselves. I recognise our French waiter from Cantine du Faubourg, a knowledgeable and friendly gent who offers the right dose of attentiveness. As I indicate earlier, the price point is very high – expect a bill for three courses without alcohol to START at AED375 per person making Bagatelle an expensive, special occasion night out – but on a par with its French-Med competitor set. On that note provided Bagatelle sorts out its fries (crucial) and opening hours I do think it will make a mark on Dubai's glamorous dining scene. Here's to a 3.5 out of 5 FooDiva knife rating.
How do you feel about an 8pm restaurant opening time? What time do you prefer to dine out?
A bientôt.
FooDiva. x