Top 11 Abu Dhabi brunches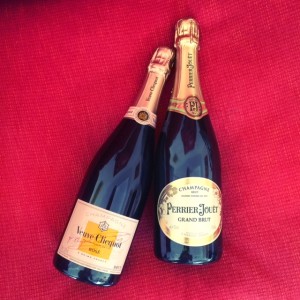 2015 has seen a growing maturity in the Abu Dhabi brunch scene, with the emergence of smaller brunches challenging the prevailing 'bigger is better' tradition in the capital. More and more people are starting to question the lack of sustainability at the majority of brunches characterised by a great deal of food wastage. The a la carte or set menu option gives hotels and restaurants a lot more control but also allows the kitchen team more creativity. This year's top 11 Friday and Saturday brunch round-up (ten would be boring) offers a balance between the big buffet and the more intimate setting, with the growth of table-side brunches undeniable. Here you go, in alphabetical order:
Aqua, Rosewood – a sophisticated, high quality Friday buffet concept brunch in a very intimate setting with an artisan approach to dishes. A European feel is epitomised by the quiche with pan fried foie gras, caramelised apple and smoked duck breast and a sun-dried tomato ciabatta with grilled pesto chicken, mozzarella and artichokes. It also boasts the only genuine dedicated kids brunch area in Abu Dhabi. Finally, with the highest staff to guest ratio at a brunch in the city, expect that extra special touch to your afternoon. NV Veuve Cliquot Brut is the champagne of choice.
Boa steakhouse – the newest addition to the Friday brunch scene, Boa at the Eastern Mangroves promenade has made a very strong debut. Led by a charismatic French manager and supported by intelligent staff, Boa scores the moment you walk in to the restaurant. The concept is based on a five-course set menu featuring some of their signature dishes like the brilliant table-side Caesar salad, goat cheese baklava and an incredible range of full-size steaks including Australian Black Angus and Wagyu striploins. Superb quality. Top this off with Taittinger champagne.
Foundry, Southern Sun – this little gem of a Friday brunch shows that being small is not a handicap. It is one of a growing number of restaurants with a part buffet, part a la carte concept who understand that less is more, focusing on a fewer dishes but greater quality. Outstanding stations include the only carpaccio, tartare and pork charcuterie station in Abu Dhabi, as well as a foie gras stall with five different foie gras-based dishes. The highlight, though, is the selection of beef cuts from USDA Angus tenderloin, Mulwara grass-fed Black Angus striploin from Australia, and veal from Holland – and the Laurent Perrier champagne.
Giornotte, Ritz-Carlton – the Friday brunch at Giornotte has become legendary. Chef de cuisine Christian Antoine oversees some of the most outstanding live stations I have encountered at a brunch – buratta, black cod and foie gras to name a few – all expertly plated, rendering dishes a la carte-worthy. You will be impressed by the number of chefs in white hats hovering over you. It is a brunch high in elegance and class, and despite not serving champagne, the brunch is immensely popular with 500 plus guests every Friday.
Intercontinental – an institution in Abu Dhabi, Intercontinental offers a Friday brunch that spans two restaurants overlooking the marina, leading to two distinctive brunch experiences. The more mature crowd in the family-friendly Chamas is foiled by the young and vibey Yacht Club – meat vs seafood. Start off with superb sushi and move on to prime cuts of beef. Access and flow between restaurants is easy and the brunch does not feel crowded. Terrace seating offering marina views is a must. The free-flowing champagne is G H Mumm.
Koi, Saadiyat Collection – part of a welcoming trend of table brunches, Koi is a sophisticated Friday brunch that serves some of the best Japanese cuisine in the capital. The fairly recent appointment of executive chef Yoshizake, has brought to bear a more traditional dimension on dishes, while retaining the Californian influence in its concept. Yellowtail sashimi with yuzo kosho dressing and grilled lamb chop with spicy miso are highlights in a strong set menu. Attentive and engaging service is a key feature. On the drinks side, Taittinger is served, but make sure to try the sparkling sake.
Lemon & Lime Bar, Westin – a truly unusual 'Martini brunch' that takes place on a Saturday, and one of the trendsetting additions to the brunch circuit. Set in the laid back Lemon & Lime Bar, it challenges the notion that Saturdays are about waiting for God as work looms the next day. Expect four different oysters, a foie gras table, and a death by chocolate dessert station. Martinis, 22 of them, complemented by Spanish wines and a cava, add to the manner in which it stands out as a concept. Or if you prefer, there is free-flow Moet & Chandon. Also, no kids allowed, so a perfect get-away.
Market Kitchen, Le Royal Meridien – another foodie heaven with exceptional dishes. This Friday brunch has a four-course set menu with a sharing concept. It challenges the notion that table brunches do not offer variety. This menu that changes every week offers quality to match that variety. Crispy tuna sushi with chipotle mayonnaise, black truffle fontina pizza and roasted beetroot salad with goat cheese and crystalised ginger are three memorable dishes. The champagne on offer is Joseph Perrier Marquis De Joncry.
Olea, St Regis Saadiyat – a Friday brunch that has everyone talking in Abu Dhabi. Executive chef Malcolm Webster has transformed the culinary experience at this brunch, bringing in dishes from other outlets, 55&5th, Sontaya and Turquoiz. A must do is the cheese room, something that warrants more superlatives. New sommelier Steve Fernandez continues a tradition of offering the best drinks selection at a brunch in the city. Louis Roederer Brut champagne is on offer. This is the brunch in Abu Dhabi that sets the standard, and if you try only one this season, then it should be St Regis'.
Sacci, Westin – this Italian Friday brunch is not loud and may lack the energy that is often associated with a brunch, but herein lies its strength – it is relaxed to the nth degree with a distinct family focus. Backed by a fine chef de cuisine and floor staff, Sacci is able to create a warm atmosphere. On the food front, the caprese panzanella, mezzaluna and roasted sea bass with mashed potato bring to the fore the a mama's kitchen feel to Sacci. Appropriately, prosecco flows freely.
Zuma, Al Maryah island – 18 or so months on, Zuma remains an icon on Abu Dhabi's dining scene. With its part buffet and part a la carte concept, it manages to please a wide range of guests. Zuma probably has the best staff you want at a brunch, full of knowledge, colour and personality. The food however is the main talking point. Look out for the edible garden with Zuma salad dressing, wagyu tataki with truffle and ponzu, the very homely takoyaki that will take you back to Osaka's streets, and a show-stopping dessert. Overall, Zuma is a brunch with that cool factor matched by superb dishes. And just for good measure, Taittinger champagne is served.
Any brunch favourites from this round-up, or any more worthy of a mention?
Brandon Stoltenkamp.
Who's FooDiva's guest reviewer? Brandon Stoltenkamp seeks to show a strong connection between food, drink and words from his base in Abu Dhabi. He is an F&B consultant, who is also passionate about writing. He writes for the UK's champagne magazine, Glass of Bubbly, as well as a blog Mitsukiemma, inspired by his daughter. He believes restaurants are in the wrong business if they are serving just food – they should be serving emotions and memories.