Is Jason Atherton's Marina Social the new favourite in town?
To much relief, my disappointment with imported concepts and chain restaurants in Dubai turned out to be short lived. It took a friendly hostess, a stroll through the modern, chic and urban-style venue and a bite into warm goat cheese churros to make me realise that chef Jason Atherton's newly opened British-Mediterranean restaurant Marina Social at the Intercontinental Dubai Marina eclipses its Michelin-starred London sibling, Social Eating House, where I had a pleasant yet somewhat pompous dinner in June. The seventh in a string of 'Social' restaurants and the first in the Middle East, Marina Social ticked many boxes and restored my faith in transplanted concepts.
Our evening started with a warm welcome by our hostess who, while showing us to our table, introduced the 'Social' sharing concept and explained the meaning behind the spectacular wooden statues overlooking the entrance. Our chirpy waiter took over, described all dishes as "amazing" yet still explained various menu items diligently. Upon his recommendation (and a naughty upselling technique), we ordered three starters and three mains – which, unless you're extremely hungry, was a lot for two people – so stick to a three-course meal.
Creative, playful and perfectly executed, our three starters were delicious. The deep-fried yet light and airy goat cheese churros were wonderfully gooey when dipped in a truffle honey sauce. The signature burrata creatively pumped INSIDE a firm Italian beef tomato, mixed with a caper-infused tomato tartar and drizzled at the table with balsamic, was creamy and moreish. My favourite was the Alaskan king crab; zingy, fresh and texturally perfect; the unusual marriage of soft crab, crunchy green apple, peanuts, coriander and pickled cauliflower was delicate and exquisite.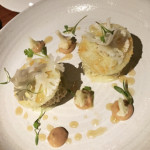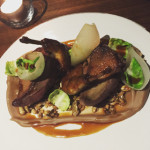 Our mains were equally creative and tasty. The smoked Boston lobster, quirkily presented in a wooden gift box and opened at our table, was tender and packed with flavour (and smoke) thanks to a warm lemon butter sauce. It arrived with a side salad of warm potatoes and crunchy lobster tempura – delicious on its own. A long and unexplained thirty-minute wait separated us from our two other mains; the squab pigeon and the chargrilled veal chop. Our disappointment was quickly forgotten though. Reminiscent of Qbara's ingenious fusions, our main courses presented unique flavour profiles (as an aside but interestingly chef Colin Clague who opened Q'bara, since moving on to Jean-Georges Vongerichten, worked for Jason Atherton in Singapore). The pigeon was served with a subtle chestnut and onion purée, al dente Brussels sprouts, and a mix of pumpkin seeds and oats. A fresh salsa verde, an invigorating lemon gelée and crunchy hazelnuts accompanied the perfectly cooked veal chop. Earthy and hearty, both were sublime.
We ended our meal with two desserts and a selection of homemade treats from Marina Social's candy trolley, another playful touch. A deconstructed lemon sponge cake with a bergamot, verbena and lemon ice cream was delightful and refreshing. The flavours of a chocolate and peanut bar with a scoop of banana ice cream was reminiscent of a Snickers-meets-banoffee concoction, and was equally palatable. The perfect end to a great meal.
On a Tuesday night, Marina Social was packed and buzzing. The atmosphere was friendly, inviting, casual and as one would expect, very social. Staff were well-trained and attentive – however the unexplained long wait between mains needs to be addressed. If you were to order the quantities we did (but there really is no need given generous portions), expect to pay a ridiculously hefty AED520 per person for a total of eight dishes without alcohol. But stick to three courses each, and the bill becomes much more reasonable at AED360 (including a pricy lobster).
Marina Social is a great addition to the Dubai Marina dining scene – exquisite, creative and playful dishes, a modern venue, good music, casual vibes and a wonderful terrace for the 'winter' season. It definitely exceeded my expectations and topped my London 'Social' experience, so I think it's about to become my new favourite restaurant in town. The only niggle as I mentioned is the one service issue, and the obvious upselling. So all in all, I am giving Marina Social a four out of five FooDiva knife rating.
Tell me, have you tried any of Jason Atherton's restaurants around the world? How do they compare with Dubai's Marina Social?
Till next time!
SJ
Who is FooDiva's guest reviewer SJ? By day, she is a professor of political science. By night, she shares her cooking, travelling and dining out adventures on Instagram here.