Dusty's: what's in a name?
How important to you is the name of a restaurant when deciding where to dine out? For me, very. Branding is the first impression that positions a restaurant in our minds, and it's that perception that lingers. As far as Dubai restaurants go with odd names that don't marry well with the concept, Novikov is one example, Lemonade is another, but more recently Dusty's at DIFC. Now I first heard of this restaurant opening in June and immediately put it to the bottom of FooDiva's review list. The name, unbeknown to me, was a person's forename, but it simply didn't paint an appealing picture, and with a flurry of other restaurant openings, there was enough to keep us busy. Anyhow, four months later despite the off-putting name, I put impartiality first and make a reservation.
Dusty's is a home-grown restaurant and wine bar in DIFC (in the 'poorer' Al Fattan Currency Tower) owned by a Dubai resident and 'world traveller' according to online references, Dusty Tourani. Yes he's named the restaurant after himself, but unless you know him (he's not a celebrity), one does not immediately associate the branding with a person's name. However, my negative perceptions go out of the window as soon as I walk in. The semi-industrial, long and narrow interior is warm and inviting with funky murals by a Palestinian artist, whilst a smattering of high tables give it a casual, rustic feel. But it's dead on a Thursday night at 7.30pm (admittedly a public holiday), and remains so for an hour when a handful of other diners arrive. We pretty much have the pick of a table.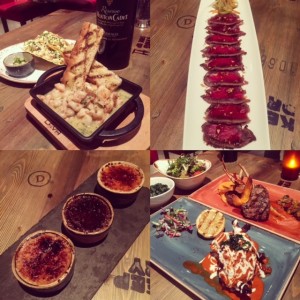 The menu is compact and international with 'global hits' as Dusty's likes to call it. A signature starter of beef tataki arrives as lightly seared slivers of tenderloin, with rich, juicy beef accentuated by a mirin glaze and a chilli salsa. The grilled prawns are served sizzling on a hot skillet – delicious – with the garlic, butter sauce so moreish I request a spoon to polish it off. But they are teeny; I am half-expecting king prawns. Call me diva-spoilt. Our third starter, another Dusty's special, lobster tacos (we are a hungry duo) disappoints – the tacos are stale and straight out of a packet. A real shame as the diced lobster, avocado and mango filling is succulent and full of flavour. We mention this to the manager when she requests feedback and she fully acknowledges our point explaining that the chef is working on his own recipe. Having said that, in the meantime they should remove them from the menu, or at least don't call it signature!
Onto main courses, a signature 'red' chicken is served as a half-chargrilled baby chicken doused in a delectable Indian butter chicken sauce with a drizzle of yoghurt – a welcoming surprise. Grilled lamb chops whilst tasty, veer towards medium to well done even though my dining partner requests medium. Side orders of sautéed spinach and a green salad with a delightful smokey dressing has me asking for the recipe (I am told it's a chef secret). We conclude our meal with a crème brûlée trio – whilst the mango, coconut and coffee flavours shine through, the brûlée is too dense with none of the expected creaminess and softness.
The extensive wine list is grouped according to body and flavour, whilst it also offers several options by the glass. Sadly, we have to ask for a Mouton Cadet Reserve Bordeaux to be served in red wine glasses. The issue being, white wine glasses form part of the table setting, but the service staff should be trained to replace the glasses, wine choice dependent. And it's little glitches like these coupled with bouts of shyness that let the service down – otherwise the menu knowledge is comprehensive.
Now Dusty's does not come cheap given the concept is casual and relaxed with a wine bar feel. That dreadful 10% DIFC tax does not help, so expect to pay on average AED325 per person for three courses. The concept is well thought through – a gastro wine bar that serves reasonably good food giving you more than the typical cheese and charcuterie platters – but his prices do need to drop to make Dusty's a regular, affordable haunt. That way I am sure it will also become busier. Now that I've visited and overall enjoyed the experience, I would return, despite the name 😉 Here's to a 3.5 out of 5 FooDiva knife rating.
How important is a restaurant's name to you?
A bientôt.
FooDiva. x