A new Peruvian restaurant in Dubai: Garden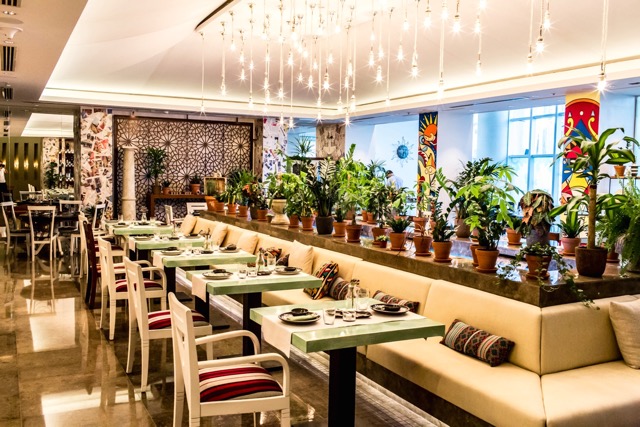 Would a gift of US$50,000 entice you to open your own restaurant in Dubai? It's mere pocket money really but it can pave the way for local talent to develop their own concepts. And that's exactly the premise of international hotel chain, Marriott with a new global restaurant scheme Project Canvas designed to support F&B start-ups. I am glad to see hoteliers in Dubai are beginning to realise they are best at operating rooms, and should leave filling our stomachs to restaurateurs and chefs.
The first of two home-grown concepts to open in Dubai under this scheme is Garden, a new Peruvian restaurant at the JW Marriott Marquis replacing Arabic outlet Nawwara. It's the brainchild of Tomas Vindasius, a restaurateur and night club operator (ex-Story rooftop lounge) with Peruvian chef, Edgar Hurtado, who has moved across from The Act. Despite the name change, the hotel still refers to Nawwara on its online channels and marketing collateral which only helps confuse you and I.
However there's definitely a step change with the interior. The re-incarnated Nawwara has stayed true to the original layout, but the wooden tables have been weathered lime green; rows of pot plants grace the elongated centrepiece offering a simple yet effective take on a garden; Spanish (or Peruvian?) newspaper cuttings wallpaper the interior; and the alcoves, perfect for a pre-dinner pisco sour (well-mixed and lethal by the way), boast bright and modern wall graphics. Despite a low budget, a little innovation and clever design can go a long way into creating a vibrant and atmospheric space. For an early 7.30pm booking on a Thursday, Garden starts off quiet but by the end of our evening is lightly buzzing, yet with plenty of room for more diners.
A compact and refined menu of ceviches, tiraditos, cold and hot starters, plus main courses is centred on seafood interspersed with the odd meat and vegetarian dish. Instead of a traditional bread basket, our waitress presents us with a bowl of piping hot mozzarella balls with its cheesy goodness oozing out. An interesting twist, but I would have much preferred to see a Peruvian or at least a South American cheese like the Argentinian provolone (provoleta) which is perfect for fried goodies.
We settle upon ordering a representation from each section of the menu which as the waitress explains is served sharing style. The classic ceviche arrives with diced sea bream marinated in traditional leche de tigre, aka 'tiger's milk'; a Peruvian lime and red onion-based marinade that our waitress teases is an aphrodisiac. The chef has honed this dish perfectly with the sea bream soaking up just enough marinade without drowning the fish. A Peruvian take on pop-corn gives it a nice texture contrast, as does some sweet potato tempura.
From the tiraditos, we select the Nikkei, a Japanese-Peruvian fusion dish whose cuisine has been made famous by Nobu. A nice touch on the menu explains the difference between a ceviche and a tiradito. Slices of lightly seared yellow fin tuna are topped with a sweet and tangy 'laqueado' sauce, spiced up with aji limo red chilli peppers. Whilst the contrasting flavours work well, I personally would prefer raw tuna, sashimi-style.
Two skewers of beef anticucho arrive piping hot and generously doused in anticuchera marinade-cum-sauce. The beef tenderloin goes down as one of the most tender I have ever tasted, whilst the chilli and garlic vinegar marination is so addictively good I crave more. All three appetisers arrive at the same time which makes choosing which to eat first tricky given we don't want to let the beef go cold. Serving cold starters, followed by hot would make for a more streamlined dining experience.
On to our choice of main course. I am glad Garden chooses to market Patagonian toothfish with its true name, not Chilean seabass as it's often referred to in most restaurants in Dubai and worldwide. Here the chef serves his take on black cod, another Nobu classic, with the white fish marinated in miso paste and in a novel twist is accompanied by an escabeche sauce that gives the wonderful flaky fish a potent acidic and peppery flavour contrast. Excellent execution.
The dessert menu is appealing and the two dishes we try are both divine – a white chocolate sphere and strawberry sorbet drizzled at the table with a passion fruit coulis, and a chocolate fondant with purple corn ice cream. But bar the pop corn texture in the ice cream, I struggle to see a Peruvian or South American influence. Perhaps I should have ordered the cream catalana or tres leches cake instead.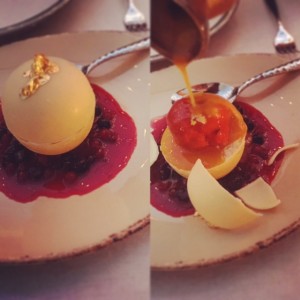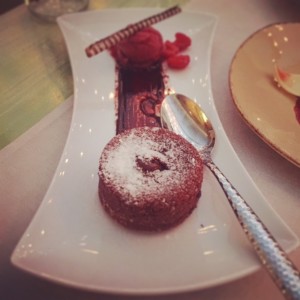 Aside from the timeliness of our starters which is an issue the kitchen needs to address, the service from our delightful Croatian waitress is excellent. She responds well to our queries on the menu, and is attentive without being intrusive. With a price tag of AED200-250 per person based on three generous courses each without alcohol, Garden is extremely affordable, much more so than its Peruvian counterpart Coya. Note, Emirates NBD cardholders can avail of a 20% discount here and at other JW Marriott Marquis restaurants. Not only does it tick the value for money box, but the food, in most parts, executes traditional Peruvian dishes with some modern interpretations very well, whilst the inviting interior, music and light buzz makes for bundles of ambience. Interestingly, when I post my photo on FooDiva's social media channels the following day, every person who comments raves about their dining experience – to get such consensus in Dubai is practically unheard of.
With all this in mind, I am dishing out a high four out of five FooDiva knife rating for Garden, a quirky, home-grown concept developed by a restaurateur, and one that we should all support. The second of the two Marriott Project Canvas concepts is chef Darren Velvick's The Croft at the Dubai Marriott Harbour hotel just open this week. Here's a sneak peek; more when we review.
Do you feel more hotels should lease out restaurants to the experts to manage? What's your favourite home-grown restaurant in Dubai?
A bientôt.
FooDiva. x