A culinary guide to Italy, region by region
Italian cuisine does not exist. Instead Italy boasts 20 regions each with its very own diverse 'cucina' thanks to many micro-climates and historical micro-cultures. Globalisation has ruined the understanding of Italian food (as it has done with India and Mexico's culinary heritage). Spaghetti bolognese is just one example of a non-existent Italian dish, but one that falls victim to globalisation. In its simplest form, the north boasts rice and butter, whereas the south screams pasta and olive oil. But it doesn't stop there.
Thanks to a culinary journey across Italy organised by Francesco Guarracino, the executive chef of Bice Mare restaurant in Dubai, a group comprising seven of his chefs, two restaurant managers, five journalists, and one distributor travelled 5,000 + km across seven regions in the space of 12 days earlier this month. Starting in the north with Milan, all the way down to Sicily in the south, and back up to Rome, we could only traverse this distance in such a short space of time with the help of three camper vans as our beds, alternating with hotel stays. No time for being a diva ;).
What did we indulge in? Michelin restaurants, nine to be precise. Trattorias. Osterias. Pizzerias. Rooftop bars. Food markets. Vineyards and wineries. Cheese makers. Bakeries. Chocolaterias. Cured pork producers. Lemon groves. Jam makers. Even a spot of fishing. And the finale, the global Gelinaz chef shuffle dinner.
So a few kilos heavier, here's FooDiva's culinary guide to Italy, region by region. Time of the day dependent, grab yourself a cappuccino or a limoncello and have a read.
LOMBARDY
Italy's northerly region Lombardy bordering Switzerland is the home of the risotto and Expo Milan (runs until the end of October) whose theme is nutrition, powered by the Slow Food Movement but sadly also sponsor McDonald's (we boycott their stand). One tip – pick a weekday and arrive early to visit the glorious country pavilions, otherwise expect to queue.
Ferrari Trento, a collection of slick and sexy airport bars in Italy has set up shop at the Expo. Its namesake, a spumante, is produced using the classic champagne method and is good enough to rival its original French counterpart.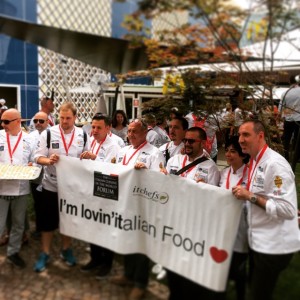 On the outskirts of Milan in Cavenago di Brianza you will find the first Michelin restaurant we visit, chef Enrico Bartolini's two star Devero in the hotel of the same name. Favourite dish? Red prawns cooked two ways, one of which is served in an almond shell. Enrico has a personal passion for French champagne and has just partnered with Krug to pair bubbles with potato-based dishes.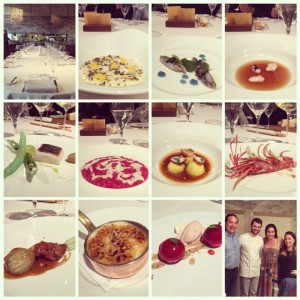 Other Michelin star restaurants in this region whose dishes we taste at a cooking demo and dinner are chefs Chicco Cerea's Da Vittorio (three star) in Brusaporto, Claudio Sadler's Sadler (two star) and Tano Simonato's Tano Passami L'Olio (one star), the latter two are both in Milan.
TUSCANY
Moving down a notch in geography but not flavour, Tuscany is a rural region with farming traditions at its heart so it's no surprise that even in the stunning city of Florence, the food market is a highlight and a must visit.
The Mercato Centrale as it is known has a newly renovated top floor (above the groceries) where vendors sell artisan food which you can eat on trestle tables, or on the go. The choice is bewildering, almost on a par with Barcelona's Boqueria, so much so I return the following day for more bites. For something local try a lampredotto sandwich, Florentine peasant food made from the fourth stomach of a cow; similar to tripe but with the taste (not texture) of pate and drizzled with salsa verde. Be warned it's very rich.
The market also houses a cooking school, Lorenzo de' Medici where we see chef Daniele Repetti of one Michelin star restaurant, Nido del Picchio in Piacenza (from the neighbouring Emilia-Romagna region) dish up a red prawn and hibiscus jelly tartare on a bed of sliced green apple.
For sundowners and a gorgeous view across Florence's river Arno and the Ponte Vecchio, head to rooftop bar La Terrazza atop the Continentale hotel.
LE MARCHE
To the east bordering the Adriatic sits the region of Le Marche famed for its spicy fish stew, brodetto all'anconetana. But we skip its capital Ancona and head to the coastal town of Senigallia for two star Michelin treat Uliassi run by brother Mauro and sister Catia as chef and maître d' respectively. Naturally a seafood inspired restaurant. Star dish from our dinner? A deep fried bread crust sandwiched with red mullet and dipped into a parsley anchovy soup.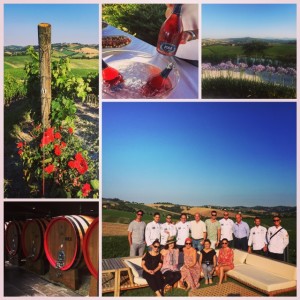 Earlier in the day we pop into a stunning vineyard and winery, Cantina La Murola in Urbisaglia that unusually only produces single grape wines. My favourite from the wine tasting is Jole, a rose spumante using the charmat method similar to the PDO-protected prosecco. Sadly they do not yet export to Dubai.
The following day we visit a trio of artisan producers that all embrace the Slow Food Movement's principles – and all are open for public visits and shopping.
Trionfi Honorati in Jesi is a cheese maker selling over 20 buffalo (famed for its lower fat content) and cow milk cheeses from her farm (try the buffalo milk yoghurt); Sigi all-natural jams where I pick mulberries straight off the tree and into my mouth (jams are available at Heinz Beck's Taste of Italy in Dubai; and cured pork heaven at Salumi Monterotti in Sarnano with a selection of hams, salamis including a PGI (protected geographical indication) delicious buttery 'ciauscolo', porchetta and matured pork loin.
LAZIO
Lazio's epicentre is Italy's capital, Rome glorious Rome, and its most common street food fodder are fried artichokes, aka carciofi alla giudia.
We're here because of the city's only three Michelin star restaurant, one that is owned not by an Italian but by a German chef, Heinz Beck, a familiar face in Dubai (who married a Sicilian chica), and one that has held its trio of stars for a decade. La Pergola atop the grande dame hotel, the Waldorf Astoria Rome Cavalieri reigns above one of the Seven Hills of Rome boasting what is arguably the world's most spectacular view from its terrace. Aside from his signature and slightly deconstructed ravioli filled with carbonara, my favourite of the nine courses is a deep-fried zucchini flower topped with caviar in a shellfish and saffron consommé. Incidentally his winning Taste of Waldorf dish is now available at Waldorf Astoria hotels worldwide, Dubai included.
We return to Rome for our last night and a last supper at the annual Gelinaz shuffle at Le Jardin de Russie with chef Bertrand Grebaut from Septime in Paris at the stove. With nine Michelin meals behind us, the food does not wow (the tomato-stuffed ravioli sandwiched with mozzarella is exquisite though), but the setting in the Hotel de Russie garden is magical.
CAMPANIA
Travelling south, the cooking gets carb-heavy starting with the Campania region – the home of the humble Neapolitan pizza. You will find many a traditional pizzeria in Napoli, but head to the outskirts to Caiazzo and pizzaiolo Franco Pepe's temple to pizza that is Pepe in Grani. The attention to detail this meticulous man pays to the crafting of wood-fired pizza is exemplary. The whole prep and cooking process is all done by hand with the emphasis on the dough, kneading, proofing and local ingredients. He throws one away whilst we are present because he's not happy with the outcome. Pizzas are so well priced from only EUR1.50 to 9 (classics to creative). You can even stay the night in one of the serene, minimalist rooms. Only open for dinner; reservations accepted for weekdays only (closed on Monday) or expect a queue on weekends.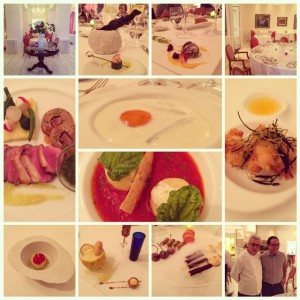 For a dose of Michelin, two star Don Alfonso 1890 sits in a magnificent mansion from the Napoleonic era with its own farm (and hotel) in the quaint village of S'Agata Sui Due Golfi. Star dish? A baked egg with burrata starter. In case you are wondering, the family confirmed they will only re-open in Dubai when a new partner is identified (the Shangri-La restaurant closed earlier this year).
On the other side of the dining spectrum, a typical farm lunch can be had at the Lombardi family's Le Campestre in Castel di Sasso including a taste of Conciato Romano, a 2,500 year-old cheese, the oldest recorded in history – super strong and tangy.
Or else for another casual lunch head back to S'Agata where the Gregorio family runs Lo Stuzzichino, voted Italy's best trattoria this year. All our dishes are created using ingredients whose slow food artisan producers we visit earlier in the day. Teeny sweet shrimps so rare they can only be fished in Nerano from February until July; we gobble them up on the boat straight from the fisherman's haul. Cheese maker, Il Turuziello in Massa Lubrense who produces the DOP registered cow's milk Provolone del Monaco, one of only eight producers in the region. Made with spun curd (similar to mozzarella), they are then worked into large, squashed, pear-shaped cheeses held into shape with a cord. And a delightful lemon grove, Limoneti dei Giardini di Viviano for fresh Sorrento lemons (so sweet we eat the rind raw), and granita with limoncello.
And the finale of this region, a visit to a winery, Terre del Principe in Squille with its 1,000 year old cellar. The owners Manuela and Pepe abandoned their respective careers as a journalist and a lawyer to become the first to market Casavecchia and Palagrello grapes in Campania.
PUGLIA
The boot's heel forms the Puglia region, one of Italy's flattest and most fertile regions with its cuisine often referred to as the most Italian and the one most suited to vegetarians. Its most famous pasta is the orecchiette with tiny ear-like shapes.
Here is where we have our best and most memorable Michelin meal in Italy at oddly enough a one star only restaurant, but it's truly worthy of three, and a flight to Italy alone. Angelo Sabatelli's Ristorante in Monopoli successfully combines flavour with style and creativity using local ingredients. A 12-course dinner menu divided into three acts; my favourites are a roasted eggplant, tomato and burrata starter; orecchiette with a ragu slow-cooked for 30 hours in a Canestro cheese fondue; and a sweet ending of a chocolate bonbon with candied wild onions and artichoke liqueur that explodes in your mouth. Pure and utter genius.
For another one star experience but a more rustic affair, chef Antonella's Al Fornello Da Ricci in Ceglie also offers a traditional and cute 'trullo' guest house with its white washed conical roof. Her lamb roasted in intestine lining is delicious.
Newly opened Terrazze Borromeo atop a boutique hotel in the picturesque village of Manduria makes for a perfect aperitivo spot where we sample friselle, a traditional peasant dish similar to bruschetta (pictured at the top of this post).
We visit a trio of slow food producers all open to the public; Santoro Salumi in Cisternino famed for its sweet capocollo meat cured from the pig's neck; Allegrinitaly which hand bakes Ceglie almond and cherry jam biscotto (I even dabble at baking); and the winery Manduria Vini with its wonderfully full-bodied wine from the Primitivo grape.
SICILY
We conclude our journey on the largest island in the Mediterranean, Sicily, the 'football' at the tip of the boot. Sicily was under Muslim rule for a short while, so the Arab influence with ingredients like saffron, pistachios and pine nuts still prevails to this day.
One restaurant to really taste traditional dishes using historical ingredients and recipes is the Osteria dei Sapori Perduti in the old town of Modica. The owner even has a motorised rick-shaw for driving through the winding roads, whilst soaking up breath-taking views and singing Italian folk songs…as you do 😉
Sicily has no three Michelin star restaurants so we have to settle for less 😉 Chef Vincenzo Candiano's Locanda Don Serafino in a beautiful 19th century converted mansion atop a cliff in Ragusa boasts two stars and restaurant aside, serves as a hotel too. I adore the baked egg and tomato starter…perhaps a Middle Eastern shakshouka influence.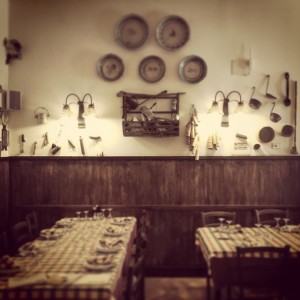 Another two star feast and our last of the journey is at chef Pino Cuttaia's La Madia (translates to cupboard) in Licata. Hidden in a back street this restaurant marries unpretentious charm with an innovative cooking style (charcoal-infused beef for one), deconstructing traditional dishes whilst retaining rustic flavours. I would return to eat all seven dishes. He even pops out to share a bag of succulent white peaches from his farm that we eat on the ferry back to Naples.
And our last series of visits to slow food producers concludes with a delightful chocolateria in Modica straight out of the movie Chocolat, Antica Dolceria Bonajuto. The island's oldest chocolate producer only grinds its cocoa beans, but not the sugar which gives it a grainy texture. No cocoa butter is used. We also taste a wonderful dark chocolate liqueur spiced with pepperoncino that I buy to bring back to Dubai. La Casa del Formaggio di Pasquale in Ragusa produces caciocavallo, a salty cheese only in season from June to October. At lastly we pay homage to Fagone for its sweet Giarratana onion jam.
And before I say arrivederci, here's a slide show of some non-food snaps just to prove it wasn't all eating 😉
---
Francesco was able to organise this trip over the summer because Bice Mare is closed for refurbishment, set to open later next month (August) with a pristine new look. Much of the produce we sampled on our extraordinary journey themed Road to Dubai, will be imported into the UAE by Made in Italia, whilst the chefs whose food we feasted on will be flown in for the annual Italian Cuisine Summit in Dubai starting 27th October.
So do you have a favourite region of Italy whose food you relish? Or a restaurant there whose cuisine you crave?
A bientôt.
FooDiva. x