The Sum Of Us: is it all hype?
I am usually sceptical when hype surrounds a new restaurant or café opening in Dubai, or anywhere for that matter. Expectations rocket higher than Burj Khalifa, one is typically left seriously disappointed…and most probably hungry. The Australian and Spanish duo opened Tom & Serg café in Al Quoz 18 months ago (another hyped up opening) and now their latest venture behind the Sheraton Grand hotel on the Sheikh Zayed has flooded Instagram feeds with an unusual name, The Sum Of Us.
As my Australian friend suggests, perhaps the café is named after the Oz comedy. Google the storyline and you'll see why that's highly unlikely in Dubai. When I pose the question to our waiter he initially stumbles, but then manages to blag his way through a story about the team effort behind the name. Something Tom himself confirms later. Disclosure here – after we finish our mains, my cover is blown when Tom pops across to introduce himself. We have only ever met on Instagram, where he manages his own social media channels taking the time to respond to both compliments and complaints in a humble, constructive manner. Many a restaurant and café would do well to take heed of his customer engagement strategy.
There are many similarities with the two concepts – from the two-storey, urban, industrial style décor with exposed ceilings rammed for a Saturday lunch, to a compact breakfast, lunch and dinner menu peppered with the odd native Australian ingredient, and a fascination for coffee that has garnered a love hate following across Dubai. So it's interesting they have decided to change the name. Perhaps a clever approach to avoid direct comparisons? But I am comparing anyway.
My risotto is cooked with a wonderful zesty bush tucker ingredient, lemon myrtle that I first taste at Bushman's, the Australian restaurant at Anantara The Palm, generous shreds of silky roasted cod, a sprinkling of chilli oil, a hint of tarragon, and a dollop of sour cream. You have to mix it all together to bring such powerful, distinct yet complementary flavours to the fore, in particular the fragrant verbena of the lemon myrtle. This dish is pure comfort food, one that I polish off pronto, and one that I can see becoming a firm favourite in Dubai.
My friend's 'sanga', Australian for sandwich, is listed as tuna and egg which she requests sans egg, but the waiter can only oblige once he checks with the kitchen. A sign that the mix is pre-prepared, but at least they are able to accommodate special requests and make it from scratch. A simple tuna mix is elevated with the intensity of preserved lemon, a spread of olive tapenade, and a few rocket leaves – sandwiched in a home-baked sourdough toastie with as expected, a strong tangy taste. Interestingly it's the only bread available at The Sum Of Us, baked daily on the premises, and available for take out. The generous portion is accompanied by a small dressed salad of rocket with slivers of parmesan. As an aside, at the end of our lunch, Tom presents us each with a loaf to take home and I have since been living off grilled cheddar cheese, and smashed avocado on toast – simply delicious.
The cake display is very limited, so don't go here if you only have a sweet tooth – but I understand it's work in progress. The lamington, another Oz speciality, is a twist on tradition; with chocolate sponge instead of vanilla; a centre of fresh cream with strawberry jam; and sprinkled all round with desiccated coconut. Super moist as it should be if freshly baked, the coconut is surprisingly very mild; a good thing in my opinion, allowing the other flavours to shine. But we have to chase this order, and when the lamington does eventually arrive, it's followed by a second accidental serving which we return.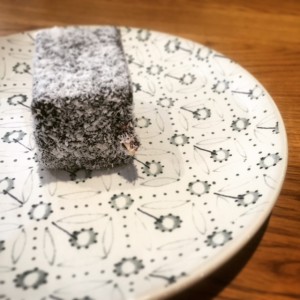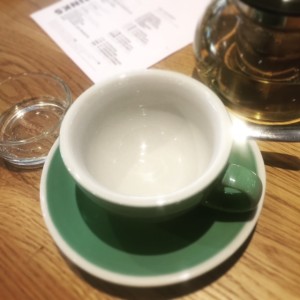 Whilst our food impresses, our drinks do not – my apple juice listed as 'fresh' resembles the like from Barakat – and is most certainly not freshly squeezed. My oolong tea has a good depth of flavour, but sadly is served in small, chunky ceramic coffee cups which don't retain the heat well, so I request a take-away paper cup instead. A pet peeve of mine, and that of many a tea drinker I would have thought.
As for the hyped up coffee, we are politely told that The Sum Of Us does not make cappuccino with skinny milk as the thinness of the milk impairs the flavour of the coffee – something that my coffee-drinking friend quite rightly says should be left to individual preferences. Undeterred, she orders a half-strength, extra hot cappuccino – which arrives not once but twice as barely lukewarm – she even sinks her finger in the cup (twice) to prove a point to our (horrified) waitress. When she suggests that maybe the cappuccino could be served in a paper take-away cup to retain the heat, she is inexplicably told no, that would make the coffee even colder. When the coffee finally comes for the third time, it is hot (but not extra hot), and its flavour pleasant enough, but not a patch on Bystro, she claims, which arguably makes the creamiest (skinny) cappuccinos in Dubai.
As you can tell, service is hit and miss, with our waitress better than our waiter, but the banter between staff and diners is welcoming. There's no doubt The Sum Of Us has successfully replicated Tom & Serg's vibrant vibe, but upstairs where we are seated is a little canteen-like. Given the choice, I would opt for the more intimate ground level with a view into the coffee roastery. Expect to pay on average AED115 per person for two courses, a coffee/ tea, and a cold drink – like its sibling, good value.
The Sum Of Us has been open less than a month and clearly does have teething issues, but that's something Tom acknowledges, so am sure with time will be resolved. When there is so much hype around a new opening, especially one with a full house, cafés and restaurants would be better off charging half price until they are confident staff both front and heart-of-house are fully trained and they have got it right.
I would give them a little more time to settle in, but in the meantime if you're in the area, you'd be hard pushed to find a better café. On top of that, home-grown concepts should also be firmly supported by the local community. Oh and I do leave with a full stomach…and a loaf of sour dough.
Do you think eateries should open with a half-price strategy for a so-called 'soft opening' period? What's your take on The Sum Of Us?
A bientôt.
FooDiva. x