Palm Grill: dinner and vino on the beach
I like to think that I have a knack for discovering new restaurants slightly off the beaten track. On this occasion though a fellow foodie gave me a heads up on this relatively new spot in Dubai. It's not often one finds, for want of a much-overused descriptor, a 'hidden gem' in a five-star hotel. Palm Grill is not even listed on the Ritz-Carlton Dubai JBR's website (not a bad thing really), but it does have an Instagram account.
Expect a rustic beachside location complete with sand in your toes, yet it's nothing like one of my hangouts, the glam Beach Bar & Grill at the One & Only Royal Mirage. Unlike Ritz-Carlton's typically plush F&B, this spot is a little rough around the edges, with the décor bordering on drab, but don't let first impressions put you off. Given the lack of marketing, it did not cross my mind to reserve but surprisingly this low-key, intimate restaurant is abuzz and booked out on a Friday evening. The prime tables on the sand are already taken, but the manager with his resourceful mind is quick to squeeze a table onto the al fresco wooden deck.
The a la carte menu is simple, focused fare, boasting primarily seafood with the odd meat dish thrown in. Many of the main courses are grilled to order by the chef on his show barbeque, whilst starters are all quirkily served in mini buckets. Unlike Cove Beach, the menu is designed around the coastal location, but I would love to see the addition of a local sustainable catch of the day.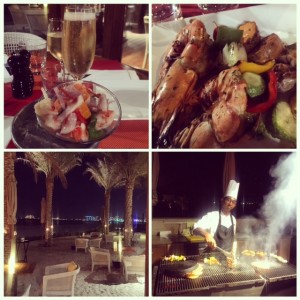 A ceviche has plenty of prawns tossed with chunks of sea bream, diced yam and slivers of red onion and chilli. For once with ceviche in this town, the citrus marinade does not drown the delicate fish flavours. The unusual addition of yam gives the dish some textural balance. My only qualm, the portion even for an appetiser is quite small, something our waitress (incidentally a Peruvian lass) does in fact allude to when we place our order. Prawns poached in citrus are succulent, and at our request a pomegranate Sriracha cocktail sauce is efficiently replaced (with chimichurri) thanks to a friend's red bell pepper allergy.
A bucket of fritto misto with lemon aioli brims with bite-size deep-fried calamari and shrimps that have a wonderful freshly crisped texture. King-size prawns are priced individually (AED70) with two sufficient for a main course. Char-grilled with plenty of juicy 'flesh', they are served with a skewer of al dente veggies and sweet potato – all grilled in front of us.
We can't stomach a sweet ending even though a grilled apple pie is what I would choose next time from a compact choice of four desserts. Palm Grill is the kind of restaurant that would really benefit from offering a cheese platter, or even just a slab or two of cheese. That's something I would have ordered.
The wine and cocktail list is small but reasonably priced, including one of my go-to South African Cap Classique bubbles at AED80 a glass. Palm Grill excels from the outset until our departure with its warm, friendly, efficient service, in particular the authoritative menu knowledge. Good banter with the waiting staff is always refreshing to see here in Dubai, but that's something Ritz-Carlton has long mastered in my opinion.
AED250 per person for three courses excluding alcohol in a luxurious hotel setting is a reasonable price to pay and certainly offers value for money. There's no doubt Palm Grill would benefit from brushing up its décor, but finally Dubai has an uber-casual beach restaurant with no dress code (you wouldn't feel out of place in flip flops, even if the diva's are beaded) that serves excellent, no-frills food AND vino. I am torn because I want you ALL to head there pronto, before the searing summer heat sets in (there's indoor seating mind you but don't expect the same buzz), yet rather selfishly I also want to keep this hidden gem to myself. Look what happened to Bu'Qtair. Oh well it's a bit late for that now. Here's to 3.5 out of 5 FooDiva knives.
Are there any more casual, licensed restaurants on Jumeirah beach I should know about?
A bientôt.
FooDiva. x