What's La Cantine du Faubourg trying to be?
La Cantine du Faubourg is a new French restaurant import now open in Dubai, at Jumeirah Emirates Towers. The name conjures images of a quaint Parisian bistro with tables spilling out on its fashionable street, so I am thrown when over the phone I am told the dress code is smart – even though Dubai has a habit of dressing up (excuse the pun) imported concepts. Anyhow the diva gets all dolled up, but I forget to tell my dining companion who rocks up chez moi in funky trainers (with snazzy jeans and jacket admittedly). A call to the restaurant and after some deliberation I am reassured that his attire is acceptable. But when we arrive, the terrace which I had booked is super casual, and it's moi in my pretty dress and glitzy high heels who feels utterly over-dressed.
It's a delightfully pretty garden terrace sandwiched between the Emirates Towers skyscrapers. The retro dining tables on the terrace are dotted around banquettes but are rather low, and not ideal for eating. Indoors, the 'salon' restaurant and bar with bundles of modern art, wood, stone and marble, and accents of bright red has a more sexy, upmarket feel. Organza drapes hide many a nook and cranny including a magical chef's table. It's one of those restaurant interiors where there's always something interesting to gaze at, and am not talking eye candy – Q'bara and Coya are similar in that sense. Everyone is dressed casually, so La Cantine seriously needs to manage expectations with its dress code, or even better simply change it.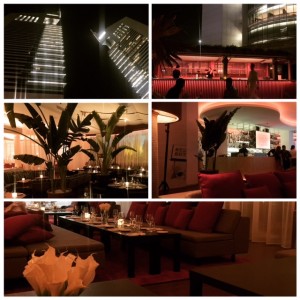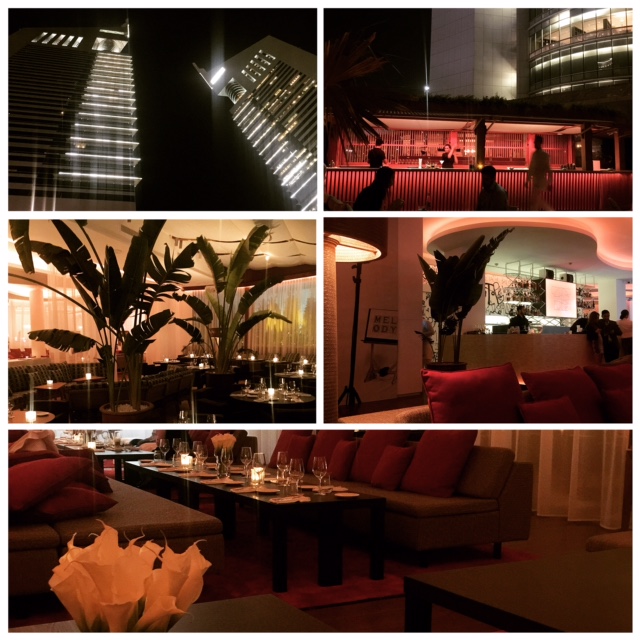 The cocktail and wine list is very well priced (cocktails around AED55-60 and a coupe of Moet AED105), but the selection of the latter is extremely limited. Our martinis arrive separately with a good few minutes gap. Odd that they are not served together.
The menu split into appetisers, main courses, grills and side dishes has an ample selection of traditional French fare, with the odd Mediterranean-Italian and South American dish thrown in for good measure. We order a sea bass ceviche to nibble on whilst perusing the menu. The lime dressing is a little too generous, over shadowing the succulent and flavoursome sea bass.
The three textures of foie gras terrine including a slab sprinkled with dark chocolate, some accompanying fresh figs and a quenelle of jam are wonderful, but the brioche toast is a little soggy. A beef tartare au couteau arrives doused in truffle oil which the menu does not mention. Now I am allergic to truffles and can smell them a mile away, so after my friend has a taste we ask the waitress to replace the dish. Even he does not see why a classic tartare dish needs embellishing with truffle oil. When the replacement arrives, it truly is the standout dish of the night. The beef is finely cut as it should be traditionally (au couteau), not minced. Instead of toast, the accompaniment is homemade potato crisps (a take perhaps on the Belgian way of serving with frites), but whilst excellent in their own right to nibble on, they don't hold the tartare well.
Our meal starts to go downhill with our main courses. Firstly, the waitress insists we order additional sides which are wholly unnecessary given both our mains are served on a bed of potatoes and veggies. A shameful and unethical upselling technique. The poulet fermier arrives as slices of bland chicken breast with the texture and flavour of a microwaved dish. We take a bite and leave the rest. And I was expecting a wholesome roast chicken. La Cantine redeems itself slightly with a tender and juicy grilled octopus on a bed of smashed new potatoes. It's over dressed with a ratatouille-like topping though – a drizzle of olive oil and a squeeze of lemon juice would suffice. A side order of pommes frites is far from classic French shoestring fries, but arrives as double-fried chunky chips. As moreishly good as they are, you are doing the French a disservice by calling them frites. A portion of steamed asparagus is a tad over-cooked.
Our dessert which we decide to eat in the lounge with its eclectic 80s sound track (and one lady wearing cut-off denim hotpants I should add), is generous enough to share and goes some way towards a sweet ending with smooth, well-balanced layers of praline, chocolate and cream, topped with hazelnuts. The ending would have been much sweeter though if La Cantine had not attempted to charge us for two portions of steak tartare. At our insistence, the bill is adjusted – but at AED458 per person without alcohol, it's as sky high as the twin towers – and most definitely not aligned with a casual dining experience.
The staff (with incidentally many waiters sporting beards to the point we wonder whether it's a dress code) have a sense of bravado which is so welcoming in Dubai's overwhelmingly submissive service culture – but that's not enough to cover up the many irregularities throughout the course of our meal. The only boxes our dinner wholeheartedly ticks are location, décor and atmosphere. Overall both service and food are average, with starters outperforming mains, and for that price, does not offer value for money. La Cantine appears to want to break into Dubai's high-end La Petite Maison and La Serre French-Med segment, but there's a serious mismatch with the casual ambience, food and service delivery which it needs to resolve first to be able to compete. After dining out at a new restaurant, I always ask myself if I would like to return, and in this case I wouldn't rush back. Competition is so stiff in Dubai, with plenty of other better restaurants to spend my hard-earned dirhams…and to get all dolled up for. For now, here's to a 2.5 out of 5 FooDiva knife rating.
Have you tried La Cantine du Faubourg? Where do you head to for French food with vino?
A bientôt.
FooDiva. x