Solo – where Italian tradition meets modern gastronomy
Solo Bistronomia is a new Italian restaurant in Dubai at Raffles Hotel, replacing Fire & Ice, with Dubai veteran chef Corrado Pani at the helm. The owners are the same as neighbouring Japanese restaurant Tomo. The menu offers an extensive list of starters, soups, pastas and risottos, alongside a wide selection of pizzas, meat and seafood main courses. Regional Italian specialties and staple dishes are weaved into each dish very subtly, making Solo's menu quite representative of Italy's rich culinary traditions. Let's see how it's executed.
Solo is welcoming and warm, thanks to hardwood floors, exposed terracotta brick walls and dimmed lights. Large iron chandeliers hang from high ceilings, giving the venue a traditional tavern and rustic feel. Before arriving into the main dining area, a long corridor makes up the vino bar as it's called, and is lined with high tables and chairs, whilst a huge mirror gives the spacious venue an edgy, modern look. Contrasting details and wall decorations, such as a trio of brightly coloured bull heads set the mood for a fun and quirky dinner experience.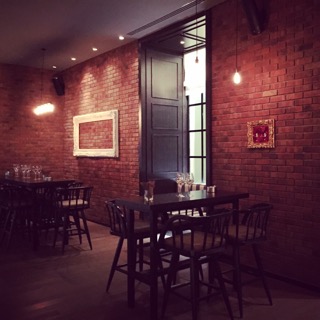 There's a hostess table on arrival but sadly with no one to greet us initially. A minute later, a lady did appear and escorted us to a large high table with stools to the left of the main dining area that would not have been comfortable for what I knew would be a long dinner. I asked if it would be possible to be seated at a regular table, given I could see a couple were available. Half-heartedly, she accommodated the request and our waiter drew a chair from nearby to seat our party of five on a rather small table. Given I had made a phone reservation for dinner (incidentally a Thursday night), I expect to be seated on standard dining tables. Or at least the option should have been explained on the phone when I booked.
Our waiter quickly appeared with a warm bread basket, whilst we were handed menus and the wine list – the latter an expansive selection of red and white French, Spanish and Chilean wines, in addition to many wines from different regions in Italy, and house wines. There's also Solo's sommelier choices and a generous offering of wines by the glass or by a quarter, half, or full carafe. We opted for a half bottle of Tuscany's own Chianti, a good size for three generous glasses.
All four starters – octopus salad, burrata, lobster salad and beef tartare looked very appealing. The octopus salad consisted of large bites of perfectly cooked warm octopus sitting on top of a velvety pumpkin puree, and was mixed with a traditional Tuscan panzanella salad of tomatoes, cucumbers, and croutons. The lobster salad by contrast was a cold dish; fresh and crispy with celery, tomatoes and avocados accompanying delicious chunks of lobster. The burrata was equally tasty; soft and ultra creamy, it married well with the side of finely sliced raw salmon and pomegranate seeds – a non-traditional, yet delightful way of presenting this southern Italian staple. My least favourite starter happened to be my choice. A signature dish, the beef tartare was mixed with pine nuts making the texture a little chewy. A creamy bagna cauda, a traditional Piedmont dip of butter, eggs, and anchovies, was a little salty. Adding a crunchy, fresh element to the tartare would address the texture, and counteract the saltiness.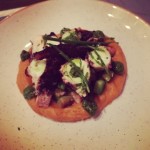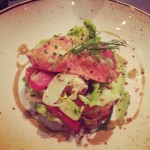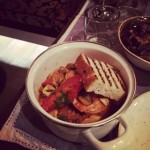 Moving on to mains, we ordered the spaghetti cacio e pepe, and three signature dishes – tuna fillet with Sicilian caponata, Chilean sea bass and Venetian seafood stew. My friend's craving for osso bucco was sadly unmet; it wasn't available that night. Instead, our waiter offered to prepare a dish that was not on the menu but one of chef Corrado's specialties – marinated beef cheek. The beef was tender and juicy, accompanied with a velvety puree and a delicious sauce – excellent. I recommend making it a permanent menu item. The cacio e pepe was a simple yet exquisite rendition of the famous Roman spaghetti dish – much denser than typical spaghetti tossed with salty Pecorino Romano cheese and black pepper. It struck the right balance of creaminess, yet was subtly piquant. The Venetian seafood stew was presented in a small white casserole with perfectly cooked shrimps, mussels, and slices of sea bass tossed in a wonderful peppery, rich broth and topped with toasted focaccia. Another star dish was the Chilean sea bass fillet braised with martini and accompanied by celeriac puree and sautéed puntarelle greens. The fish was soft and flaky, the puree creamy, and the puntarelle (a winter chicory) al dente – an excellent Italian twist on miso black cod. The let down was the tuna fillet. Topped with aubergine crisps atop a caponata mix of eggplants, raisins and pine nuts, the marriage was a little bland and did not work well with the seared tuna fillet. 
We were so full we settled on sharing a dessert – a steamed Baileys tiramisu which was warm and creamy, but I could not really taste the Baileys. After trying Solo's version, I still prefer my tiramisu traditionally cold.
Service throughout our meal was attentive but rushed. The baskets of bread were continuously replaced and our wine and water glasses quickly refilled. Nonetheless, our waiter was too succinct when explaining menu items, moving very rapidly from one person to the next, that it made us feel like he wanted nothing more than to see us leave. On top of that, I asked him to check for a particular wine which he completely forgot. Most restaurants question you incessantly on how the meal is progressing (not a good thing), but to not be asked once at Solo left a sour taste. Service could certainly benefit from being friendlier and more welcoming.
At a price of AED250 per person for a three-course meal without alcohol, Solo is fairly priced. The portions are generous; the presentation is impressive; overall the reinterpretation of Italy's regional dishes is well executed; the wine list is sizeable with some excellent affordable options for both bottles and by the glass; and the setting is convivial – but sadly the service needs fine tuning. Once that is resolved, Solo should make a delicious contender in Dubai's overgrown Italian restaurant scene. With all this in mind, I am giving Solo a 3.5 out of 5 FooDiva knife rating.
Tell me, where do you go for Italian food?
Till next time!
SJ. 
Who is FooDiva's guest reviewer SJ? By day, she is a professor of Political Science. By night, she shares her cooking, travelling and dining out adventures on Instagram here.