Meet chef Sergi Arola at his first restaurant in Abu Dhabi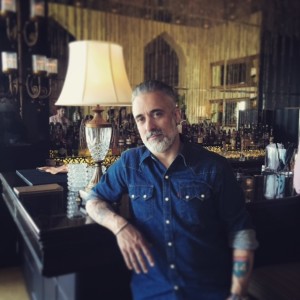 Pearls & Caviar at the Shangri-La Qaryat Al Beri Abu Dhabi remains, albeit now branded P&C thanks to a deal with Catalan chef Sergi Arola better known for his two-Michelin star restaurant in his gastronomic home Madrid. It's his first restaurant in the UAE, and the latest addition to his eight-strong empire around the world. The man who swopped a guitar for chef whites spent three years working for Ferran Adria, most of which was at El Bulli in Roses, incidentally where he was born – yet he hails Pierre Gagnaire as a much stronger influence. Find out why and more in this interview with FooDiva as he opened P&C.
Why did you pursue a career in food rather than music? I was a better chef than a musician. In life you have to be honest with yourself. At some point you need to understand what and why you do what you are doing, and only then can you make a decision. I am happy with mine.
You still play the guitar though? Thank goodness I became a successful chef in my country. Many people ask me why I don't record my songs. Maybe one day, but not immediately. Music is like a drug. It's something that is inside you, and you need an outlet for it. I don't want to be the chef who becomes a musician though.
Do you use music to inspire your cooking…do you cook to music? No. I like so many different styles of music. I like Bach, Beethoven, rock, pop, soul and blues. There's only a few genres of music I don't like; Enrique Iglesias, Jennifer Lopez, R&B; bloody commercial s**t. I am extremely eclectic.
How long did you work for Ferran Adria and Pierre Gagnaire? Three years with Ferran Adria, and three months with Pierre Gagnaire but I met him before Ferran. It's not necessary to work with someone to become influenced by them. Maybe there are 100 guys working with Ferran, and they are not all influenced by him. I became a chef because in the mid-1980s I worked in a restaurant washing dishes to earn money to support at home. At some point the chef there had a cookbook of Alain Chapel and Roger Vergé. I saw the pictures and suddenly wanted to do this kind of cuisine.
What did you learn from these two? When you are with Ferran Adria or Pierre Gagnaire, or any of the top masters like Michel Bras and Alain Ducasse, you need to understand that they are much more than just the recipes. Recipes are nothing; it's all about the attitude, the cooking style and the working method. So from Ferran, I learnt the importance of discipline and the working method. And from Pierre, the attitude and the passion. Ferran is a scientist and he follows that method strictly. He uses whatever he needs to arrive where he wants to be. But Pierre is like jazz; he is pure passion. Suddenly he sees this croissant [points to one on the table] and maybe it's something incredible, maybe it's pure s**t. It's the combination of both these learnings that give sense to my job. In the same way, my influences come from the mix of the attitude of Alain Passard and the method of Alain Ducasse. So in life there is time for each. The passion I felt for the cuisine of Feran in the 1990s is not the same as I feel now. It's part of the learning process.
Pierre Gagnaire was voted the best chef in the world by his peers earlier this year, yourself included perhaps. Is he really the best? Very difficult to define. I am not a big fan of this kind of ranking. Depends what you're looking for. It's like who is better – Beethoven or Beatles? It's not important who is the best, but who influences a generation more. In my generation, Pierre Gagnaire had more influence than Ferran Adria. I am 47, Ferran is 52, and Pierre is 65. In the early 1990s when Ferran was no one in Roses, Pierre was the master in St Etienne. I love Ferran and he is a good friend, but I am not a follower of his world. At some point Ferran became the dodecaphonist, and Pierre the jazz. He [Pierre] was the improvisation, from the late 1980s until he arrived in Paris. He started to work with molecular but I don't care for this. For me it's about the language, and his is cool and sexy, more than Ferran's. I am not sure if I want someone to play with me in the restaurant. For me it's all about pleasure when dining, and Ferran's style is not a surprise. For me it's about flavour, taste and texture.
Why Abu Dhabi, and not Dubai? Why not. For me Abu Dhabi is much more authentic. The key point for me is Shangri-La and the location over the water is magical. The general manager here used to be at the JW Marriott in Mumbai where my restaurant is – Thomas Guss. When I visited six months ago, I wanted to be here. The reason I am in Istanbul, in Constantinople [in Raffles] is because it's the most exciting city in the whole world. Authenticity is very important. I have a lot of guests from the Emirates; the Middle East; from Jordan to Iraq in Madrid and they've always asked me why I don't open here.
Did you not want to change the name? This is a decision of the company [Shangri-La]. I accepted…I think it's OK.
P&C is a different concept for you. How would you describe it? Tapas? I prefer to describe it as food to share in the middle of the table. In Barcelona we call it pica pica.
Isn't that a sign of a lazy kitchen? Yes and no. But obviously the economic crisis has changed the rules of dining. When I started to expand outside Spain eight years ago it was a consequence of the crisis. What was a handicap eight years ago has become extremely interesting and made me much richer in terms of knowledge. I travel for six months to my other restaurants. In Madrid you will find two different kinds of curries and different ways to use the spices that I learnt in Mumbai after six years, and in Turkey. When I use the meat, I cook it in a very Indian way or in a very South American roasted way. Yesterday for an hour and a half I was in a shop here smelling oud; 25 different types. I started to think about using it to aromatise meat, as an oil or a dessert. This is the beauty of travel.
Were last night's canapés [at a 350+ opening event] representative of your cuisine? I don't like cocktails and parties. If you come to Madrid, I have a 30-seat restaurant that I only open six months a year, and I change the menu four times. That's the haute couture and here in Abu Dhabi is my pret-a-porter. The food was still about 90% mine, but the a la carte menu is a different format.
So does your menu here have certain dishes inspired by this region? We'll see. In Mumbai, it took me two years to start to incorporate Indian influences, and after six years I brought it to Madrid. It's a process. Maybe in a year, they [customers] don't like me so I will go back home. Now I have to be honest and to serve what I know well, and try and adapt it to the market. Because of Mumbai, I have many more vegetarian items on all my menus around the world.
What's your signature dish? I am not a big fan of signature dishes as they can change. But probably my spin on patatas bravas – the most copied plate in the history of Spanish cuisine after classical paella.
How many times a year will you visit P&C? It's not about a contract. It depends on how necessary it is to visit. When my restaurant in Madrid is open, it will be two days like now. And ten days if it's closed so I can work with the chefs in the kitchen here. Now we're checking produce and sourcing ingredients for the recipes. We are missing a lot here.
Who is your chef de cuisine here? I have Antonio who worked with me for four years in Arola in Barcelona. Andaria is my pastry chef. And Fernando is my assistant who is in charge for the launch and will remain here as long as he needs to.
What's the biggest food and dining trend you are seeing? It varies by country, but generally it's about healthy concepts and more relaxed dining. The quantity of food is less with many people ashamed to waste.
And finally a question (and answer) from a FooDiva follower on Twitter: 
So who's eaten in any of Sergi Arola's restaurants around the world? Here's someone who did.
A bientôt.
FooDiva. x