Dinner chez FooDiva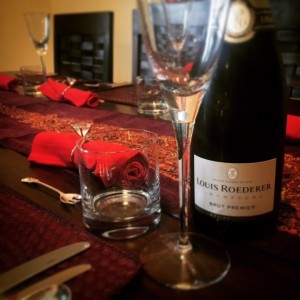 I very rarely host dinner parties. My entertaining chez moi is limited to one or two friends, three if I am feeling really hospitable. The time and effort that goes into organising a large dinner chez moi just puts me off. Plus given the essence of FooDiva and its #DineAroundDubai experiences, I would much rather eat out. I just relish getting dolled up, all for that wonderful feeling of anticipation every time a new restaurant opens.
But one day a chef took charge and rocked up at my door to cook dinner for eight. All I had to do was set the table, light the candles and ice the champagne. In fact, thanks to a wine fridge I didn't even have to do the latter. Oh and I could still enjoy sprucing myself up. Now that's something I could get used to.
Enter ChefXChange, the new chef for hire website I've written about in this round-up of caterers. The folks behind it asked me to host a dinner for a feature in The ProChef ME magazine (soon to relaunch as Hospitality Business Middle East). Given I am half Greek-Cypriot and I had family visiting, I chose the Greek chef behind one of my hidden haunts in Dubai, Elia restaurant – Ilias Kokoroskos. Yes it's not just independent chefs on ChefXChange's books, but restaurant professionals too.
Once I registered myself, the site allowed me to liaise directly with chef Ilias online. He set the menu – in my case a six-course feast inspired by seasonal spring Greek flavours – an ideal theme given we have Orthodox Easter coming up this Sunday. He was very adept at making allowances for dietary requirements. Trust me our party of eight had plenty. All dishes married traditional Greek ingredients with a creative, well-executed cooking style.
White bean soup, bastourma (spicy, air-dried, cured beef), fennel crumble, orange essence
Octopus, fava bean puree, lemon confit, aromatic vinaigrette
Sea bass, kale, taramosalata, shrimp kateifi, black sesame, sweet garlic, seafood broth
Aromatic green salad, mizithra sheep's cheese, apple sorbet, homemade oxymeli (honey vinegar)
Lamb chops, light tzatziki, mint, tomato confit, lemon essence, smoked potato
Sweet kateifi, pistachios, walnuts, mastic ice cream
We had an online discussion about cooking utensils (pots and pans, and so forth) so he could determine what he had to supplement, but some questions regarding crockery and cutlery would have been beneficial to ensure I had sufficient quantities. He brought a chef with him, Nazim, who was very helpful, but perhaps a waiter would have been more supportive to clear up at the end. Mind you, they washed up as the evening progressed. Menus for each guest as a take-away would have made a nice memento of the evening. It's also a good marketing tool for the chef, the restaurant and the website.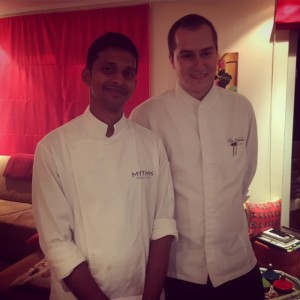 All that aside, the ChefXChange service is very simple to use and hassle-free, making entertaining at home super easy. At AED350 per person for this particular chef and menu, it's well priced, remembering there's a tremendous cost saving in alcohol. You can discover a range of chefs and home cooks across a whole spread of cuisines, and all at different price points, with just a minimum of two people required to host a dinner. If I did not have to eat out so often, I could just be converted to dining chez FooDiva more regularly :).
Do you entertain at home? Have you ever hired, or would you hire a chef? Any recommendations?
If you're Orthodox, happy Easter in advance :).
A bientôt.
FooDiva. x
Disclosure – ChefXChange invited me to use the service with no obligation to write about it. For a different spin on this dining experience, grab a copy of the May issue of Hospitality Business Middle East.