What makes a dish iconic and timeless?
What makes a dish iconic and timeless? Is it all about simplicity and soul food? We live in an era where molecular gastronomy and sous vide cooking techniques govern many a hotel and restaurant kitchen, yet chefs are also going back-to-basics pairing down their dishes, or so they keep on telling us.
Think Caesar salad, a beef burger, club sandwich, French onion soup, prawn cocktail and crepes suzette. Or up the ante slightly with Waldorf salad, eggs Benedict and red velvet cake – either first invented or popularised at the Waldorf Astoria New York in the 1930s. Well this particular hotel chain has decided to find the next #TasteofWaldorf dish, in the hope that it too will stand the test of time.
Hotels outside the Middle East struggle to drive food and beverage revenue from the restaurants they operate, given stiff competition from excellent independent restaurants. Why would you want to eat in a sterile hotel restaurant in New York or London when you're spoilt for choice with creative standalone concepts elsewhere? The dynamic is very different here given licensing laws and the vast choice of restaurants in every hotel. It's always good to see chains becoming more inventive with their F&B marketing.
Five emerging American chefs (James Beard semi-finalists – a US foundation that celebrates the country's culinary heritage) were dispatched to five Waldorf Astoria properties around the world for a week to apprentice with a master chef to create the next iconic dish – the first time these chefs had ever worked together. And last week, the five-paired chefs met in New York to prepare their dishes for a judging panel at an invitation-only dinner, one I was lucky enough to attend, and to cast my vote. The winning dish (more on that later) will be rolled out on menus at 26 Waldorf Astoria hotels around the world including Dubai, Ras Al Khaimah and Jeddah next month.
So who were the chefs and what did they serve? Some sound bites from my interviews:
Chefs Pierre Gagnaire and Chris Kajioka
Pierre Gagnaire helms 11 restaurants around the world including Reflets par Pierre Gagnaire (at the Intercontinental Dubai) and Les Solistes at the Waldorf Astoria Berlin. What's even more incredible than his empire, is his recent award for 'Best chef in the world' voted for by over 500 of his peers (chefs from around the globe whose restaurants boast two and three Michelin stars), bumping French legend Paul Bocuse to the number two spot. Chris Kajioka has worked at Per Se in New York and Vintage Cave in Hawaii as executive chef. He opens a new restaurant this year in Hawaii.
Their dish? A pumpkin and foie gras veloute with brioche of Comte cheese and beetroot.
"We already had a pumpkin foie gras soup in our restaurants and we wanted to refine that by giving it a more international twist. Foie gras is very Frenchy. And pumpkin is a fairly iconic and humble American ingredient, so we elevated it using French cooking techniques. We added green curry and squid for a Far Eastern flavour. Soup is becoming very popular so that was also something we wanted to capitalise on."

Chefs Heinz Beck and David Posey
Heinz Beck who us Dubai folks know from lending his name to Social at the Waldorf Astoria Palm, is the head chef at Rome Cavalieri's La Pergola, a three Michelin star restaurant. He opens a new casual Italian café at the Galleria mall in Dubai towards the end of April, with more planned across the UAE. David Posey has left his chef de cuisine role at Blackbird in Chicago to open his own restaurant this year.
Their dish? A new take on the Waldorf salad – a celery root 'risotto' with apple, hazelnut and black truffle.
"We took the flavours of a Waldorf salad and turned it into a risotto by making a stock out of risotto rice [Heinz came up with a great technique David had never seen before] and diced celery to look like rice. A very creamy, healthier version of a Waldorf salad. We used the same components of apple and hazelnut, but topped it with shaved black truffle. It's an easy dish to replicate with only five ingredients. And you don't have to use the truffle."

Chefs Jeff Galvin and Cara Stadler
The Galvin brothers and classicists, Jeff and Chris, head up the Waldorf Astoria Edinburgh's dining programme with The Pompadour by Galvin and Galvin Brasserie De Luxe – just two amongst their UK stable. Jeff spilled the beans that they are about to sign their first two restaurants in Dubai – at Citywalk – opening in October. Cara Stadler, recognised by Food & Wine magazine as one of America's best new chefs, is the owner and head chef at the Asian fusion restaurant Tao Yuan and Bao Bao Dumpling House in Maine (she was in the midst of opening another restaurant and understandably unable to attend).
Their dish? A simple venison scotch egg.
"Eggs Benedict was the first thing I cooked at catering school over 30 years ago so to go full circle is amazing. We began our careers in hotels. You have just arrived after a long flight, it's late and you want comfort food either as room service or in Peacock Alley [the Waldorf Astoria's renowned all-day café-cum-bar]. We each came up with a huge list of ingredients and then met to discuss. Shortlisting ingredients was a challenge, but we went deer stalking and decided on venison as the main ingredient. We've also used Scottish heather honey and a celeriac remoulade."
Chefs Jimmy Schmidt and Eduardo Ruiz
An innovative pioneer in America's culinary movement towards sustainable cooking and farm-to-table dining, La Quinta Resort's chef Jimmy Schmidt is a three-times James Beard Award winner and one of the original members of its foundation. Eduardo Ruiz was named one of Zagat's 30 Under 30, and is the executive chef and owner of Picnik restaurant and Corazon Y Miel in California.
Their dish? Earth and sea, i.e. surf and turf. But what are the ingredients and how is it made?
"We encapsulated the great ingredients from the Americas, all from nearby farms – chilli, corn, shrimp and great beef (Wagyu from Indiana). We used new cooking techniques, like sous viding the meat, whilst focusing on health and maximising nutritional intake. Allepo-infused salts for curing the beef, to finishing salts for garnishing – there isn't one ingredient that isn't used more than two times. We made a Wagyu golden culinary oil from the fat that has 91% omegas and blended it with the corn juice and solids for a mock corn nut butter – much bigger flavours than a dairy butter. The butter is then incorporated into the polenta, the base of the dish. The sauces are all made with toasted walnut oils. The shrimp is marinated with a little bit of the salt and walnut oil. Big flavours and great nutrition go hand in hand."

And the last dish by chefs Jan van Dyk and Marjorie Meek-Bradley
Jan van Dyk is the executive chef at the Waldorf Astoria Shanghai on the Bund, offering modern French cuisine infused with classics. Marjorie Meek-Bradley also worked for Thomas Keller at Per Se and now oversees the kitchens at Ripple and Roofers Union in Washington DC.
Their dish? A rack of suckling pig with Xiao long bao (a soup dumpling) and wolfberry scallop.
"We explored the town and tried different dumplings along with the different regional Chinese cuisines. We wanted to bring Shanghai to a Western plate. We barbequed the pig to give it its crispy skin (similar to Peking duck)."
As you can see, all five dishes were hugely different in cooking style, ingredients and inspiration. All were packed with flavour bar one in my opinion – the suckling pig. I was also astonished to see pork on the menu, given this ingredient could never be served in Waldorf Astoria's Qasr Al Sharq property in Saudi Arabia – and would struggle to become a timeless dish in the UAE with such a huge Arab customer base. If you look at my Instagram feed, I pretty much ate nothing but pork in New York, but my custom isn't enough. Admittedly when I questioned Jan van Dyk (who incidentally has worked extensively in Oman), he was quick to reassure that the swine could be substituted with duck or lamb. Fair enough, but perhaps more consideration should have been given to the key ingredient.
What dish did I vote for? Jeff Galvin and Cara Stadler's venison scotch egg – the only dish in my opinion that ticked the comfort food box; the only one I would crave after a long flight; and the only one that would work easily on a room service menu. All key factors in making a dish timeless.
But that's not the dish that won…the drum roll is reserved for Heinz Beck and David Posey's celery 'risotto' – with Heinz literally jumping for joy hugging each chef, Pierre Gagnaire first. An endearing sight. He had never entered a competition before, let alone won – astounding revelation for a chef of his calibre.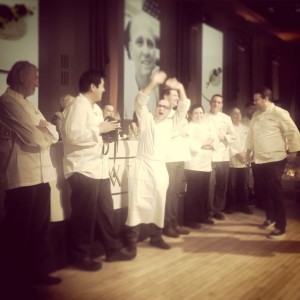 You will be able to taste the dish at Waldorf Astoria hotels around the world as of next month. A special overnight #TasteofWaldorf package will also be bookable. Or if you prefer here's the recipe to make it yourself (click on 'recipes' and then the photo of the dish). There's a wonderful video of the two chefs' collaboration here. I was on Dubai Eye's Travel Show yesterday chatting through this event – click here for the podcast (scroll to LitFest 2015 3 and 4 – 3rd March).
Time will tell if the new celery 'risotto' becomes iconic. In the meantime, what's your timeless go-to dish? Does a celery 'risotto' appeal?
Stay tuned for a post on food and restaurant trends from these chefs.
A bientôt.
FooDiva. x
Disclosure – I was flown to New York by Waldorf Astoria to report on this event. I may have been plied with food and wine, but the opinions expressed here are, as always, mine alone.