The capital's next great catch?
On a blissful, sunny Saturday we decided to lunch at a new seafood restaurant, Catch, in the beach club of St Regis Abu Dhabi on the corniche.
The decor leaves you instantly mesmerised. Cool beachy colours welcome you and you immediately start to relax. Mother-of-pearl inspiration embodies the region's age-old diving tradition, and enhances a modern interior which has been thoughtfully put together. Restaurant aside, there's also bar and lounge seating. An upstairs deck overlooks one of Abu Dhabi's most beautiful beaches.
The kitchen once again drew me in; yes folks it's an open kitchen encased in glass. Watching the chefs at work was like admiring a live painting session. The kitchen is managed by Royal Catering, one of the region's leading catering hospitality providers and owners of Cafe d'Alsace on Yas Island. To avoid any confusion, this particular Catch is a home-grown concept and bears no relation to its New York namesake opening in Dubai shortly. Mauritian, Roudy Peterson, is the executive chef.
We were shown to our table which we had booked outside on the large terrace overlooking the turquoise sea, but one thing that I questioned was in this very beautiful setting, on such a beautiful day, why were there only four tables occupied? A real shame, but that seems to be the norm in Abu Dhabi given increased competition and a small appetite for dining out. Table settings are minimal and uncluttered. Our waiter was delightful – friendly, well-informed, and by no means obtrusive.
Perusing the well-comprised wine list, we decided on a glass of Valdo Edizione Oro Prosecco, a lazy lunch calls for a glass of bubbles doesn't it? With a straw yellow colour, the nose has a typical fruity bouquet with hints of apples. Taste is harmonious with an aromatic fragrance. We also enjoyed a glass of Casa Lapostolle Merlot from Chile with our main courses – a great fruit expression with a smooth and pleasant palate.
But oh the food, let's tuck in. The innovative menu offers seafood (caviar and oyster selection included), meats and sushi/ sashimi with a Middle Eastern and Asian twist. For appetisers we started with a crab meat cannelloni and grilled eggplant. Luscious crab with oysters wrapped tightly in char-grilled eggplant, topped with crabmeat and caviar, and swimming on a bed of pistachio sauce was a taste sensation with the flavours marrying well together. We also ordered the blow torch dynamite rolls which were fantastic – salmon sushi with pickled radish and laced with tobiko (flying fish roe) and teriyaki. Flavours were light and refreshing and I ate every morsel. Our last starter was the deep fried calamari – light and scrumptious, with the tentacles ever so divine. All starter portions were generous. Mother-of-pearl shines through in the cutlery handles, and the crockery has hues of blue and earthy colours inspired by the sea – all complimenting the presentation of the food.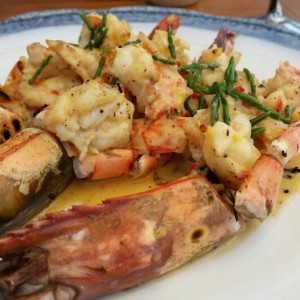 For mains we ordered the prawns with lemon butter and salicorn. The lemon butter sauce laced the plump prawns and crunchy salicorn (similar to samphire) in an exquisite explosion of flavours. The Black Angus USDA rib-eye arrived medium-rare, exactly like I had requested. Juicy and succulent, it melted like butter when it was cut. It was accompanied by a béarnaise sauce and delicious, truffled new potatoes. We also ordered two portions of fries which were hand-cut, golden and perfectly cooked.
For dessert we opted for the tasting plate which comprised five different mini desserts – the opera raspberry consisted of layers of biscuit soaked in coffee syrup, garnished with buttercream and laced in raspberry ganache; a pistachio biscuit with white pistachio cream had a lovely crunchy texture; a classic New York mini cheesecake was encased in a white chocolate tube – velvety and well-balanced; a mini dulcey cake with blonde but caramel-coloured chocolate had a creamy and slightly sweet taste, whilst the daquoise mousse oozed flavours of hazelnut and almond buttercream; and finally a mini raspberry tart sat snuggly in a smooth custard.
Catch is on the pricey side at AED380 per person excluding alcohol but the food and service has made this meal one of my most memorable dining experiences in Abu Dhabi to date. I will most certainly return again, but next time I do hope it will be busier, so that I can compare the food and service and see if the standard remains top notch when the pressure is on. With that in mind, I am giving Catch a 4 out of 5 FooDiva knife rating.
Have any of you dined at Catch? What did you think? Any other seafood restaurants to recommend?
I will sign off with an apt Polish proverb – "Fish, to taste right, must swim three times – in water, in butter, and in wine."
Bon appétit.
Liesl.
So who's guest reviewer Liesl? "I have been a chef for 20 (odd) years, incorporating my many travels and experience with an intense passion for food.  I have called Abu Dhabi my home for the last four years where I work as a private chef.  I love food, exploring new cultures and people. I will probably die doing what I enjoy best, and that is cooking!"