Can Omnia by Silvena elevate Emirati and broader Arabic cuisine?
Set in the heart of Downtown Dubai, Omnia by Silvena is chef Silvena Rowe's latest restaurant and her flagship after Omnia Gourmet and Omnia Blue. Omnia which translates to 'wish', offers contemporary Arabic and Emirati cuisine in a modern, light-infused venue.
Strikingly different from the buzzing eateries and casual outdoor cafés on the boulevard, in particular neighbouring Barbecue Delights, you can see Omnia sparkling like a diamond as you walk or drive past. High ceilings and bundles of white – from the drapes and table cloths to the orchids – and subtle golden details give the spacious venue a pristine, minimalist vibe. With so much stark white though, and with very intense lighting, a little dimming is much-needed to create a warmer, more intimate atmosphere. The two-story open kitchen is tucked behind huge gold and chrome shelves decorated with white and golden Arabic and Oriental elements, vases and lamps. Very chic. Suspended from the ceiling in the middle of the restaurant sits a diamond prism as a chef's table giving a literal meaning to haute cuisine. But for me, Omnia's pièce de résistance is the wall on the right, adorned with gold, pink and peach Arabic calligraphiti by French-Tunisian artist El Seed. Given what I've seen from Rowe's prolific Instagram feed, the décor epitomises her wish – to serve traditional food in a modern setting following refined fine dining standards. Let's see if she succeeds.
Omnia by Silvena is not licensed so the drinks offerings are limited to juices, smoothies and mocktails. The menu boasts a large selection of appetisers, salads, soups, meats, seafood and even burgers – at first glance not very Arabic or Emirati but as described and explained by our waiter, everything is cooked with an Arabic flair using staple spices and marinades from the Gulf and wider Middle East region. A section of the menu goes by the name of "Emirati allure" and lists three traditional Emirati dishes. Keeping with Rowe's commitment to serving "guilt-free" food, menu items on the savoury and dessert menus are carefully labelled with gluten-free, sugar-free, dairy-free and raw descriptors. Our waiter was quick to identify some dishes on the menu which were not available that night and informed us that the menu was in the process of being revamped – more on that later.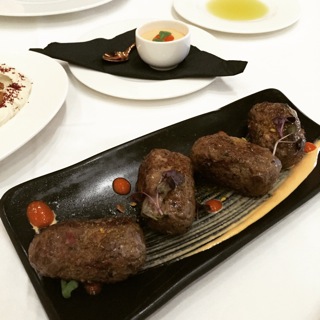 Our appetisers arrived along with a generous serving of freshly-baked breads and olive oil. We ordered the Ottoman kofta and the hummus with prawns. Four pieces of gooey kofta stuffed with kashkaval cheese and served with a tomato and chilli sauce were juicy, tender, and well-balanced. The chunks of minced Wagyu beef (marbling score of 8+) and parsley married so well with the melted cheese and were surprisingly pretty light. As a Lebanese, hummus served with anything other than pomegranate seeds, minced meat or pine nuts can be somewhat sacrilegious and I was curious to see how Rowe married the famous chickpea and tahini paste with sautéed and sumac-crusted prawns. The combination worked marvelously. The hummus was creamy and delicious on its own, whilst the sumac added a nice zing, and the sautéed prawns were cooked perfectly. This dish is now an all-time favourite of mine. The only downside to our otherwise delicious starters was the bread selection – freshly-baked and warm, the small loaves were a wee-bit sweet for our liking and did not marry well with the savoury hummus.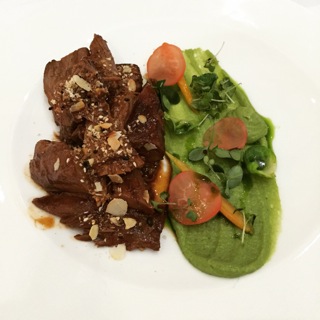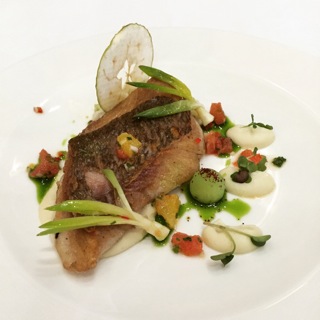 Our mains arrived soon after. We ordered the 12-hour pulled lamb from the Emirati section of the menu and the sea bream with fennel puree and potato risotto. Served with spring vegetables, the lamb was the highlight of the meal (along with the hummus prawns!). Tender, juicy and packed with flavour, it really melted in the mouth. The spring vegetables were crispy and al dente. My only concern with this dish, and one that can be easily fixed, is that the ratio of lamb to vegetables was a little off. As much as I enjoyed the meat, the serving was indeed more generous than it needs to be and I was left with too much lamb to eat on its own after finishing my vegetables. The sea bream plate was colourful, whimsical and fresh. A delicious fennel purée and a crunchy potato risotto served with spring vegetables elevated a sadly under-seasoned fillet of fish. Both dishes were elegantly presented yet comforting and wholesome, combining the authentic flair of Arabic cuisine with Rowe's modern execution. Note though in Omnia's new menu, the Ottoman kofta now goes by the name of Wagyu beef and the sea bream has since been removed.
Onto desserts. The menu boasts a generous selection of guilt-free and decadent desserts with a creative selection of homemade lollipops, bonbons and marshmallows. Omnia Gourmet's aficionados will be happy to learn that Rowe's famous raspberry cheesecake is offered here too. We however opted to try something different – the Emirati balaleet and the chocolate and chocolate cake. Balaleet is the Emirati version of a rice pudding. A generous scoop of rice vermicelli accompanied by a cardamom-infused crème anglaise was a very warm, delicious and comforting sweet ending. Perhaps adding a crunchy element to the dish would balance out the creamy texture of the dessert, but it was still well-executed. The chocolate dessert arrived as a layered chocolate mousse cake, sandwiched with multiple shavings of crunchy and nutty chocolate. Topped with a gold leaf, the cake was decadent and luscious. I also ordered the cassis and rose marshmallow. Two chunks of pink marshmallows served in a golden crescent-shaped dish were mushy, tasty and playful.
From the moment I called to make a reservation, to the minute we left, service was friendly, knowledgeable and clearly well-trained. Our waiter was always present to answer questions and to help with our selection, without being intrusive. The staff were especially swift when dealing with my clumsy and in-elegant snafu of knocking my little plate of olive oil onto my jacket and all over the perfectly polished floor. It was graciously and efficiently cleaned up, with my cutlery replaced.
At a price of AED260 per person for a three-course meal, Omnia by Silvena is fairly priced. The portions are generous and filling; the food is comforting and elegant; the spices and marinades are deliciously on point; the service impeccable; and the design is stunning, but the lighting needs adjusting. Did I miss my glass of vino? Not as much as I thought I would. The novelty of the cuisine and its execution made up for it. Omnia by Silvena is a welcome addition to the string of restaurants on the boulevard and is a true testament to the delicious flavours of both Emirati food and the broader cuisine of the Arab world.
Tell me, where do you head to for modern Arabic food?
Till next time!
SJ
Who is FooDiva's guest reviewer SJ? By day, she is a professor of Political Science. By night, she shares her cooking, travelling and dining out adventures on Instagram here.