Nusr-Et – an expensive cut of steak in Dubai
---
Before I fill you in on my review of #SaltBae's restaurant in Dubai, here's a round-up of my 30 favourite restaurants in town.
---
When the rumour mill started that Nusr-Et was set to open a restaurant in Dubai (at the Four Seasons), I couldn't understand the appeal of a steakhouse import from Turkey. Don't get me wrong, I relish Turkish mezze and fell in love with the city of Istanbul (or Constantinople as some like to call it). But Turkish cuisine, to me, is not synonymous with steak. Plus how would it compete in a city overflowing with good steakhouses?
32-year old Nusret Gokce started out as a butcher when he was 16, and is now the owner of six Nusr-Et restaurants across Turkey, with one set to open in London (at the Intercontinental Park Lane). Since 2012, his investors are the same owners of neighbouring Coya, La Petite Maison and Zuma. But this young lad who hardly speaks a word of English, and has garnered quite a following on Instagram, is doing the rounds of every table at his new Dubai restaurant, and has been since the December opening, flying to and from Turkey weekly. Commendable. And I don't mean just popping by for a quick (Turkish) greeting, but taking over recommending what to order. I do love it when someone who knows their food takes control…well for a while, until I slow him down to cross check his suggestions.
He does in his broken English explain that the beef carpaccio starter is such a large portion, a salad would suffice as our second appetiser. And oh my is he right – it arrives on a huge round platter enough to feed four. Our waiter rolls the slivers of beef with the parmesan crisp, rocket and olive oil, all sandwiched in between – and then slices it into four generous rolls. Marrying all the flavours and textures together, it's the ONLY way to eat carpaccio in my opinion, and I question why the Italians never thought of serving it this way before. I can't get enough of this dish.
A quinoa salad bursts with juicy chunks of pumpkin, avocado, cherry tomatoes and orange segments. It's very rare for me to enjoy anything with quinoa (I think it's the most over-rated superfood ever), but at Nusr-Et they manage to transform a bland ingredient into one oozing with flavour.
Onto the reason we're here, steak glorious steak (chicken, fish and veggie options are on the menu, but don't be fooled, Nusr-Et is a red meat lovers paradise). Now there have been claims that Nusret marinates his beef in questionable ingredients, but he is adamant that all cuts (Australian and Japanese beef, Kobe Wagyu included) are simply charcoal-grilled with a dash of sea salt and a sprinkling of ground pepper. Our two steak orders arrive on separate wooden butcher's blocks, and are served medium rare at our request – but given Nusret's surprise, I expect he is used to diners demanding their steak medium or even well done. If that's the case, you may as well steer clear of any red meat in my opinion. I had pictured a version of tagliata di manzo with the Nusret 'spaghetti' steak – but instead of beef strips, we have three delicately sliced tenderloins, with a little curling of fat which gives a wonderfully succulent and delicious cut that added zing. The Lokum steak is a seared fillet – again three cuts and in recognition of its name really is a Turkish delight – sweet and tender. The beef in both dishes just melts in your mouth, and I can truly see how he has garnered such a huge following. Both dishes are each heftily priced at AED350 giving Wolfgang Puck's Cut a run for its money, but with the portions so generous you can easily share.
A side order of triple-cooked chips would benefit from a little more crispiness. Al dente Brussels sprouts are mixed with diced veal bacon – a quirky and well-executed accompaniment.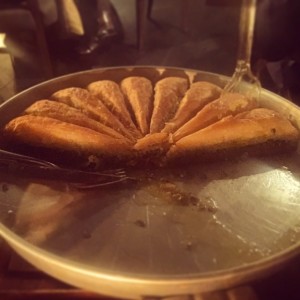 The pistachio baklava is Nusr-Et's signature dessert and slices are served straight from the baking dish. This is no ordinary baklava though. Our waiter literally sandwiches a layer of Turkey's famed vanilla ice-cream from Gaziantep (made with goat's milk and sans eggs), amongst the coarsely ground pistachios and slivers of filo pastry. Crunchy, crispy, velvety and not too sweet, baklava is usually decadent and heavy, but there's a lightness to this version, it's one dessert worthy of any bucket list.
On a Thursday evening at 8pm until we leave near 11pm, Nusr-Et with its solid, utilitarian wooden tables and leather-backed chairs is completely and utterly bursting at the seams – interestingly bar us, with solely Arab expats and Emiratis – and there's a wonderful 'market' vibe (note, I returned past midnight, and past a few Pisco Sours at neighbouring Coya to take the photo above). Service from what appears to be an all-Turkish cast is a little abrupt, yet very swift and slick – but we don't feel rushed at all. Sadly though getting a reservation involved hours of constant calling with no one picking up the phone – eventually 24 hours later some soul did – unacceptable.
A price per person of AED515 and upwards without vino (a Californian Syrah wine, Renegade goes for AED490 and that's on the lower end of the wine list) makes Nusr-Et one of Dubai's most expensive restaurants competing not only with Cut as I indicated earlier, but Pierre Gagnaire's Reflets and Pierchic – and yet the dining experience here is super casual. Does it offer value for money? With generous portions of excellent food, a delightful buzz, and reasonably good service, for sure it does – but at that price Nusr-Et becomes a special occasion restaurant for most of us, or else one for those with expense accounts and deep pockets. Given stiff competition, I am not convinced there's room in this segment long-term once the hype has died down, for what is essentially, a casual steakhouse. And for that instead of a high 4 out of 5 knives, I am dishing out a 3.5 FooDiva knife rating.
Would you pay so much for a steak given it's probably one of the easiest dishes to cook at home? What's your favourite steakhouse in Dubai?
A bientôt.
FooDiva. x