China Grill – can food be both chic and comforting?
I think it says a lot about a dining experience when as you leave a restaurant your head runs wild contemplating a return visit and what you may order. That is exactly how I feel after dinner at new US restaurant import China Grill in the Westin Dubai. 
Rewind two hours – I walk in with extended family into the lounge area – a reasonable turnout at 9pm mid-week with bar and couch seating comfortably spaced away from the smoking area. One can actually order from the dinner menu and have it served in the lounge area. We are escorted to the lift which takes us a level down to the sprawling dining area. High ceilings, a large open bar, lanterns hanging from the ceiling and a balanced combination of open tables and cubicles along the sides give the restaurant a pleasant, warming feel.
The place looks a little overstaffed with waiters and waitresses congregating over hushed conversations, which I find amusing. It's a clear sign of a newly opened restaurant where the staff are still getting used to each other and customer demand. One of the waitresses explains China Grill's concept of sharing food that brings together dishes from different parts of the world under a Chinese framework.
My dad fancies Japanese whiskey tonight, so we order a Yamazaki by the glass. I go for a whiskey sour which I must say is quite delicious. My wife chooses a kir royale which has the right balance of crème-de-cassis and champagne. As I nurse my drink, I browse through the menu where the items have been grouped under dim sum, sushi, new style nigiri & sashimi, futomaki (large sushi rolls with some fried ingredients), salads, plus small, large and grand plates; and of course a small but very intriguing dessert list.
I want to cover at least one item from each of the sets to get an adequate sampling, but the variety really leaves me indecisive in terms of what to leave and what to take. I seek help from the waitress but I expect to hear a "my favourite is …" or "if I were you I would order…" – instead, anything I ask her opinion on, she responds with "this is really good". So I just go ahead with my gut feeling having lived in Singapore and Hong Kong.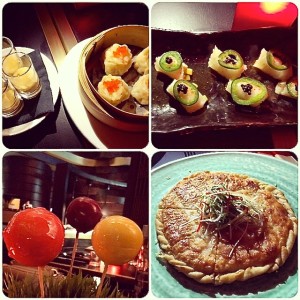 Service is quick, starting with the Jade 5-vegetable pot stickers. Indeed the green oily look of the parcels makes it worthy of the jade name. The pot stickers are stir fried and steamed with the translucent green skin making the vegetables visible. Visually creative, yet as I dig my teeth in, I taste comfort food. The king scallop & lobster siew mai with lobster broth has the texture of a text book, traditional siew mai, but the delicate flavours and body of the scallop and lobster, accentuated by the lobster broth (which is served in shot glasses on the side) makes this a great dim sum choice.
I cannot but order yellowtail sashimi whenever I spot one on a menu (just one of those bellwethers like miso black cod at some establishments). In this case I daresay that the sashimi would have tasted better if it had been sliced a bit thinner. The jalapeno with the mango & orange-ginger marmalade that accompanies the sashimi gives this dish some zesty character. The vegetable maki is very fresh and light, whilst the fried capers with aged balsamic give it that extra zing.
The fire-roasted eggplant and burrata lacks visual sophistication, but the miso glaze on the roasted eggplant skin is comforting on the taste buds. The salt and pepper soft shell crab is larger than the average soft shell crab (am not really complaining given I am very hungry). This is once again a simple comfort dish with nothing but salt and pepper on it – fried with care – crispy on the outside but not overdone inside. The chicken and lychee skewer is a soft yakitori but the lychee is hardly visible and does not contribute much in flavour.
There's not much of a break as we move on to main courses and I order a glass of white wine. The lobster and scallion pancake is one big portion, but it's a little oily. The smell of the truffle butter gives this some character, and while I am tempted to say this dish looks somewhat rustic, it is what it says on the tin – a simple, stuffed pancake.
Perhaps my expectation from a main course is much more than I get from the smoked black tea Chilean seabass (strictly speaking Patagonian toothfish). Dare I say the fish is defrosted as it lacks flavour and texture. The black tea marination does not seap through either. A side dish of sweet potato chips are baked, yet crispy. This is an interesting side to have – a basic comfort snack made posh with wasabi cream and caviar. While the earlier dishes excite me, the main courses I choose are a little bit of a letdown.
Moving onto desserts, the cheesecake lollipop is an act of absolutely brilliant craftsmanship – if there could be a lollipop for grown-ups, this is it. The slightly crunchy exterior gives way to an absolutely delectable cheesecake, flavoured with strawberry, passion fruit, blueberry and lychee. This is followed by the flourless chocolate cake – which is just joyfully chocolat-ee, a little intense I would say, though the mango coulis and the almond ice cream balances the intensity of the chocolate.
I would return* to China Grill as there are so many other dishes that tempt me – crab dumplings, thon thon, scallop dynamite maki, dragon futomaki, crackling calamari salad, jalapeno and lime cured scallops, pan seared spicy tuna and shrimp stuffed crispy chicken.
The Westin is a popular, central location. China Grill is comfortably spacious across the two floors, with the decor and lighting elegant yet not overwhelming. Food is very well priced and with some economies of scale, the bill arrives at AED275 per person without alcohol – but our choice of mains needs improving. Service is swift, and the staff very pleasant and multi-cultural, but would benefit from some proactive menu suggestions. I am giving China Grill 3.5 out of 5 FooDiva knives.
Do you think comfort food can also be chic and contemporary? What other restaurants have you dined at that combine comfort food with artistic presentation?
Until next time,
AK.
*Since writing this review I have since returned, and would do so again.
Who is FooDiva's guest reviewer? AK works as an investment banker in Dubai and is an avid gastronaut who thinks that a day without a good meal is a day wasted. He has travelled the world exploring culinary delights including a treasured dinner at El Bulli.