No.57 café – worth the wait?
There has been much hype and excitement surrounding the long, hotly anticipated opening of No.57 café here in Abu Dhabi. As an avid Instagram follower of its sister The Dinner Club 57, an invitation-only pop-up restaurant created by Emirati friends Alamira Noor Bani Hashim and Buthaina Al Mazrui, I have been waiting with bated breath for the opening.
Despite it being a café, I expected it would be very busy on a Friday morning so I made a reservation. My initial experience with the telephone etiquette left much to be desired. After they struggled to take down my reservation, I decided to call a few days later to confirm that they had my booking, only to be greeted in the same vague manner as my initial call.
Located in Al Marasy, at the Bateen Harbour of Abu Dhabi, it is quite a maze to get too. Google maps will help you though. We were greeted by a hostess who did indeed have our reservation and we were shown to our table. The interior, as you can expect, if you have been a follower of the No.57 association, is exactly as predicted from the Instagram photos. Clean, airy, unusual – an exposed ceiling and warm pantone colours greet you, whilst a sense of exclusivity is attached to the atmosphere. Table settings are minimal but sophisticated. And with only four tables occupied, it wasn't very busy as I had anticipated. After waiting a while, a waiter presented us with the menus. One of the owners asked if we would like any help in ordering, a very unique touch.
The menu is compact with breakfast a mix of sweet, savoury and side orders. For lunch there is a sharing option, coupled with starters, main courses and desserts. The open-plan kitchen is run by Irish chef Gavin Gleeson who moved across from Marco Pierre White's Wheelers in Dubai. A cappuccino took twenty minutes to arrive and that was only after chasing. Rich in aroma and taste, but unfortunately not hot enough.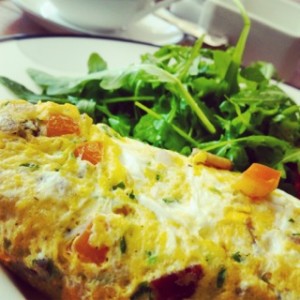 I ordered the three egg herb omelette (an egg white option is also available) where you can choose your fillings – in my case tomatoes, veal bacon, cheese and mushrooms. My friend opted for poached eggs with hollandaise sauce, spinach and potato cake – basically a version of eggs Florentine, plus a side of hash browns. The poached eggs arrived with the hash browns, whilst I had to wait a few more minutes for my omelette – leaving one dish to get cold. My omelette was fluffy and tasty, but unfortunately undercooked in the centre. The fillings however were all fresh, vibrant, and flavoursome. The poached eggs on the other hand were cooked perfectly runny, and the spinach was a nice contrast to the potato cake base. The hollandaise sauce which can be tricky to get right, was velvety and smooth with a good consistency. The hash browns were crisp but I am certain were not homemade. We ordered more coffee which arrived in quick succession of our table being cleared.
Given my high expectations, I felt let down by the service and to an extent the food, so I think you would do well to wait a while for No.57 to settle in. With a bill of AED80 person, it offers excellent value for money though.
Have any of you dined at No.57, and how was your experience? I would love to hear from you.
I leave you with the wise words of John Gunther, "All happiness depends on a leisurely breakfast."
Bon appétit.
Liesl.
So who's guest reviewer Liesl? "I have been a chef for 20 (odd) years, incorporating my many travels and experience with an intense passion for food.  I have called Abu Dhabi my home for the last four years where I work as a private chef.  I love food, exploring new cultures and people. I will probably die doing what I enjoy best, and that is cooking!"