Frioul Bistro De Luxe – it's all about the concept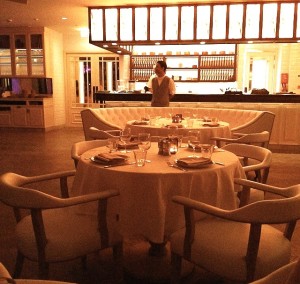 Frioul Bistro De Luxe is the new southern Mediterranean French restaurant at Souk Madinat Jumeirah replacing Jambase. It's also a classic case study in how a confused – and confusing – restaurant 'concept' can undermine an otherwise promising venue serving some attractive food.
The central challenge with Frioul ('Bistro De Luxe' is a subtitle) is that the hypothetical 'sharing concept' is a poor match for an otherwise fairly traditional menu. I found myself imagining a conversation between the restaurant's operational team and a marketing manager…
"We want to open a southern French restaurant (with some Italian influences) offering quality food and a decent wine selection for fair prices."
"Yes, but what's your concept?"
"Err…. Quality southern French food at fair prices."
"Sorry, but these days any restaurant opening in Dubai needs a concept… What about a sharing concept? Sharing concepts are cool."
"So how's that going to work with a traditional French menu of starters, mains, and desserts?"
"That's your problem, not mine; just so long as we can tell the PR people that you have a concept."
The result is a disconnect between menu and concept. Customers walk in, sit down, and are told that the restaurant has a "sharing concept", and that food "arrives when it's ready" (which, to be blunt, like with Fümé and many Dubai restaurants sounds like shorthand for "we can't be bothered plating up the food traditionally"). They're then presented with a menu that's divided between two starter sections (le grignotage [technically snacks, but translated here as tapas] and pour commencer), one section that contains both starters and mains (pizzetta and pasta), three sections of mains (land and air, from the garden and la mer), one of sides (les à cotés), and one of desserts.  Baffled at how this might all fit in with the 'sharing concept', we asked the waiter whether the dishes in the three sections of mains were 'sharing size' or 'ordinary mains'. They were the latter.
The upshot of this was we totally ignored the 'sharing concept' when ordering, ordered one dish from le grignotage, one starter-sized dish from pizzetta and pasta, one main each from land and air and la mer, and a dessert each. And these were plated up more or less as I'd expect, the two starters arriving near-simultaneously, the two mains arriving with each other, and likewise the desserts. So how, precisely, does the 'sharing concept' operate here given we ended up eating a fairly traditional French restaurant meal? I know I'm belabouring the point, but the supposed concept just didn't match the actual menu and how the food was served. Perhaps some of this works better for diners sitting at the (lavish) bar late on a weekend, but it's all a bit of a muddle when it comes to sit-down table service.
The self-inflicted confusion here is a shame given that the food is actually quite good. There's some real promise in Frioul's kitchen. A 'grignotage' of frogs legs with a parsley and garlic purée featured four small breaded lollipoped mouthfuls of frog on a herby puree. Though slightly underseasoned (it was lifted by just a little salt), there was a good mix of textures here. Spinach and taleggio garlic bread made really good use of my favourite Italian cheese – though I'm so in love with taleggio that I might not be entirely unbiased.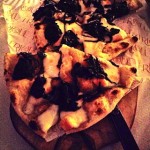 A main of red mullet, sardine sauce and saffron mayonnaise (also with strands of fennel) skillfully balanced a strong, salty sardine sauce with a soft saffron mayonnaise – two potentially overpowering flavours that worked well together here. There was some minor inconsistency with the mullet, one piece of which was slightly dry (the rest were cooked to perfection), but overall this was a good dish. The duck magret with baked peaches was also a strong dish, with the peaches and sauce adding some welcome counterbalance to the fattiness of the skin. I really liked the texture and feel of that fat, though Mrs White Hat said she would have preferred a little crispiness to her duck skin. A side of pommes frites with aioli was the only real disappointment. The aioli was fine, but the chips were limp and a little turgid; I'll stick to Belgian frites.
No one can accuse Frioul of stinting on the armagnac in the richly sweet (and boozy) dessert of prunes with armagnac, though the accompanying ice cream was slightly crystallised rather than smooth. The clafoutis of the day (raspberry) was excellent – a real highlight – though perhaps could have benefited from a side of either cream or ice cream. Vegetarians will be grateful for a good selection of attractive options across the menu.
A real strength of Frioul lies in the wine list. Every wine on the fairly priced and well-selected list is available as a glass, a 375ml carafe, or a full-sized bottle. This is a something that I'd like to see at more restaurants globally, never mind in Dubai. Frioul also offers free mineral water, regularly topped up by the staff, making it the only licenced restaurant I've been to in Dubai offering free water. It's another nice touch that works to the restaurant's credit.
Staff are friendly, but perhaps too solicitous and efficient. That's admittedly an odd complaint for Dubai, where we're all more used to passive-aggressive indifference, but we found ourselves timing the floor staff to see whether they could bring themselves to leave us alone for more than three consecutive minutes. And usually, they couldn't; sometimes interruptions came every 30 seconds. The service was so regularly and recurringly intrusive that I felt like I was in a Cold War thriller where the entire restaurant staff had been replaced by Warsaw Pact agents ordered to try and overhear where I'd hidden the microfilm containing the secret nuclear launch codes.
Restaurant décor is on the conservative side of white, which does give the venue a bit of a wedding reception feel, but is otherwise serviceable. Frioul is slightly hard to find. It's at ground level next to the Souk amphitheatre; so walk down to the bottom of the ampitheatre, and turn right towards the canal. The location may help explain why the restaurant was gently buzzing on a weekend rather than busy (unlike Rivington Grill and Belgian Beer Café upstairs, which were both packed), but a busier vibe may come with time. Though the band was good, a single short live jazz set felt a bit perfunctory. Given Frioul is open until 3am on weekends, the band was likely pacing itself for a long evening; but the forest of columns meant that many diners couldn't see the musicians anyway.

There's a good restaurant here that's currently struggling to get out, overwhelmed by an ill-fitting concept that simply doesn't suit the menu. The staff could also usefully take a deep breath and relax. The quality of the food deserves better. Ditch the sharing concept, and take pride in being a reasonably traditional – in my phrasing – 'southern French restaurant (with some Italian influences) offering quality food for fair prices' (a perfectly fine 'concept' for many of us) and Frioul could become a very welcome addition to Dubai's French restaurant scene. A total bill for two (excluding wine) was AED 455, which makes it a potentially attractive option at this end of the dining market. But right now it's having a minor identity crisis that's holding it back from reaching its potential; so it's an average three out of five FooDiva knives from me.
What do you think of the now prolific sharing concept? Do you pay any attention to a 'concept' when choosing a restaurant? Do you think that restaurants in Dubai or anywhere for that matter, have to have a 'concept' that is explained to diners, or should it merely sell itself? Here's Jay Rayner's thoughts in a London restaurant review – scroll to para four and five.
The Man in the White Hat.
So who's FooDiva's anon guest reviewer, The Man in the White Hat? He has an abiding interest in both history and food; his holidays tend to combine an intriguing local cuisine with a UNESCO World Heritage site, and he's eaten his way across some 50 countries in Europe, Asia, Africa, North and South America, and Australasia.  He currently lives in Dubai, where he edits a couple of academic publications.