Does the Italian cuisine at Alta Badia reach new heights?
Alta Badia opened end of last year replacing long-serving Vu's at Jumeirah Emirates Towers, promising to provide 'honest Italian cooking'. With its prime location atop one of Dubai's original and most iconic buildings, could it live up to our lofty expectations?
Alta Badia in northern Italy, is made up of six villages resting near the UNESCO World Heritage Dolomite range. The traditional cuisine of this region is called 'Ladin', and draws on German and Italian flavours; focusing on the use of fresh ingredients, simply prepared in a manner that allows the produce to shine. There are three Michelin-starred restaurants in the Alta Badia region including La Siriola, where the chef patron here in Dubai, Claudio Melis worked.
On a Wednesday evening, after being warmly welcomed by the maître-d, we were ushered into the restaurant with its muted colour palette and eclectic art, whilst soft furnishings were upcycled from Vu's. Lighting was dim, and mainly provided by the panoramic and breathtaking night view of Jumeirah and the sea beyond. The limited number of seats created a sense of intimacy, while the potted rosemary plants on each table made for a nice contrast to the white tablecloths and fine glassware.
Prior to ordering, we were served a hot consommé of mushroom and rosemary in a small glass, alongside some home-made, lightly salted, vegetable crisps. A generously sized bread basket then followed. The fluffy freshly baked focaccia served with a lovely peppery olive oil deserves a mention. This was washed down with Gancia prosecco for good measure.
It's important to highlight that despite the restaurant's name, the menu does not limit itself to northern Italy, and in fact the tasting menu moves from north to south in its dish selection. Our waiter, who was Italian himself, was able to direct us to those dishes that were from the region and more northern in flavour. The a la carte menu is succinctly laid out over two pages, with signature, vegetarian and interestingly, diabetic-friendly dishes easily identifiable. The wine menu is extensive, and whilst there was no sommelier (odd for a restaurant of this calibre), our waiter was well versed on the different varieties and able to suggest several options by the glass to pair with our dishes (a Barbera red and Argiolas white).
An amuse bouche of thinly sliced smoked duck breast on a potato salad led us happily to our first courses. I opted for a pasta starter, the braised oxtail beef ravioli served with a parmesan sauce and black truffle shaving (marked on the menu as creste di coda di bue). The al dente parcels were like little taste bombs that exploded with flavoursome rich oxtail in every mouthful. A smooth, and not too rich parmesan sauce complimented the beef. Gracing the top, were black truffle shavings that made my mouth water as soon as they were placed before me. The restaurant manager, who introduced himself after watching me happily smell the black truffle shavings, stated I was following the Italian tradition of 'first eating with my eyes, then my nose and finally my mouth.' This dish satisfied all senses, and my only request (other than more) was for additional meat jus to be drizzled over the ravioli to reinforce the flavours.
My husband thought it best to start from the top of the menu and ordered the traditional vitello tonato – thinly sliced roasted veal, that had been chilled and served with a tuna sauce, celery, capers and paprika. The pink meat was tender and pulled apart with ease, however, on its own lacked flavour. However, when eaten with the rich tuna and caper sauce the elements of the dish complimented each other well. The only problem was, that when compared to the ravioli, this dish seemed a little bland.
For my main course, I ordered the Adriatic sea-caught bass served with baby potatoes, Taggiasca olives and capers (spigolo arrosto). This, like the oxtail ravioli, is a signature dish of Alta Badia and captured the simple Ladin style of cooking. The delicate flavour of the fish was enhanced by a considerate pairing of baby potatoes and artichoke. The saltiness of the capers and olives elevated what was already present in the fish, while the juices provided additional moisture. Whilst this was a delightful dish to consume, it was my turn to have food envy as the star of the evening sat across from me.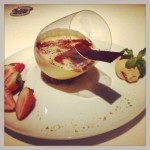 The spalla di agnello brasata, a lamb shoulder slowly cooked for 35 hours in sous vide produced an amazingly tender piece of meat, and then was presumably flash roasted to give it a slightly crisp coating and a delightful contrasting texture. The lamb was served on a bed of spinach with baby beetroot, leeks, carrots and polenta cakes and then finished with a rich jus. Paired with a lovely light Italian red wine, this really was a dish to savour. The recommended side dish of plump, braised asparagus with shaved Parmesan and a creamy sauce made leaving any unfinished, a ludicrous idea.
After the bold flavours of the previous courses our rich-o-meter was in the red and we needed a break. Our waiter, sensing this, solicitously inquired as to whether we would like to pause between courses, or have a palate cleanser. This led to a discussion on grappa – a tipple we are familiar with thanks to a good Italian friend. The recommended drop from Bariq cleansed the palate and it was nice to see a range of four offered (as well as other Italian liquors).
Space made, we moved onto dolce. On recommendation, I tried the caramel lava cake with Cointreau sorbet. A well-made fondant rather than cake, the soft sides erupted perfectly when dissected, with gooey chocolate lava cascading out. I would have preferred the caramel sauce, which was liberally spread over the serving plate, to be drizzled, so as to provide a cleaner presentation. My husband decided that he could not, in good conscience, eat at an Italian restaurant without trying the most Italian of desserts – the tiramisu. Presented in a stemless wine glass that seemed to defy gravity when resting at a 45-degree angle, it sat on a bed of cocoa crumble with strawberries, with mint crested espresso ice-cream served alongside. It almost seemed too pretty to eat, but in the end, we found a way of course. The top layer of mascarpone was rich and creamy. The sponge, however, was overwhelmed by the other ingredients. Perhaps if the sponge quantities were increased, the corresponding bitter espresso flavours would add more texture and balance. A sweet Italian ending, nevertheless.
The current Jumeirah promotion of 20% discount for Mastercard holders until mid October reduced our bill from AED366 to AED293 per person without alcohol. Although the décor is still very Vu's, the lighting and panoramic views create an ambience that allows Alta Badia to reach great heights with its 'honest Italian food' (and only the odd quibble). Warm but not smothering service from entry to exit, combined with a reasonable price point leads me to hand out a 4 out of 5 FooDiva knife rating.
What is your quintessential Italian dish? Can you find it in Dubai's restaurants – if so where?
Buon appetito.
Alex.
So who's FooDiva's guest reviewer? Alex (and husband) make up #NZFoodies, two New Zealanders who for the last seven years have utilised Dubai as a springboard to travel (read eat!) extensively, including hot spots across the Middle East and Levant. They love to explore food, from street vendors through to the chef's table.